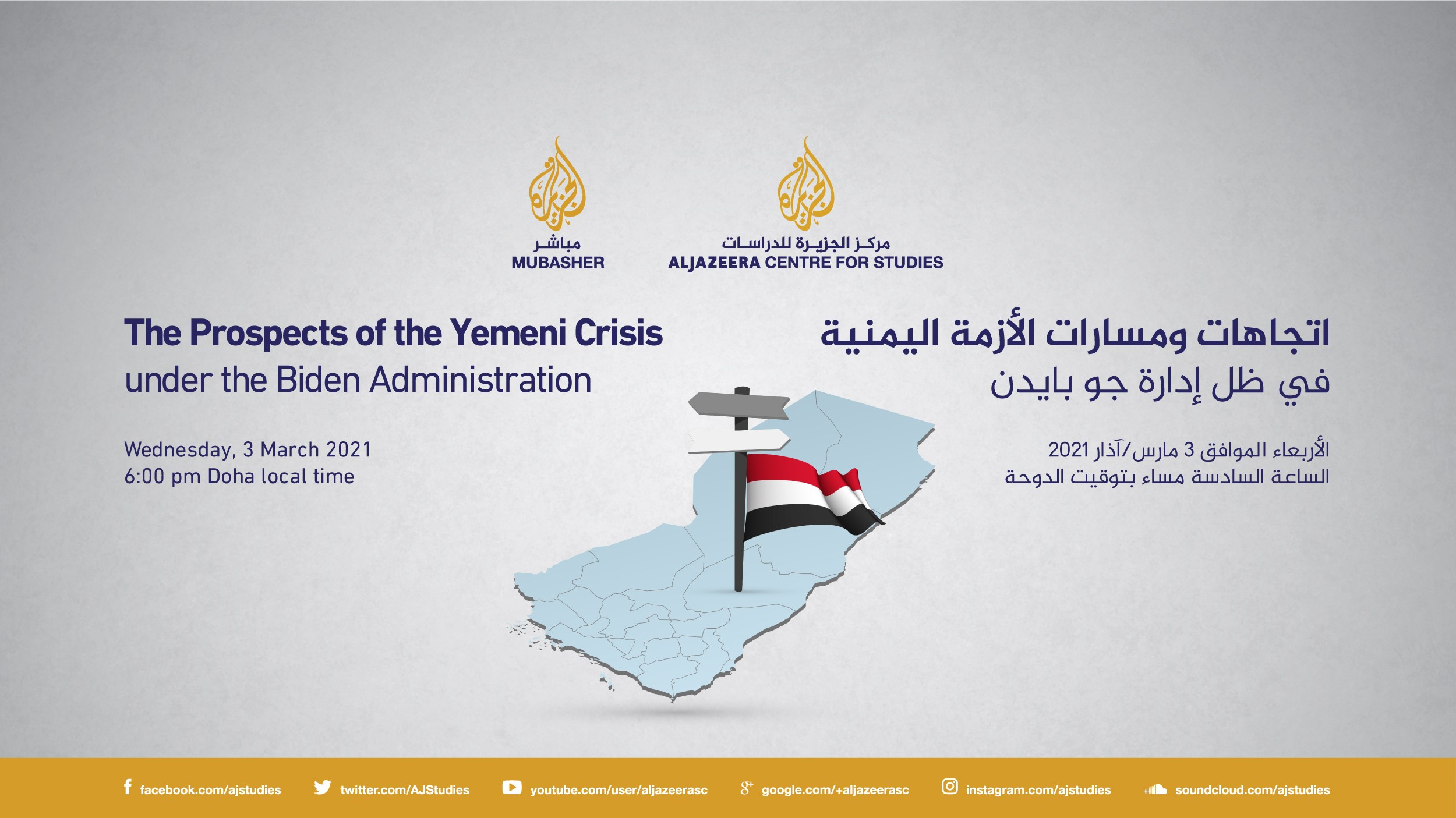 Al Jazeera Centre for Studies and Al Jazeera Mubasher are organising a webinar titled, "The Prospects of the Yemeni Crisis under the Biden Administration," set to take to place on Wednesday, 3 March 2021, at 6:00 pm Mecca standard time. Participating in it are: Mohammed al-Bukhaiti, member of Ansar Allah's political bureau; Mohammed Gezan, undersecretary of the Information Ministry of the legitimate Yemeni government; Gerald Fierstein, former US ambassador to Yemen; and Saeed Thabit, Chief of Al Jazeera's Bureau in Sana'a.
The webinar comes in the context of the coming of a new US administration, the assumption of President Joe Biden the duties of office, and the statements he made at the beginning of February 2021 in which he called for the end of the war in Yemen and a stop to support for and the sale of arms to the military alliance led by Saudi Arabia. The webinar also follows the appointment of Tim Lenderking as U.S. special envoy to Yemen; the decision to reverse the designation of the Houthi group, Ansar Allah, as a foreign terrorist organization; and Saudi Arabia's declaration of its eagerness to work with the Biden administration to reach a comprehensive political solution in Yemen.
Panellists will seek to uncover the general features of the new US administration's policy towards the Yemeni crisis and how it will affect the crisis politically and militarily.
In addition, the discussion will explore whether there is a link between the Biden administration's policies towards Yemen and Iran given the possibility of a return to the nuclear agreement and the lifting or easing of US sanctions on Tehran. It will also touch on Saudi Arabia's position and options regarding the crisis in Yemen in light of these developments.
The webinar will be aired on Al Jazeera Mubasher and live-streamed on the following social media platforms:
Facbook - Twitter - Soundcloud - Youtube - Instagram - Telegram