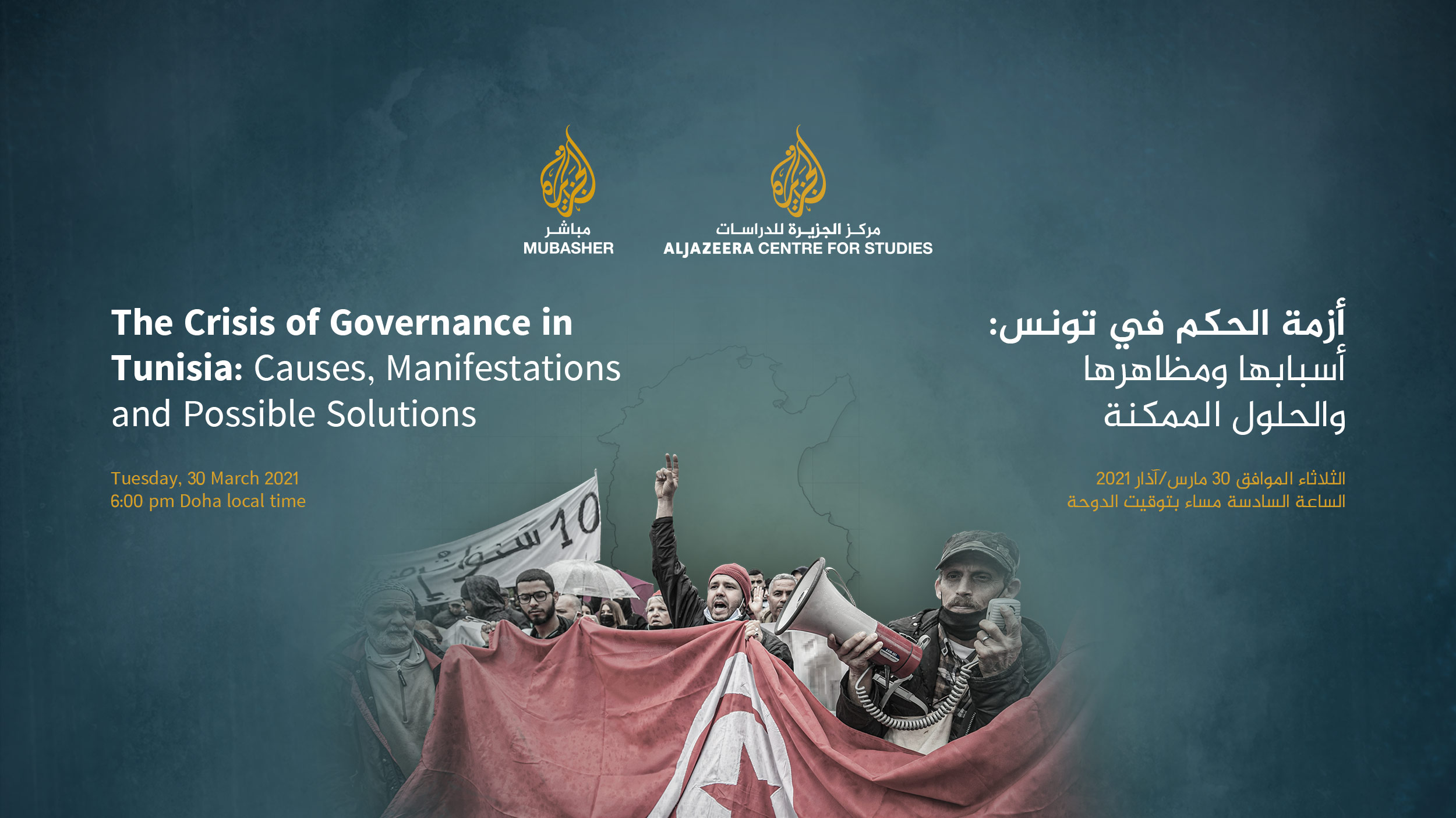 Al Jazeera Centre for Studies and Al Jazeera Mubasher are organising a webinar entitled, "The Crisis of Governance in Tunisia: Causes, Manifestations and Possible Solutions," on Tuesday, 30 March 2021.
The webinar will discuss the causes and manifestations of the political crisis that Tunisia has experienced since the 2019 presidential and legislative elections. This crisis has worsened in recent weeks due to the tension between the two heads of the executive authority and the deadlock that the political situation has come to. The government now has only half of its staff and capacity after the president prevented ministers that were brought with the recent cabinet reshuffle from taking their oath of office. Meanwhile, the country faces plenty of economic and social difficulties, causing an increase in public indebtedness, the decline of investment, and the disruption of production and export in many sectors. As a result, Tunisia's credit rating dropped to B3 negative late February 2021. In addition, the country suffers from inflation, high rates of unemployment, and the fall of greater segments of the society below the poverty line. In response to all of this, protest movements erupted in some cities and are likely to spread throughout the country in the future.
Because of these conditions, the webinar seeks to examine and analyse the reasons behind the crisis and delve into the factors that led to the delay of a solution despite the numerous calls for dialogue in aims of finding political settlements and getting out of the current impasse.
The webinar will conclude with a forecast of whether the parties to the crisis will make concessions to resolve it at the lowest costs possible and present possible scenarios. It will also look into whether the proposed initiatives for dialogue will successfully bring about a solution that can overcome this crisis and prevent its recurrence in the future.
Speaking in the webinar are: Ahmed Idriss, Director of the Centre of Mediterranean and International Studies, Tunisia; Habib Bouajila, professor of philosophy, writer and journalist; Noureddine Alaoui, professor of sociology at the Tunisian University; and Jaouhar Ben Mbarek, professor of constitutional law and political activist. The webinar is set to be aired at 6:00 pm Mecca standard time on Al Jazeera Mubasher and live streamed on the following digital platforms:
Facbook - Twitter - Soundcloud - Youtube - Instagram - Telegram