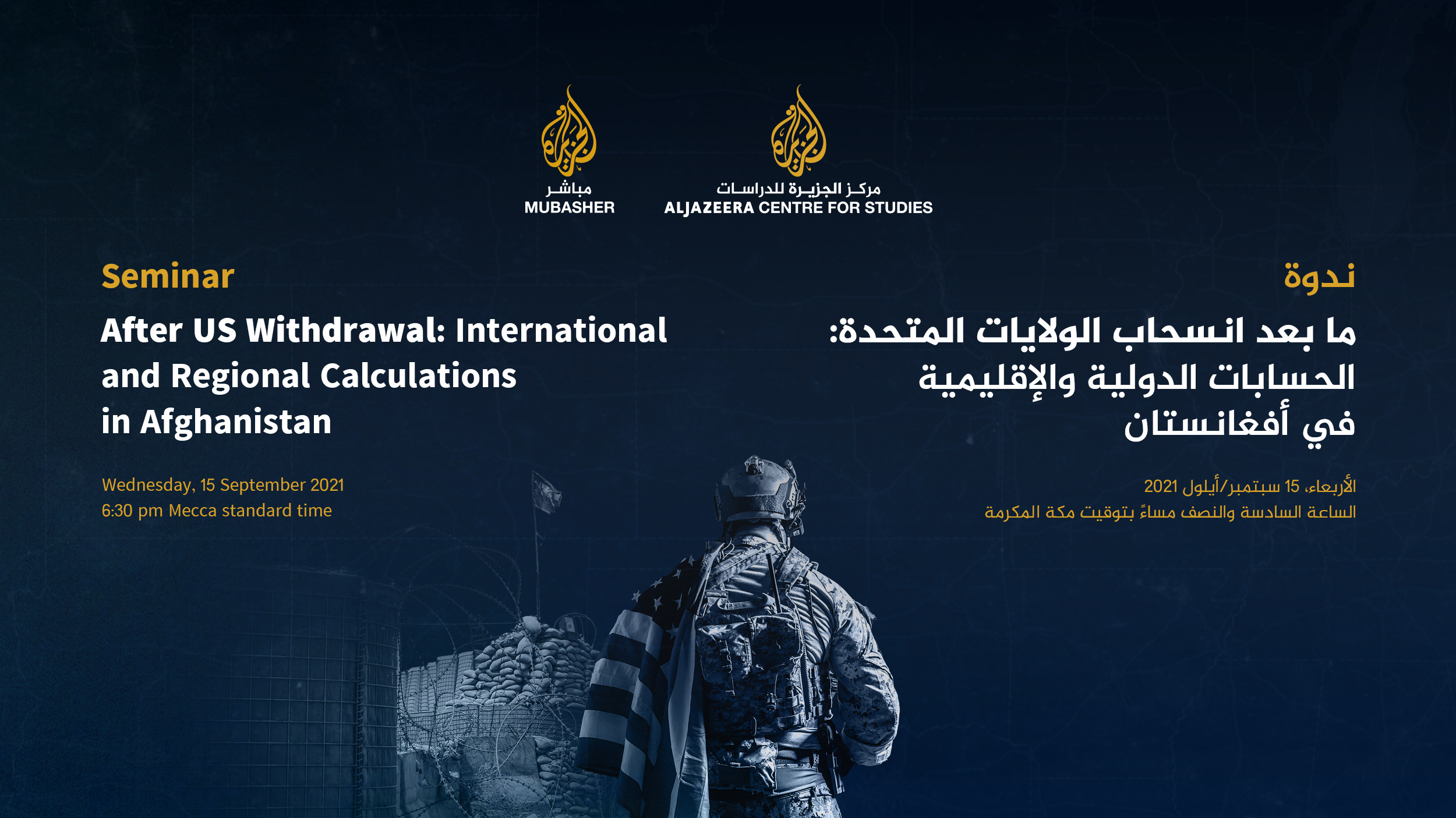 Al Jazeera Centre for Studies and Al Jazeera Mubasher are organising a webinar entitled, "After US Withdrawal: International and Regional Calculations in Afghanistan," set to take place on Wednesday, 15 September 2021 at 6:30 pm Mecca standard time.
The webinar will discuss the impact of the US withdrawal from Afghanistan on different levels: internally – whether conditions will settle for the Taliban or the country will experience another civil war – and externally – especially as it pertains to the gains that regional and international powers will acquire from the withdrawal and the losses others will suffer.
In this regard, and with the contribution of a select group of researchers and experts, the webinar will explore the implications of the US withdrawal for the United States' power in the global order and whether it will accelerate US decline or prove to be a side event that has no impact on the United States' power and position.
Panellists will also discuss the perspective of Western powers that participated in the US invasion of Afghanistan of this withdrawal and whether it will cause their reluctance to engage in a similar alliance in the future.
The webinar is also set to look into the gains of Russia and China from the withdrawal as well as their options in dealing with the new situation and whether they will cooperate or compete in Afghanistan.
Similarly, the webinar will assess the US withdrawal and the return of the Taliban to power from the perspective of Iranian, Pakistani and Gulf interests.
Finally, it will conclude with a deliberation of how the considerations of the different parties will affect the future and stability of both Afghanistan and its region.
Participating in the webinar are: Umer Karim, Pakistani researcher and fellow at the Royal United Services Institute (RUSI); Nikolay Khozanov, Russian expert and professor at Qatar University; Jaber al-Harmi, Qatari journalist and political analyst; Haoues Taguia, researcher at Al Jazeera Centre for Studies (AJCS); and David Des Roches, associate professor at the Near East South Asia Center for Security Studies (NESA).
The webinar will be broadcast on Al Jazeera Mubasher and live-streamed on AJCS's digital platforms here:
Facbook - Twitter - Soundcloud - Youtube - Instagram - Telegram