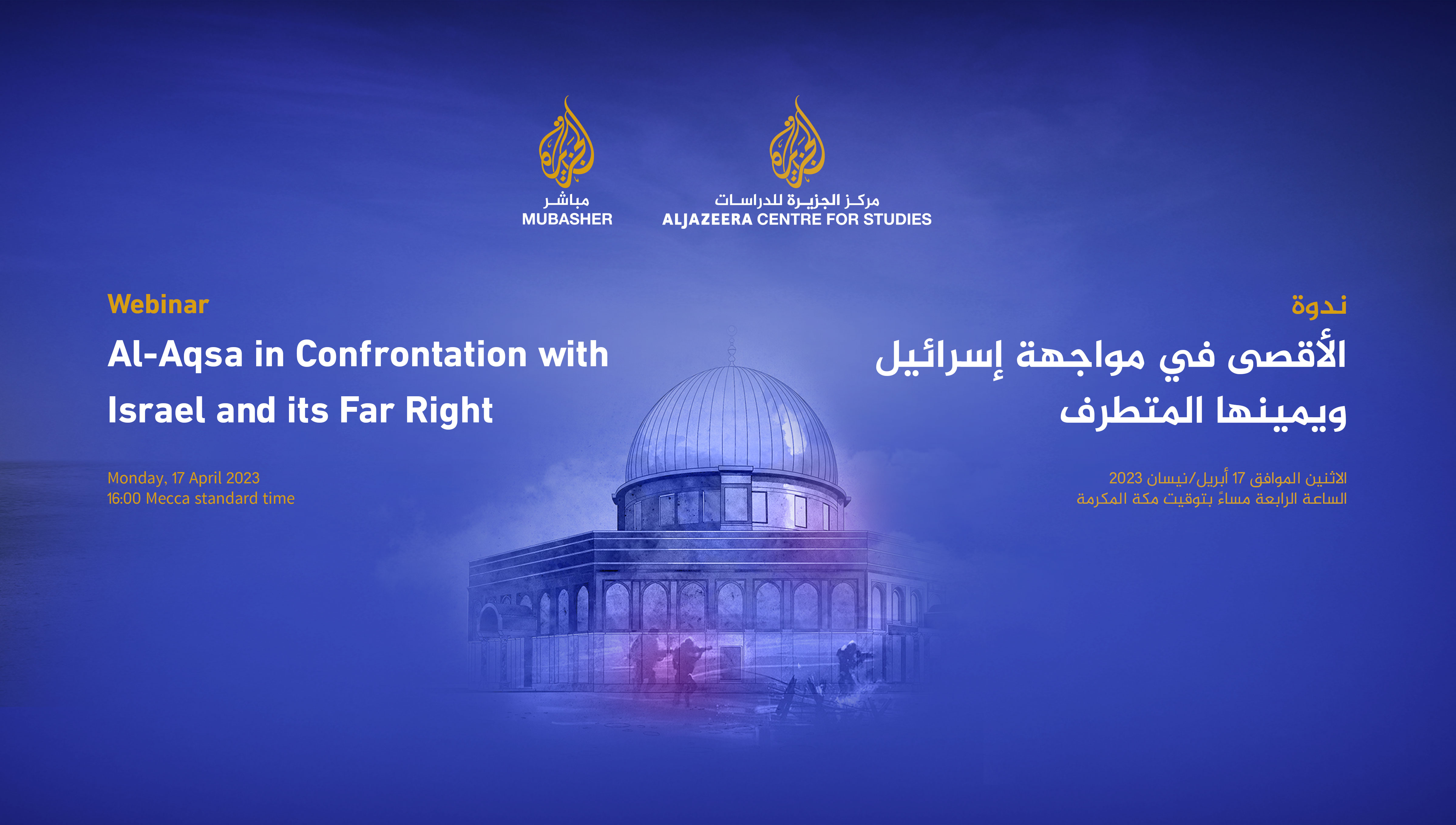 AJCS webinar to shed light on Al-Aqsa in confrontation with Israel and its far right
Al Jazeera Centre for Studies and Al Jazeera Mubasher will hold a webinar on Monday, 17 April 2023, at 4:00 pm under the title, " Al-Aqsa in Confrontation with Israel and its Far Right". The webinar will feature a panel consisting of Mohanad Mustafa, Director General of Mada al-Carmel; Saleh Al-Naami, researcher specializing in Israeli affairs; Ayman Zeidan, Deputy Director General of Al-Quds International Foundation; Adnan Ghaith, Governor of the Jerusalem Governorate; and Najeh Bkerat, Head of the Manuscripts and Heritage and Department at al-Aqsa.
The webinar comes in the context of the recent confrontations at Al-Aqsa Mosque after the attack on worshippers during the current month of Ramadan. It also comes in the context of the efforts of Israel and its right-wing extremists to impose Israeli sovereignty over the mosque and promote the idea of "temporal and spatial sharing" of the mosque, which the Palestinians reject.
The webinar will discuss the dangers facing Al-Aqsa Mosque, especially under the new Israeli government, given the circumstances of its formation and its agenda. It will shed light on the nature of Israeli groups targeting Al-Aqsa Mosque and their impact on Israeli government policies. It will also review the positions and policies of the Palestinians, the Arabs, and the international community on this targeting and their effectiveness in ending it.
The webinar will be broadcast on Al Jazeera Mubasher and can also be followed on AJCS's social media platforms here:
Twitter - Facebook - Instagram - Soundcloud - YouTube - Telegram - Al Jazeera Mubasher