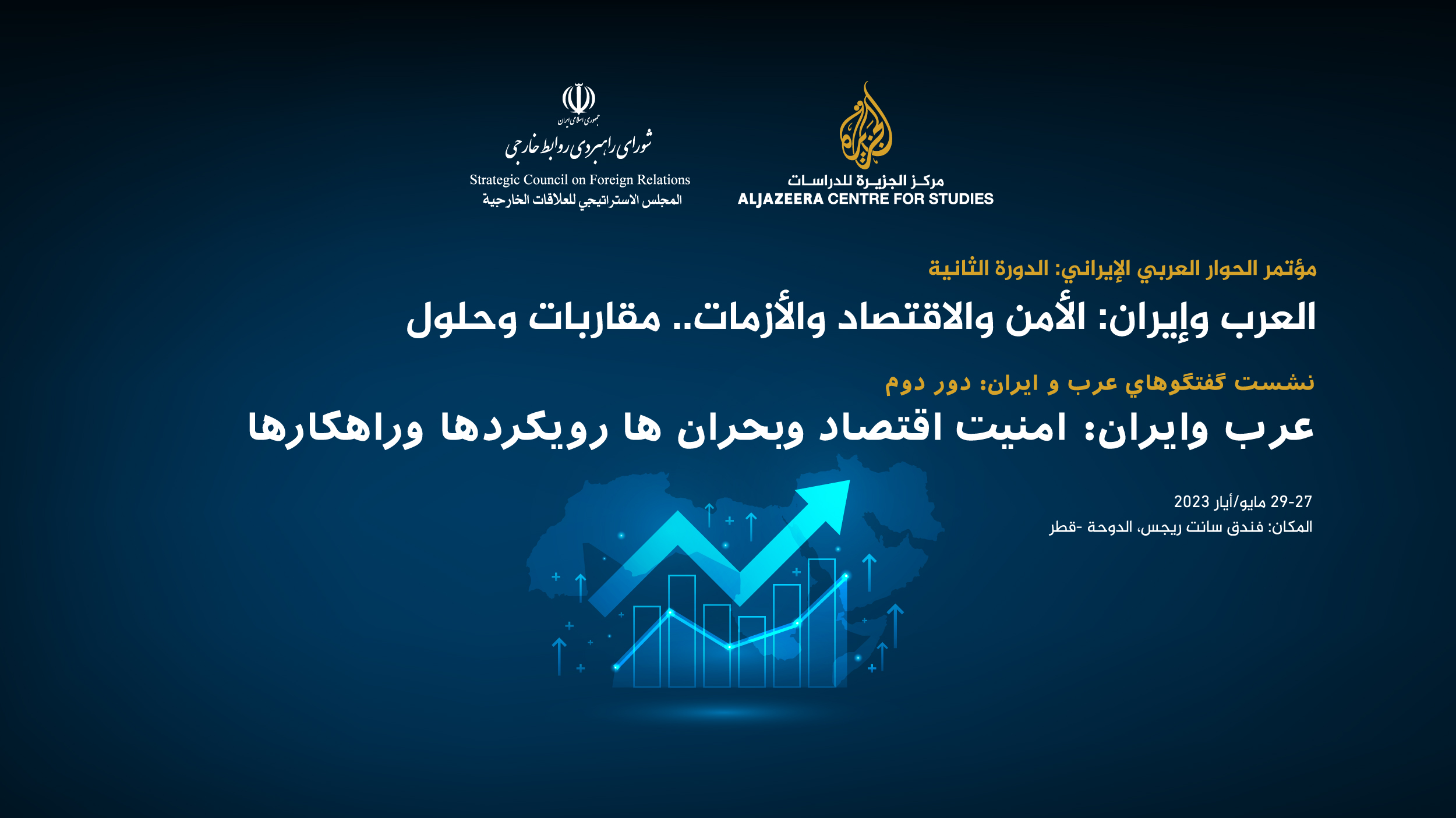 Al Jazeera Centre for Studies is organising a second round of "Arab-Iranian Dialogue" in collaboration with the Strategic Council on Foreign Relations in Iran, set to take place in Doha from 27 to 29 May 2023, under the title, "Approaches and Solutions to Security, Economy and Crises". It will involve the participation of a distinguished group of researchers and experts from both sides.
The participants will engage in dialogue to reach a common understanding regarding "the most suitable security model for Arab-Iranian relations", taking into consideration the repercussions of crises and conflicts that have occurred in the region over the past years, such as the diminishing of trust between the two sides and the attempt of each side to hold the other responsible for the deterioration of relations.
The participants will also discuss the conditions of economic security in the region, which is threatened by the growing geopolitical and economic divisions among major powers. These divisions have escalated significantly since the start of the Russian-Ukrainian war a year and a half ago. In this context, the participants will explore ways to enhance economic cooperation as a means to achieve security between the two sides.
From security and economic issues, the sessions of "Arab-Iranian dialogue" will shift to politics, dedicating a space for the discussion of approaches and solutions to various crises and challenges facing Yemen, Syria, Iraq and Palestine. Additionally, they will address questions regarding the Iranian nuclear programme and its implications for the security and stability of the Gulf and the Middle East.
The second round of "Arab-Iranian Dialogue" comes after approximately two months of Saudi-Iranian rapprochement, which started with both parties announcing the imminent restoration of diplomatic relations. This development was accompanied by an air of optimism that revived hopes for the potential impact of the rapprochement on various regional issues and crises.
The first round of the "Arab-Iranian Dialogue" was held last year, and focused on exploring points of agreement and disagreement between the parties, allowing each side to communicate what it perceives as a threat to its security and a destabilising factor. It also touched on the roles and responsibilities of each party in this regard and reviewed approaches that could help alleviate concerns and build trust.
The opening session of the second round of the "Arab-Iranian Dialogue" is scheduled to take place on Saturday, 27 May, at 7:00 PM, at St. Regis Hotel in Doha, and will be open to the public. It will be followed by closed dialogue sessions over the next two days.