Al Jazeera Centre for Studies and Doshisha University are hosting a one-day seminar "New Transformations in Politics and Energy in the Arab World from a Japanese Perspective" on 25 June 2019 in Kyoto, Japan with the participation of an elite group of Japanese and Arab experts.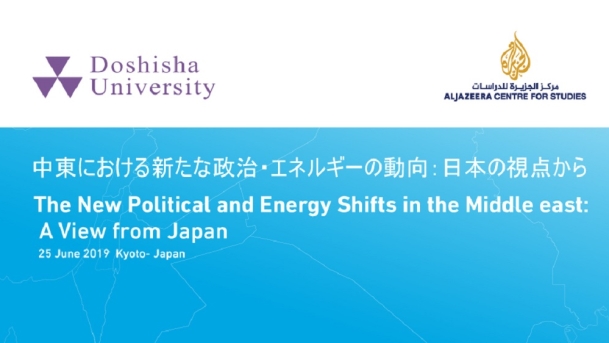 The seminar focuses on the current geopolitical transformations the Middle East region, particularly the popular movements in Algeria and Sudan and their potential success/failure.
The seminar also discusses the US sanctions against Iran, Washington's withdrawal from the nuclear deal, the escalation of tensions in the oil- and gas-rich Gulf region, the recent attack on oil tankers in the Gulf of Oman, the targeting of oil facilities in Saudi Arabia, and the potential implications on oil production and transport and the global economy resulting from all of this – especially since most of Japan's energy needs comes from the Gulf.
Participants in the four-session seminar will discuss related questions such as how has the "military-civil" showdown in Algeria, Libya and Sudan raised new questions regarding the degree of political legitimacy? Do current dynamics in North Africa indicate blind spots in the analysis of Arab revolutions as "one size fits all" without disregarding the complexities of the cases of Egypt, Yemen and Syria? Does the "deal of the century" increase the complexities of the Arab-Israeli struggle? How does Japan view these geopolitical dynamics in the Middle East? How will this affect energy security in the future? How can China benefit from US-Iranian confrontation, the Gulf crisis and other dynamics in the region? What are the prospects of the new dialogue strategy between Japan and Qatar? How does Tokyo view the Gulf crisis and the shift of its foreign policies towards the Arab region?