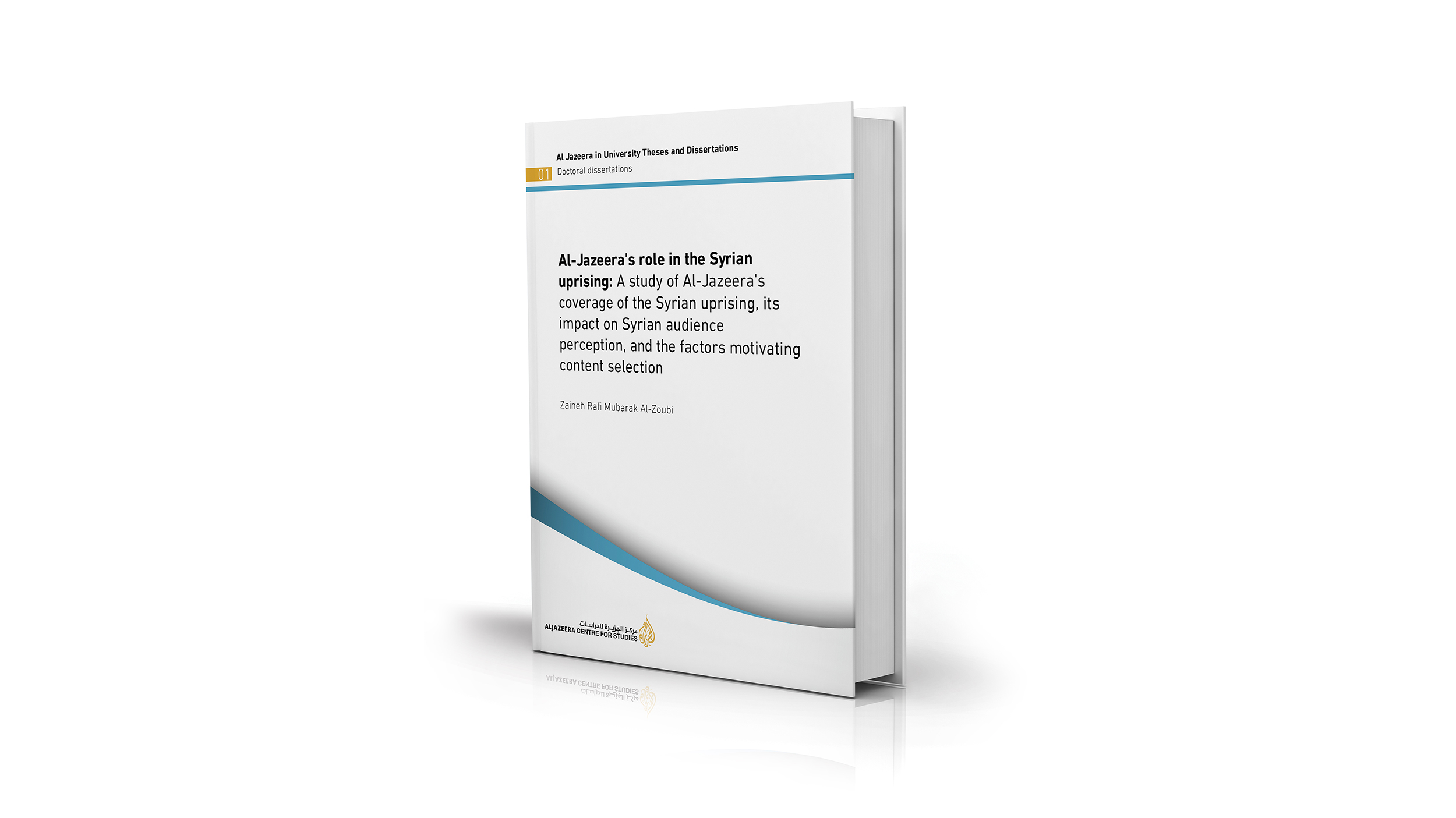 Al-Jazeera's role in the Syrian uprising: A study of Al-Jazeera's coverage of the Syrian uprising, its impact on Syrian audience perception, and the factors motivating content selection
Abstract:
This study explores the role of Al-Jazeera Arabic news channel's coverage at the outset of the Syrian uprising, covering March and April 2011. It reviews the channel's practices and their impact on Arabic public opinion and examines the allegations that Al-Jazeera played a role in shaping the Arab Spring.
The study fills a gap in the literature concerning Al-Jazeera's coverage and practices during the different Arab Spring revolutions, by exclusively investigating the early weeks of the Syrian case in depth.
First, it studies the content and delivery of the news, with a content study highlighting the features and characteristics of Al-Jazeera's news content during the target period.
Second, it examines Al-Jazeera's reported impact on the perceptions of the Syrian audience members who participated in this research in regard to the events in Syria, and the course of events during the uprising by conducting a focus group study with Syrian nationals.
Third, it analyzes the considerations that informed the channel's choice of content and delivery, by conducting semi-structured interviews with different groups of current and former Al-Jazeera staff, to identify the various journalistic factors and political commitments of the channel.
The findings suggest that Al-Jazeera only encouraged Syrians to act by covering the events and atrocities taking place in Syria. The Syrian viewers who participated did not perceive any attempts at incitement by the channel, although it chiefly sided with the Syrian revolutionaries, according to the content study. In conclusion, the findings determine that the channel had, at most, only a limited impact on the revolution's course of events, as many other factors informed the course of the Syrian revolution.
Interestingly, diverse editorial and political factors were revealed to contribute to the decisions made about coverage, such as being exclusively dependent on Syrian activists" reports, due to the prohibition preventing Al-Jazeera crew from entering Syria, as well as Al-Jazeera's apparent commitment to the Qatari political line.
The study is unique in that its findings were based on having thoroughly probed Al-Jazeera's coverage from three different angles to generate rigorous triangulated data, affording a comprehensive and integrated picture of the role of Al-Jazeera in the Syrian uprising. In addition to elaborating on the role and practices present in Arab journalism at the time of the Arab Spring, the thesis raises questions for future researchers concerning the media's impact on public opinion throughout the Arab region.