Turkey's shift in foreign policy, especially towards the Gulf region, highlights the increasing importance of regional partnerships in the future. This suggests that Turkey's relations with Gulf nations will prioritise preserving regional partnerships in politics, pursuing different great-power strategies, and a stronger dedication to addressing issues like food security, maritime safety and energy supply.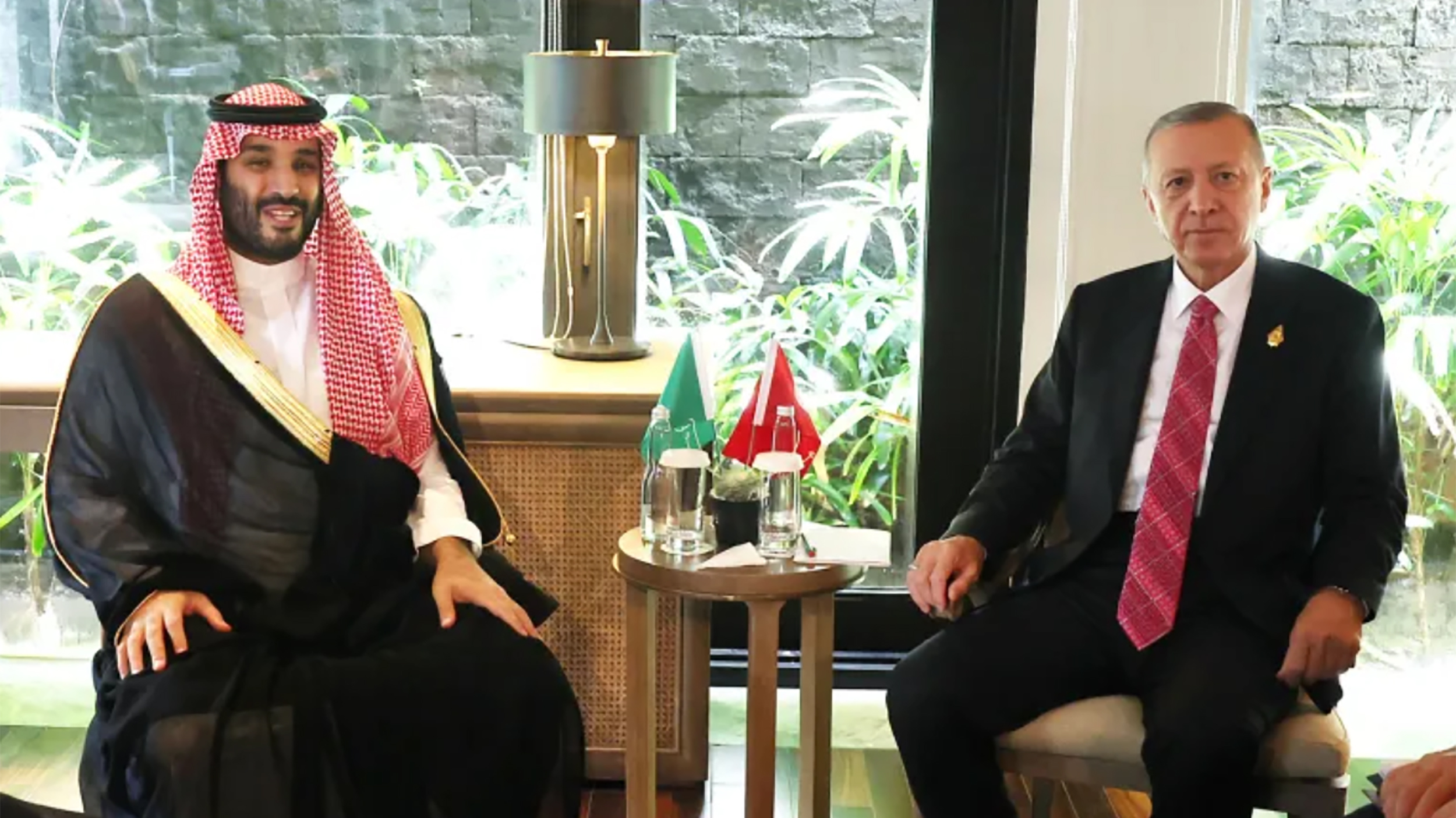 Turkish President Recep Tayyip Erdoğan's election victory on May 2023 can be considered another turning point in Turkish-Gulf relations. Although there had been a normalisation process that started before the elections, Erdoğan's re-election created a new environment and became a motivation for Gulf countries to re-embrace Turkey as a partner in the face of regional and global challenges. The normalisation process has completed certain stages since 2022, and Turkey has begun to discuss long-term cooperation opportunities with the United Arab Emirates (UAE) and Saudi Arabia, with which it had competitive relations in recent years. These meetings paved the way for the emergence of an environment of lively cooperation with the effect of transforming international conjuncture and regional developments. This trend now continues in the post-election period with high-level meetings that are contributing to the deepening of the cooperation between Turkey and Gulf states. The main purpose of these meetings and interactions is to move Turkish-Gulf cooperation to a ground that would help both sides to have an institutional and permanent partnership.
After the recent normalisation, there has been a transition to a period of consolidation of relations. In this period, one of the important priorities of Turkish foreign policy- which will be carried out with the changing, transforming and renewed cadres – will be the relations with Middle East countries, with Turkish-Gulf relations constituting the locomotive of this period. The initial signs and steps of this trend have been observed during the summer of 2023 as Turkish and Gulf leaderships intensified interaction.
When Turkish-Gulf relations are considered, there is a strong willingness on both sides to increase the level and scope of the relations. Ankara believes that strengthening relations with Gulf countries could positively affect foreign policies and economic development in Turkey while the Gulf seeks Turkish partnership particularly for its security needs. Historical, cultural and religious affiliations bring with them similarities in behaviour towards geopolitical issues, and current developments steer a political role for both Turkey and Gulf countries, thus increasing their agency as genuine foreign policy players in the region. It can be argued that the main issues that would determine Turkish-Gulf relations in this period could be categorised under three points:
Firstly, there needs to be an institutionalisation of relations, particularly in the field of economy. Increasing institutionalisation of commercial and economic relations between Turkey and Gulf states is likely to allow them to have a long-term strategic plan in their bilateral trade and financial interactions. Recently, with newly established mechanisms, Turkey has brought its economic relations to a more institutional order, especially with the largest economies of the Gulf: Saudi Arabia, the UAE and Qatar.
Secondly, focusing on the defence will be the main pillar of the increasing cooperation between Turkey and the Gulf countries. It can be observed that there is a strong mutual will between Turkey and the Gulf countries for the exchange of defence industry equipment and to strengthen security partnership. Both due its new foreign policy and after the increase in the importance of regional actors in the Gulf, Turkey defines its security as involving Gulf countries and engages in an exchange of defence equipment and security partnerships with actors such as Qatar, the UAE, Saudi Arabia, and most recently Kuwait. This cooperation has even led to Ankara and Riyadh agreeing on drone production in Saudi Arabia. (1)
Another parametre that would shape the future of Turkish-Gulf cooperation is the strengthening of bilateral and regional collaboration in the face of de-Americanisation or American disengagement. Gulf countries have increasingly started to define regional security concepts with regional and international actors in an environment where the United States gradually withdraws from the region. A more hesitant Washington allows Gulf countries to turn to its regional and international partners including Turkey, Russia and China. Since his re-election on May 2023, Erdoğan has already met with the leaders of three Gulf countries – Qatar, the UAE and Saudi Arabia. In addition, like Turkey, Gulf countries such as Saudi Arabia, UAE, Qatar and Kuwait are seeking possible accession to emerging international organisations, such as the Shanghai Cooperation Organisation (SCO) and BRICS, that are considered alternative establishments to the Western-led global order.
Institutionalising Turkish-Gulf relations
Strong diplomatic relations are necessary for solid and fertile cooperation between states. However, many countries have difficulty establishing efficient cooperation despite their long-standing diplomatic relations. This situation sometimes arises from the fact that relations are largely the initiative of the leaders, rather than institutions; and when there is a change in leadership, things return to square one. One of the solutions to this dilemma is to implement institutional mechanisms in which state institutions are the main actors in bilateral relations. In addition to that, these mechanisms have to be effective institutions rather than inefficient partnerships. In this way, relations between countries are largely independent of actors and can result in permanent and qualified cooperation.
Although the relations between Turkey and Gulf states are longstanding, they have not been able to undergo a permanent rapprochement process due to diverging responses to regional political crises, conflicting foreign policies, and differences in alliance structures. Moreover, there have not been solid mechanisms of political and economic cooperation between Ankara and some of the Gulf capitals, and this has seriously hindered the advancement of Turkey's partnership efforts with Gulf states. Accordingly, while Turkey's relations with Qatar, with which it has implemented cooperation mechanisms for many years, are extremely good, the improvement of relations with Saudi Arabia and the UAE, where it has made slower progress, has been much delayed. Ankara's policies that contradicted those of Riyadh and Abu Dhabi also played a part in this, especially after the 2013 regime change in Egypt.
However, the transformation in regional and international geopolitics and redefinition of foreign policy priorities have led Turkey to a new era in its relations with Saudi Arabia and the UAE starting in 2021. (2) The Turkish presidential elections of 2023 were the final turning point in this regard. Since then, the parties have shown strong interest in advancing cooperation; and the main condition for this trend to be sustainable is to take steps towards the institutionalisation of bilateral relations. In this context, with the initiative it has taken, Turkey has started to discuss mechanisms for institutionalisation in foreign policy, economy, trade and cultural cooperation with relevant countries.
One of the most striking examples of institutional cooperation between Turkey and the Gulf countries can be observed in the relations between Doha and Ankara. The two countries, which have had friendly relations for many years, have strengthened their cooperation through institutional mechanisms, which allowed permanent collaborations in many areas. The relations between Turkey and Qatar, which celebrated the 50th anniversary of the establishment of diplomatic relations in 2023, have taken on the dimension of strategic cooperation, especially since 2014. The High Strategic Committee was established between the two countries in 2014 (3) and has held eight meetings so far resulting in the signing of 95 agreements. On the other hand, the fact that Erdoğan and Qatar's Emir, Tamim bin Hamad Al Thani, have met 31 times since 2014 also reveals the depth of the relations between the two countries. (4) Thanks to these interactions and institutional cooperation mechanisms, the trade volume between the two countries exceeded two billion dollars, while the volume of direct investments from Qatar to Turkey amounted to 33.2 billion dollars, and the value of the projects undertaken by Turkey in Qatar exceeded 22 billion dollars. (5)
Within the scope of the normalisation process that Turkey has carried out with Gulf countries in recent years, the most fundamental steps have been taken in relations with Saudi Arabia. Relations between Ankara and Riyadh essentially followed an institutional line until the recent disagreements in regional policies. Following King Salman's visit to Turkey in 2016, the Turkish-Saudi Coordination Council was established to put an institutional mechanism for cooperation between the two countries in place. This council held its first meeting in Ankara in February 2017. In the following period, differences in the regional policies of the two countries caused a straining of relations.
Following years of rhetorical hostility, Turkey initiated a process to ease the tension with rival Gulf nations, particularly since 2021. As a result, a gradual rapprochement has begun between Ankara and Gulf capitals, including Riyadh and Abu Dhabi, and high-level were made. Erdoğan's visit to Saudi Arabia in July 2023 is of critical importance in establishing permanent and institutional cooperation between the two countries. During this visit, the relevant authorities of the two countries signed five cooperation agreements in many different fields. Among these agreements was the one stipulating that the Saudi Fund for Development would deposit 5 billion dollars in the Turkish Central Bank.
While the agreements signed between the two countries began to bear fruit in a short time, especially in the field of the defence industry, it was announced in August that Saudi Arabia made the largest defence industry import from Turkey in its history. Also, during this period, Saudi-Turkish business forums were organised and steps were taken to develop economic and commercial relations between the two countries. The main purpose of these business forums is to institutionalise commercial relations and realise long-term collaborations.
A similar pattern is experienced in Turkish-Emirati relations as well. Since the AK Party's rise to power in 2002, Turkey has given special importance to relations with the UAE, one of the economic giants of the Gulf region. These relations continued to develop until the start of the Arab revolutions of 2011. In the following period, a gradual deterioration was experienced mainly due to the diverging policy choices and clashing interests at the regional and international levels. This period of enmity continued until 2021 as the regional normalisation process affected the region as a whole. In the process of normalisation, the parties put aside their differences in foreign policy and began to adopt a relationship focused on cooperation. Thereupon, mutual visits and interstate agreements paved the way for the institutionalisation of cooperation.
Emirati President Mohammed bin Zayed's visit to Turkey in November 2021 can be seen as a turning point. During this visit, 10 agreements in different fields were signed. When Erdoğan visited the UAE in February 2022, 13 agreements were signed in areas such as trade, industry, investment and health. (6) At the online summit held on 3 March 2023, a comprehensive economic partnership agreement was signed, which can be considered historic in the relations between the two countries. According to this agreement, it was decided to take the necessary steps to increase the mutual trade volume, which is currently 10 billion dollars, to 25 billion dollars within five years. Bin Zayed also paid a working visit to Turkey in June 2023, shortly after Erdoğan's election victory. Following this visit, Erdoğan went to the UAE in July 2023; and 13 agreements worth more than 50 billion dollars were signed. (7) These agreements paved the way for the institutionalisation of relations in the following period and laid the ground for the establishment of permanent collaborations.
Cooperation in the defence sector
One of the main driving factors of permanent cooperation in bilateral relations is the establishment of partnerships, especially in strategic areas such as military and defence. While these partnerships strengthen trust between countries, they also make them better equipped to face external threats. Such a relationship pattern is usually observed between global powers and regional actors that are in need of defence protection. This was due to the hegemonic production capabilities of global powers in the field of defence industries. However, this has begun to change in recent years with the emergence of new actors in the field of the defence industry. As one of these actors, Turkey has begun to create a new foreign policy tradition by creating regional cooperation in the field of defence industry.
The countries with which Turkey developed the strongest cooperation in this sense were the Gulf countries. Although there were ups and downs in bilateral relations with some of these countries, cooperation particularly in the field of defence industry constituted the main agenda. In this sense, while advanced partnerships have been established with countries that have had strong relations with Turkey for many years, such as Qatar, relatively slower but potentially long-term collaborations have been developed with countries such as Kuwait and Oman. On the other hand, gradual cooperation was implemented with Saudi Arabia, the UAE and Bahrain, where political differences with Turkey were evident for a while. However, the recent normalisation has accelerated the process.
Turkey's strongest relations in the field of military and defence are with Qatar. Since the signing of the first military cooperation agreement between the two countries in 2007, Doha and Ankara have developed strong cooperation in this domain. Years later, an agreement allowing the deployment of Turkish soldiers in Doha was signed in 2014, and the implementation phase began in 2016. (8) In 2019, the Turkish-Qatari Combined Joint Force Command was opened, and Turkish soldiers were deployed in Qatar. (9) In addition, Turkey has provided the Qatari army with heavy weaponry and high-tech defence products. (10)
Moreover, the results of the normalisation steps taken with Saudi Arabia and the UAE since 2021 are observed in defence cooperation. In fact, although the agreements signed between Turkey and the two countries were numerous, they began to produce results in a short period of time. With the agreement signed between Baykar and the Saudi Ministry of Defence in July 2023, the sale of Turkey's globally renowned Armed Unmanned Aerial Vehicles, Bayraktar, to Saudi Arabia was approved. An important detail of the agreement was the plans for joint production of Bayraktar in Saudi Arabia.
Another Gulf country that stands out in Turkey's cooperation in the field of the defence industry is the UAE. The recent normalisation has positively affected the relationship in this regard and the Emirati delegation was one of the largest delegations participating in the IDEF 2023 Defence Industry Exhibition held in July 2023. As the UAE reveals its interest in defence cooperation, various agreements have been signed. In July 2023, the Turkish Defence Industry Agency and the UAE supply company, Tawazun, signed a memorandum of understanding for the purchase of defecse products. The UAE Armed Forces also participated in the Anatolian Eagles Exercise held in May 2023, with 4 F-16 aircraft and 80 personnel.
Kuwait has also a strong record of military cooperation with Turkey. These efforts have been increased in recent years to transform collaborations into permanent cooperation in the fields of the military and defense industry. In this regard, a defense cooperation agreement was signed between Kuwait and Turkey in 2019. Reasons such as increasing regional security threats and the defense mechanisms offered by Turkey in this sense will pave the way for countries such as Kuwait and Oman to increase their cooperation with Ankara in the coming period.
De-Americanisation and alternative internationalisation strategies in the foreign policies of Gulf states
The Gulf countries have strategically repositioned themselves to improve their bilateral ties in regional politics as a result of the United States' partial retreat from the Middle East, which is marked by the processes of de-Americanisation and American disengagement. The Gulf countries are faced with opportunities and challenges as they try to advance their interests and form new alliances in a rapidly changing geopolitical landscape. The United States' decision to reduce its involvement in the Middle East reflects a wider reevaluation of its global priorities as well as a desire to scale back its military presence there. Also, the Russian-Ukrainian War, which started in late February 2022, added new dynamics to the American de-emphasis on the region, as the United States' focus has been redirected to Eastern Europe and the NATO.
The de-Americanisation process, which was aggravated by the Obama administration's hesitation to use military force against Syria, the repositioning of US forces in Afghanistan after their withdrawal from Iraq from 2009 to the 2010s, and the strategies of "sharing the burden" and "leading from behind" in Libya, continued at varying rates under the Trump and Biden administrations. The United States' partners in the Middle East felt uneasy as a result of the Biden administration's complete departure from Afghanistan and transfer of control to the Taliban regime.
The conventional security arrangements and alliances that Gulf countries have relied on must now be re-evaluated in light of this de-Americanisation as they must now take into account alternative sources of assistance and collaboration. The development of bilateral ties with nations outside the conventional Western sphere of influence is a crucial component of this repositioning. Seeking to build economic ties, lure investments and boost their diplomatic influence, Gulf countries are actively broadening their alliances and interacting with emerging powers like China, Russia and India. (11) Although this trend of building fruitful partnerships with these emerging powers did not start with de-Americanisation, the process certainly consolidated the Gulf states' related policy decisions. In that respect, the realisation that a multi-polar world necessitates a more balanced and varied strategy for foreign policy is what motivates these initiatives. Furthermore, Gulf nations are stepping up their efforts to promote regional integration and collaboration, and have found solutions to their problems with Qatar, Turkey and Iran. As a result of these developments in the last years, the Gulf Cooperation Council has been revitalised as a platform for group action in this period of shifting alliances. For that matter, Gulf countries aim to improve economic integration, create cooperative infrastructure projects, and expand collaboration in areas like counterterrorism, security and defense, even potentially incorporating Iran as a partner.
Continuous efforts towards political normalisation in the Middle East underline the importance of cooperation and bilateral ties in regional politics, as seen by the recent growth of ties between Qatar and the UAE and Turkey and UAE. As a matter of fact, Bin Zayed's becoming the first head of state to travel to Ankara since Turkey's presidential elections demonstrates the rapid improvement of ties between the two countries. Additionally, in recent days, Qatar and the UAE, which realised political normalisation with the Al-Ula statement in January 2021, reopened their embassies after six years of suspension. (12) Such instances can be used to highlight the topic of regional cooperation.
But there is another side to the narrative. Saudi Arabia, the UAE and Kuwait recently become dialogue partners in the SCO, adding a new layer to their expanding economic and political ties with China. (13) Similarly, Egypt, Saudi Arabia, Algeria, the UAE and Bahrain have stated their ambition to join the BRICS, and have begun to take part in BRICS's events and meetings in this framework. Following this, in the recent BRICS summit in South Africa, Saudi Arabia, Iran, UAE, Egypt, Ethiopia and Argentina were invited to join BRICS officially. (14) Since BRICS also includes major powers like Brazil and South Africa, it should be seen as an option that demonstrates the viability of a non-Western world order and multipolarity rather than a shift in policy towards Asia.
De-dollarisation is also a reaction to potential vulnerabilities brought on by US sanctions and the shifting dynamics of the global economy. It entails lowering reliance on the US dollar in trade and financial operations. Gulf nations are aggressively realigning themselves to protect their national interests and navigate the shifting regional dynamics. Even the possibility that some of the oil trade between China and Saudi Arabia could take place in Chinese Yuan, although this is not yet considered to a concrete possibility, puts US hegemony over the world's financial markets in jeopardy and demonstrates the effectiveness of the Gulf countries' alternative strategies. (15)
In that respect, Turkey occasionally makes statements about the BRICS as well as the Shanghai Cooperation Organisation. Turkey, like the Middle Eastern and Gulf nations, has consistently backed initiatives that enhance these organisations' organisational structures and increase their credibility as alternative internationalisation platforms. The collaboration of Turkey and the Gulf countries on such alternative internationalisation projects will lessen the influence of established centres of power like the United States, the United Kingdom and France in the Middle East, benefitting local and national dynamics in the region to shape the future of the countries and ensure regional peace and stability.
Conclusion
Diplomatic interactions between Turkey and the GCC nations exhibit a recurring pattern characterised by phases of tension, normalisation and the fortification of relations. This limitation occurs within the broader global landscape, which is marked by the ongoing geopolitical struggle between the United States and China, the Russian-Ukrainian conflict and the resulting shift of the Middle East from a central to a secondary sphere of international importance. In light of these developments, it becomes increasingly imperative to emphasise regional cooperation within the Gulf and the establishment of collaborative partnerships across the broader Middle East.
The reorientation of Turkey's foreign policy, with a particular focus on the Gulf, underscores the growing significance of regional partnerships in the foreseeable future. Consequently, it is plausible to posit that the forthcoming period will witness Turkey's relations with the Gulf countries illustrating an emphasis on the preservation of regional partnerships in the political domain, the pursuit of alternative great-power policies in the region, and an enhanced commitment to addressing challenges such as food security, maritime navigation safety and energy supply security.
In this regard, relations between Turkey and Gulf states are of critical importance for several compelling reasons, with three key facets underscoring their significance. Firstly, Turkey's relations with Gulf states hold paramount importance for regional stability, given the region's profound geopolitical and strategic significance owing to abundant energy resources and control over vital maritime routes. Secondly, Turkey and Gulf  nations have fostered substantially strengthened economic ties, where collaboration in economic spheres, including energy trade and infrastructure development, is an indispensable driver of prosperity for both parties. Finally, the imperative of ensuring regional security in an environment marred by conflicts, tensions and regional rivalries looms large on the agendas of both Turkey and Gulf states. Through collaborative endeavours, they can collectively address shared security concerns, combat terrorism and effectively manage potential conflicts, thereby mitigating the risk of destabilising events in the region.
References
Khaled Hamadeh, "Turkey asserts its place in the GCC's new multipolar security structure", Al Majalla, 28 July 2023, https://tinyurl.com/2bvj47sj (accessed 4 October 2023).
Ismail Numan Telci, "Turkey's reorientations and new era in the Middle East", Daily Sabah, 25 May 2021, https://tinyurl.com/ezwxam4y (accessed 4 October 2023).
Meliha Benli Altunışık, "The end of the Gulf Rift May Not Signal the end of Turkey-Qatar Relations", Atlantic Council, 5 April 2021, https://tinyurl.com/2bjr7bvs (accessed 4 October 2023).
"Türkiye, Qatar eye deepening ties as Erdoğan visits", Daily Sabah, 18 July 2023, https://tinyurl.com/2p9st6yy (accessed 4 October 2023).
"Chambers of Qatar, Istanbul to QNA: Qatari-Turkish Economic Relations are Close and Solid", Qatar News Agency, 14 October 2022, https://tinyurl.com/5n8fvkdd (accessed 4 October 2023).
Mümin Altaş, "Turkiye, UAE sign 13 agreements in various areas", 15 February 2022, Anadolu Agency, https://tinyurl.com/yf6mp6aa (accessed 4 October 2023).
Muhammed Enes Calli, "Türkiye, UAE sign 13 deals worth $50.7B", Anadolu Agency, 19 July 2023, https://tinyurl.com/38y6p72d (accessed 4 October 2023).
"Turkey sends more troops to Qatar", Al Jazeera, 27 December 2017, https://tinyurl.com/mr2pr8u2 (accessed 4 October 2023).
"We don't deem Qatar's security separate from that of our country", Office of the Turkish Presidency, 25 November 2019, https://tinyurl.com/2p9pvejm (accessed 4 October 2023); Ahmed Youssef, "Turkey-Qatar relations: Friends through thick and thin", Anadolu Agency, 6 December 2021, https://tinyurl.com/y45nwyp8 (accessed 4 October 2023).
Stasa Salacanin, "Turkey expands its military base and influence in Qatar", The New Arab, 10 September 2019, https://tinyurl.com/ym7w2w7y (accessed 4 October 2023).
Omair Anas and Ismail Numan Telci, Towards a New Security Architecture in the Gulf: Challenges, Constraints and Threats (Ankara: Center for Middle Eastern Studies, 2020), https://tinyurl.com/44aewm8u (accessed 4 October 2023).
"UAE, Qatar reopen embassies after years-long diplomatic rift", Al Jazeera, 19 June 2023, https://tinyurl.com/yw37dm99 (accessed 4 October 2023).
Ibrahim Al-Khazin, "Kuwait to join Shanghai regional bloc as 'dialogue partner'", Anadolu Agency, 6 May 2023, https://tinyurl.com/kv5p8uv5 (accessed 4 October 2023).
Hassan Isilow, "BRICS announces expansion with inclusion of 6 countries, including Saudi Arabia, Iran", Anadolu Agency, 24 August 2023, https://tinyurl.com/57bfj7zc (accessed 4 October 2023).
Maha El Dahan and Aziz El Yaakoubi, "China's Xi calls for oil trade in yuan at Gulf summit in Riyadh", Reuters, 10 December 2022, https://tinyurl.com/2ttku9r7 (accessed 4 October 2023).