India's involvement in Africa is still incapable of threatening China's influence, not only in terms of partnership commitments, but also in terms of consistency in project delivery and persistence in engagements. However, given its geographic and cultural proximity to Africa, as well as the appeal of its cuisine and cinema among Africans, India's cultural and people-centred diplomacy may be a key advantage in the long run.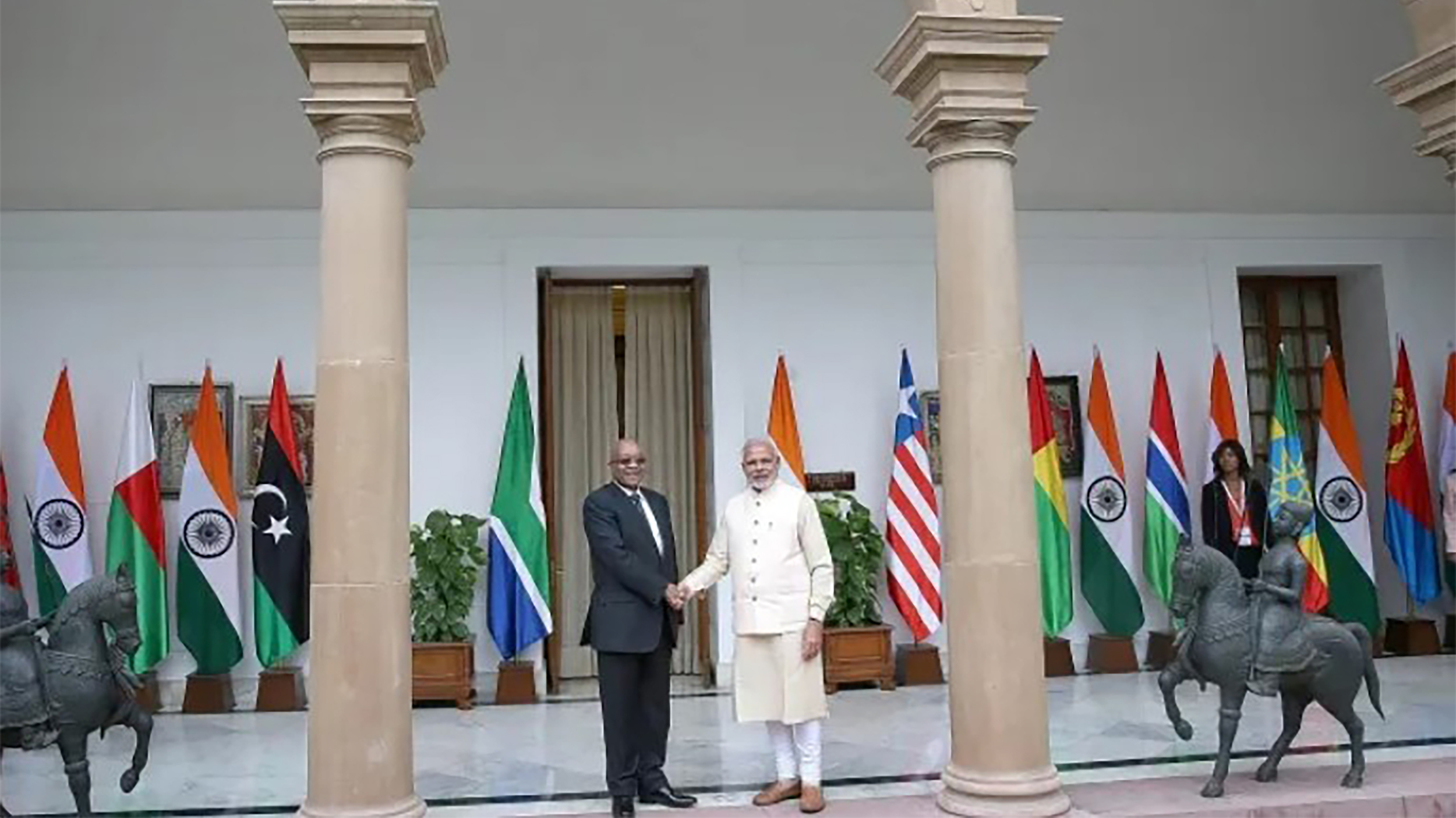 In recent years, Africa has witnessed varied visits and new initiatives from many global powers seeking more influence on the continent. However, while China, Russia, the United States and the European Union are the major global influences on the continent in terms of economic engagements, geopolitics, and public perception, moves from various African nations indicate a desire to maintain relationships with various global players while prioritising partnerships based on win-win economic dealings.
Among these other powers is India, which recognised some years ago that it needed to strengthen its ties with Africa. Its officials travelled to Africa on many occasions, notably during Prime Minister Narendra Modi's 2018 visit to Uganda and Rwanda, when he announced a massive diplomatic drive and signed a number of Memoranda of Understanding (MOUs) on agriculture, defence and green energy. (1) Also, Subrahmanyam Jaishankar, the Minister of External Affairs, attended the BRICS Ministers of Foreign Affairs Meeting and the Friends of BRICS Foreign Ministers' Meeting in South Africa between 1 and 3 June 2023, and afterwards visited Namibia between 4 and 6 June 2023. (2)
Despite India's announcement of more serious and stronger relationships with Africa, and despite the increase in the number of Indian embassies on the continent from 29 to 47, many of which do not have ambassadors, (3) the border disputes between India and China, as well as their regional and global rivalries in the quest for dominance and influence, have raised concerns that Africa might become a new playground for the two Asian powers.
Indian-African Relations
Africa's relationship with India is historical, with evidence that dates back to the Bronze Age in the Indus Valley civilisation (4) and contact between India and ancient Egypt (5), among others, during the medieval period, which saw the expansion of commercial routes between the Mediterranean and Asia via Arabia and the presence of Hindu traders on the south-eastern African coast of Mozambique. (6)
The historical aspect of African-Indian relations also has political undertones. Africa and India both faced the incursion of colonialism and its repercussions, as the British colonial authority ruled the Indian subcontinent and large parts of Africa. This notion was reinforced by India's support for anti-colonial liberation movements and the independence of nations on the African continent, as well as India's solidarity in the Cold War in the 1960s. (7)
Looking around Africa, especially in East and Southern Africa, certain cultural ties between the continent and India are prominent. The large Indian diaspora in Africa plays an economic and cultural role, as a 2014 report estimated that Indian communities exist in 46 African nations, accounting for 12.37 percent of the entire Indian diaspora. (8) Under former Prime Minister Manmohan Singh's administration, India revealed its "resource diplomacy" in Africa and held the inaugural India-Africa Forum Summit in 2008, with leaders from 14 African nations providing $5 billion in credit and hundreds of millions of dollars in aid. (9) Moreover, Singh established, in 2010, the Indian Overseas Facilitation Centre to strengthen economic relations and commemorate the 150th anniversary of Indian indentured labourers' arrival in South Africa. (10)
The cultural and economic aspects feature prominently in the current Modi government, which utilised the image of Mohandas Gandhi in Africa to bolster India-Africa relations. Gandhi arrived in South Africa in 1893 and worked as an attorney and public servant from 1893 to 1914. In the run-up to the third India-Africa Summit in 2015, the Indian government launched a high-profile travelling exhibition to mark the centenary of Gandhi's return from South Africa. (11) However, relying solely on culture and diaspora diplomacy cannot push India's relations with Africa beyond the traditional level, not only because of the complexity of the identity of the Indian diaspora in Africa, which has been in discussion among academics, but also because of some reservations and negative perceptions among some Africans. For example, the Indian icon Gandhi came under criticism for being a "racist" and having "disdain" for Black Africans; and his statue was taken down in 2018 from the campus of the University of Ghana after a petition from academics. (12)
It could be said that India fully understands the aforementioned points and its need for the African continent due to some of its nation's geopolitical importance as well as its resources in modern global competition and economic development. Hence, the country's recent moves to expand its diplomatic and commercial representations beyond the African Union and strengthen ties with the majority of African nations, including the measures India took during the COVID-19 pandemic indicating its aim to become one of Africa's most important partners, (13) and its membership in BRICS, a group of emerging national economies that includes South Africa, Brazil, Russia, and China, could also enhance the Indian government's strategies towards Africa. (14)
Areas of contemporary Indian-African collaboration
Established in 2005, (15) the Conclave of India-Africa Project Partnership arose from India's emphasis on economic collaboration with the continent. The project has been critical in encouraging Indian enterprises to establish their presence in Africa. Also, the founding of the India-Africa Forum Summit helped institutionalise and formalise India's connections with its African partners and is one of the most notable milestones in Indian-African relations. The platform has held summits in 2008, 2011 and 2015, with the fourth summit delayed owing to the pandemic. (16)
In recent years, India's ties with Africa have been centred around economic involvement, with a rising trade and investment portfolio. In terms of skill and capacity-building projects in health care, agriculture, the digital revolution and educational collaboration, India tends to favour the private sector. There is also evidence that marine security is a crucial component of India's relationship with nations such as Kenya, South Africa, and other coastal countries and islands.
These major areas of collaboration are:
Economic engagement: The abundance of natural and mineral resources in Africa, as well as its increasing middle class and large working-age population, make it appealing to international rivals and world powers. The African Continental Free Trade Agreement (AfCFTA) has further increased the continent's relevance, as India has recognised prospects for its consumer-driven commodities in agribusiness, clothing, medicines and automotive components. India established concessional lines of credit (LoC) as a development partnership strategy in 2003; and between 2008 and 2011, it promised African countries LoCs worth more than US$8 billion. (17) While there is a significant disparity between the promised amount and the operative LoCs for Africa, recent reports ranked India as one of the top five investors in the continent, with $74 billion in cumulative investments in the oil and gas, mining, banking, pharmaceutical, textile, automotive and agricultural industries. (18)
Bilateral commerce between India and Africa has been growing steadily year after year; and the Ministry of External Affairs of India disclosed that under LoCs with Africa in various sectors, 193 projects have been completed, 66 are under execution, and 88 are in the pre-execution stage. (19) For example, in 2020, India's exports to the continent amounted to 5.2 percent of the region's global exports, while imports accounted for 7 percent of the continent's global exports, with petroleum products accounting for the majority of India's exports, followed by pharmaceuticals, automobiles and grains. Furthermore, South Africa, Nigeria, Egypt, Kenya, Mozambique and Tanzania are India's top African export destinations, while its major imports from Africa include mineral fuels, oil (mostly crude), natural or cultivated pearls, precious stones, and inorganic substances from countries such as South Africa, Nigeria, Angola, Egypt and Morocco. (20)
Medical tourism: Health care delivery is one of the major components of India's engagement and development cooperation with Africa, as evidenced by the US$10 million India-Africa Health Fund launched during the third India-Africa Forum Summit in 2015. (21) India has emerged lately as an appealing destination for medical tourism, with Africans visiting the country for treatment increasing from 5.4 percent of overall tourist visits in 2010 to 15.4 percent in 2019. (22) There is also collaboration between Indian health care practitioners and African partners in healthcare capacity building and hospital establishment, among other things. In response to the COVID-19 outbreak, India provided food aid to Sudan, South Sudan, Djibouti and Eritrea, (23) as well as 150 metric tonnes of medical supplies to 25 African nations. (24)
It is worth mentioning that while some African officials have criticised the West's response to the continent's vaccination efforts during COVID-19, India maintained its vaccine supply lines open throughout the majority of the epidemic. However, when it ceased the export of AstraZeneca vaccines because it was confronted with a deadly second wave of the virus, the move caused significant damage to Africa's efforts, which depended heavily on supplies from the global COVAX vaccine-sharing programme. (25)
Education and information technology: Indian universities and research institutions are gaining popularity among Africans lately. As of 2022, the Indian government had given over 30,000 scholarships to African students as part of the 50,000 scholarships promised by the country in 2015 over a 10-year period. (26) Its affordable technology, digitisation and capacity building are also considered by some governments as appropriate alternatives. Through training programmes and the promotion of scientific and technical collaboration, the Indian Technical and Economic Collaboration Programme assists Africa in research and develops skills and knowledge to increase capacity.
Going by the importance of the information and communication technology (ICT) sector in African development and the efforts of different African countries to accelerate their technology infrastructure and digital identity and maximise the trade benefits presented by the AfCFTA, India has been one of the top recommendations for partnership and cooperation. In fact, there are a couple of projects and initiatives between India and Africa in this regard, such as the flagship ICT project Pan African e-Network that was first proposed in 2004 and launched in 2009 between India and the African Union with the aim of connecting African countries by offering a seamless and integrated satellite, fibre optics and wireless network, and benefiting from Indian IT skills to improve healthcare and education in their institutions. (27)
The Asia-Africa Growth Corridor, an agreement between the governments of India, Japan and a number of African nations, was launched in 2017 to strengthen Indian-Japanese collaboration on the development of quality infrastructure in Africa and the improvement of digital connectivity, thereby fostering a free and open Indo-Pacific Region. (28) In addition, Indian technology platforms have lately gained traction in Africa.
Security and defence: This is an area often overlooked when discussing Indian-African relations. Although some believe that India's newfound attention to Africa stems from China's expanding presence on the continent, not just in terms of trade and business but also in terms of Beijing's burgeoning maritime interests, during his visit to Uganda in 2018, Modi mentioned cooperating with Africa in regards to combating terrorism and promoting peacekeeping and cyber security as part of his country's guiding principles of engagement with Africa. (29)
While security and defence cooperation has been growing between India and Africa in the last few years, India's greatest treasure in this regard might be its historical assistance, which provided for the establishment of some military academies and the training of national cadres and military personalities in various African countries, including Ethiopia and Nigeria, and sent United Nations missions to African countries, such as Congo and Liberia. India has established strong marine security cooperation with Mauritius, the Seychelles, and many African coastal countries. There has also been a joint exercise with African countries, such as the Africa-India Field Training Exercise-2019, and several Indian institutions have been presenting Indian-made weapons as a feasible choice for African governments fighting instability. (30)
 Can India match China in Africa?
India and China are actively engaging with Africa in many ways to further their interests and influence. Despite the Indian government's assertion that its partnership with Africa is a mix of India's development objectives and the African Union's long-term strategy, most of India's policies and trading patterns with the continent remain limited overall. Many Indian initiatives, such as partnerships with the African Union, capacity and skills building, education and research, healthcare, and information technology, all show that India's overall approach to the continent is more people-centred. It could also be said that the Indian government places a strong focus on cultural relations with Eastern and Southern Africa, an effort dubbed by some Indian researchers as a way to recover lost linkages and historical interactions with the regions.
However, China's economic might and weight in Africa remain unrivalled, not only by India but also by many other competitors, with Beijing's overall bilateral trade with Africa reaching USD 254.3 billion in 2021, up 35.3 percent from 2020. (31) Through a daring and assertive approach of huge infrastructural projects that secure the Belt and Road Initiative (BRI) and partnerships that include resource extraction and high-level government deals, China's focus is primarily on large-ticket projects that will give it strategic control over boosting its economy and expanding its global influence while safeguarding its strategic objectives. (32)
There is still enormous potential for additional expansion for India, particularly because it is considered less contentious and one of the alternatives to China in a context of unfavourable terms of engagement and conditions. Some African officials experiencing development issues typically reference Indian development and social initiatives to solve similar problems. Others regard India's technological advancement as a better model for understanding how African technology minds and young inventors can build locally while competing globally.
However, India's comparatively limited outreach and penetration cannot be compared to that of China, which has set out a strategy for promoting its interests among regional blocs as well as individual and geostrategic African nations. Furthermore, the Indian private sector has yet to fully understand Africa's investment climate, and its security and defence cooperation with the continent is mostly limited. This is in contrast to China, which has been prominent in the African security and defence sectors in recent years in terms of assisting military transformation through the provision of equipment, sophisticated technology and independent capacity-building. China also maintains military bases, conducts maritime activities and sells weapons to several African nations, which has expanded since the West imposed sanctions on Russia.
As a result, India still has a long way to go for its involvement on the continent to be capable of threatening China's influence, not only in terms of its partnership commitments, but also in terms of its consistency in project delivery and persistence in engagements. India and China have a foothold in the region and are extending their geopolitical power. Also, they have both profited from African states' voting capacity in the United Nations and other bodies. Also, both of their approaches to various parts of the continent are largely non-competitive, and most African governments are hesitant to abandon their links with China in favour of India or other global powers. However, given India's geographical and cultural proximity to Africa, as well as the appeal of its cuisine and cinema among Africans, India's cultural and people-centred diplomatic actions may prove to be a key advantage in the long run.
References
1- "Narendra Modi in Uganda: PM for cooperation with Africa to combat terror; India to open Gandhi Heritage Centre in Jinja", Firstpost, 25 July 2018, https://tinyurl.com/299vmd52 (accessed 16 June 2023).
2- "Jaishankar Concludes Maiden India-Namibia Joint Commission Of Cooperation", Republic World, 7 June 2023, https://t.ly/tdwUN (accessed 16 June 2023).
3- "Modi's diplomatic drive in Africa", Africa Intelligence, 19 May 2023, https://t.ly/60Ocx (accessed 16 June 2023).
4- Kenneth A.R. Kennedy and Gregory L. Possehl, "Were there commercial communications between prehistoric Harappans and African populations?" Advances in Anthropology, Vol. 2, No. 4, 2012, p. 169.
5- Alexandra von Lieven, "Trade contacts and cultural exchange between Egypt and India in the Ptolemaic and Roman Period" in Nikolas Jaspert, Sebastian Kolditz (eds.), Entre mers-Outre-mer: Spaces, Modes and Agents of Indo-Mediterranean Connectivity (Heidelberg: Heidelberg University Publishing, 2018), pp. 61-76.
6- Blanche D'Souza, Harnessing the Trade Winds: The Story of the Centuries Old Indian Trade with East Africa, Using the Monsoon Winds (Nairobi: Zand Graphics, 2008), pp. 12–15 and 110–132.
7- Ruchita Beri, "India's Africa policy in the post‐cold war Era: An assessment." Strategic Analysis, Vol. 27, No. 2, 2003, pp. 216-232.
8- Rajneesh Kumar Gupta, "Indian Diaspora in Africa: A Profile," Africa Trends, Vol. 3, No. 2, 2014, pp. 4-9.
9- Randeep Ramesh, "India offers aid at first summit with African leaders", The Guardian, 8 April 2008, https://t.ly/yidK (accessed 17 June 2023).
10- Magnus Taylor, "Global India and its diaspora", African Arguments, 1 June, 2011, https://t.ly/Gfum (accessed 17 June 2023).
11- "India-Africa summit to strengthen ties", Deccan Herald, 17 October 2015, https://t.ly/HL-P (accessed 17 June 2023).
12- "Statue of 'racist' Gandhi removed from Ghana university campus", Al Jazeera, 14 December 2018, https://t.ly/Topoo (accessed 17 June 2023),
13- Rajani Mol et al., "India's health diplomacy as a soft power tool towards Africa: humanitarian and geopolitical analysis", Journal of Asian and African Studies, Vol. 57, No. 6, 2022: 1109-1125.
14- Ronak Gopaldas, "A new chapter in India-Africa relations?", Institute for Security Studies, 24 October 2022, https://t.ly/3mAv (accessed 17 June 2023).
15- Persis Taraporevala and Rani D. Mullen, "India-Africa Brief", Centre for Policy Research, 30 August 2013, https://tinyurl.com/yrx37csc (accessed 4 July 2023), p. 5.
16- Gurjit Singh, "Why the fourth India-Africa forum summit should happen during Delhi's G20 presidency", The Indian Express, 6 June 2023, https://t.ly/Xnku (accessed 18 June 2023).
17- Waheguru Pal Singh Sidhu, "Africa: The indispensable continent for India?", Brookings, 3 November 2015, https://t.ly/t5su (accessed 18 June 2023).
18- Roshni Majumdar, "India woos Africa with trade, tech, investment", Deutsche Welle, 10 August 2022, https://t.ly/jv31 (accessed 18 June 2023).
19- "India's cumulative investments in Africa stand at USD 70 billion: MEA", The Economic Times, 25 May 2022, https://t.ly/pHU3 (accessed 18 June 2023).
20- Abhishek Mishra, "Elevating the India-Africa partnership to new horizons", Observer Research Foundation, 22 July 2022, https://t.ly/M_NJ (accessed 18 June 2023).
21- "Africa-India Partnership Day: India dishes out US $10 bn for Africa's healthcare and other sectors", African Development Bank Group, 25 May 2016, https://t.ly/7vrPM (accessed 18 June 2023).
22- Stephen Karingi and Laura N. Naliaka, "The future of India-Africa relations: Opportunities abound", Brookings, 25 February 2022, https://t.ly/JRvn (accessed 18 June 2023).
23- Ruchita Beri, "India's Vaccine Maitri with Africa", Manohar Parrikar Institute for Defence Studies and Analyses, 11 March 2021, https://t.ly/l_EaK (accessed 18 June 2023).
24- Harsh V. Pant, "Is India the New China in Africa?", Foreign Policy, 17 June 2021, https://t.ly/Fc__p (accessed 18 June 2023).
25- Giulia Paravicini, "India's halt to vaccine exports 'very problematic' for Africa", Reuters, 18 May 2021, https://t.ly/qddg (accessed 18 June 2023).
26- Maina Waruru, "32,000 Africans earn scholarships from India", The Pie News, 28 July 2022, https://t.ly/-w95 (accessed 18 June 2023).
27- Silima Nanda and Ashlesh Saxena, "A novel learning environment: Case study of the Pan African e-Network Project", Turkish Online Journal of Distance Education, Vol. 14, No. 2, April 2013, pp. 248-257.
28- Jagannath Panda, "The Asia-Africa growth corridor: An India-Japan arch in the making?", Focus Asia: Perspective & Analysis, No. 21, August 2017, pp. 1-2.
29. "Narendra Modi in Uganda: PM for cooperation with Africa to combat terror; India to open Gandhi Heritage Centre in Jinja", Firstpost, 25 July 2018, https://tinyurl.com/299vmd52 (accessed 16 June 2023).
30- Samir Bhattacharya, "Tracing the Future of India-Africa Defence Cooperation", Vivekananda International Foundation, 6 August 2022, https://tinyurl.com/2dpbbv8x (accessed 18 June 2023).
31- "China remains Africa's largest trading partner for 12 consecutive years", China-Lusophone Brief, 2 March 2022, https://tinyurl.com/553ehvvx (accessed 19 June 2023).
32- Paul Nantulya, "Africa's Role in China's Multilateralism Strategy", Africa Center for Strategic Studies, 24 January 2023, https://tinyurl.com/ya2nt4m4 (accessed 19 June 2023).