On 8 November 2014, the "World War I: Impact on Palestine" conference began in London, UK. The conference was organized by AlJazeera Centre for Studies (AJCS) in partnership with the Palestinian Return Centre (PRC)days after the British parliament's non-binding recognition of the State of Palestine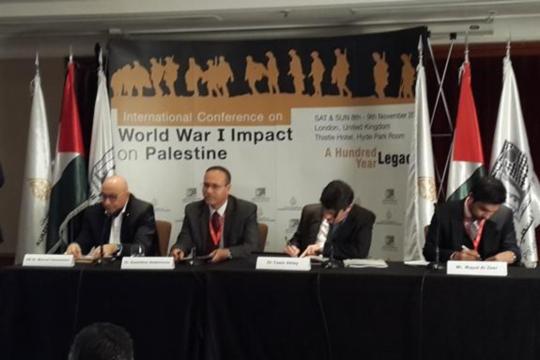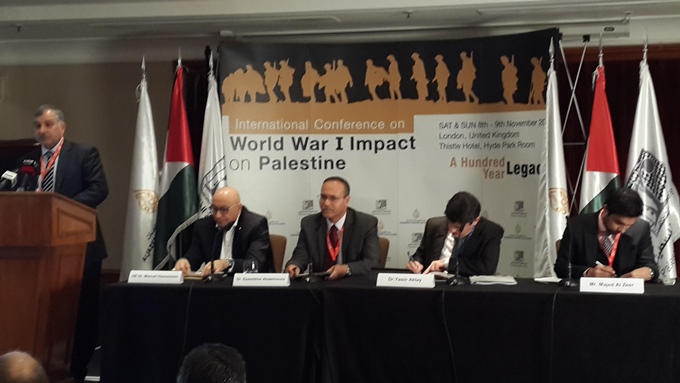 Opening session of AlJazeera Centre for Studies and Palestine Return Centre's conference, "World War I: Impact on Palestine", held 8 through 9 November 2014 in London, UK [AlJazeera]
On 8 November 2014,  the "World War I: Impact on Palestine" conference began in London, UK. The conference was organized by AlJazeera Centre for Studies (AJCS) in partnership with the Palestinian Return Centre (PRC) and came days after the British parliament's non-binding recognition of the State of Palestine. Also significant is the conference's location, given the UK's historical role in facilitating the Sykes-Picot Agreement and Balfour Declaration, both of which have contributed to Palestinian and Arab instability.
Majed al-Zeer, PRC chairman, inaugurated the proceedings by speaking about the legal, political and academic importance of the conference. He expressed hope that the conference would serve as an international reminder of the negative impact World War I had on the Palestinian issue. The conference brought together speakers from both the Arab world and Europe specialising in a number of related fields.
 
Dr. Salah Eddin Elzein, director of the Al Jazeera Centre for Studies, said the conference is part of a series of activities and productions organized by AlJazeera Media Network to mark the anniversary of World War I and its geopolitical impact on the Arab world. He added that while an event which happed a hundred years ago may seem distant, the impact on ongoing struggles in the Arab world and the Arab-Israeli conflict are still quite contemporary.
Other speakers, including Dr. Manuel Hassassian, Palestinian ambassador to the UK, and Dr. Yasin Atkay, sociology professor and vice-president of Turkey's AKP party, used their opening speeches to remind attendees of the lasting impact of history on Palestine in specific and the Arab world in general. Dr. Hassassian also called on Britain to recognise not only that the Palestinian issue still exists but also the Palestinian people's right of return.