Al Jazeera Centre for Studies (ACJS) hosted a roundtable discussion on Wednesday, 15 March 2017, entitled: "Have the Geneva 3 negotiations made any progress in settling the Syrian crisis?"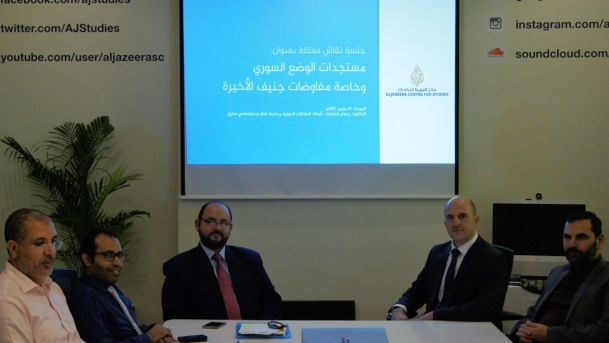 Al Jazeera Centre for Studies (ACJS) hosted a roundtable discussion on Wednesday, 15 March 2017, entitled: "Have the Geneva 3 negotiations made any progress in settling the Syrian crisis?"
Dr. Husam al-Hafiz, Professor of International Relations at Qatar University and former Syrian diplomat, gave a briefing on the aspects of a political solution for the crisis beginning with the efforts of the Arab League, the international community, and the Friends of Syria Group; up the Geneva and Astana negotiations, and ending with the Vienna talks held between former US Secretary of State John Kerry and Russian Foreign Minister Sergei Lavrov.
Al-Hafiz highlighted the major points of contention in the negotiations process between the two sides of the conflict – the Syrian regime and the opposition – in addition to the international players and their priorities in approaching a political solution. Correspondingly, he also discussed attempts by other international powers to change the references of the political solution through alternative means of negotiation.
He also touched on the challenges facing the opposition groups in general and the role regional and international powers play in the negotiations and the interests governing their choices and positions.