To discuss the orientations of Turkish foreign policy under the new political regime, Al Jazeera Centre for Studies and the Foundation for Political, Economic and Social Research (SETA) are organising a panel discussion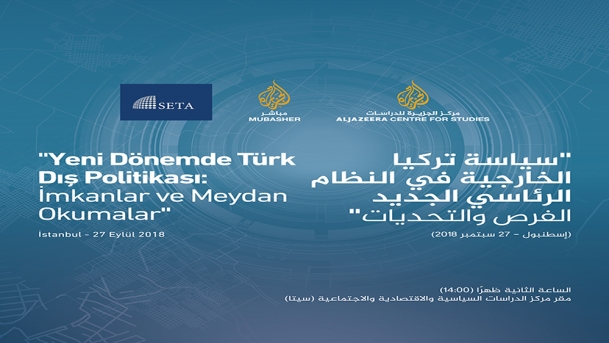 Istanbul : SETA headquarters      Date : 27 September 2018 - Time : 14:00 
To discuss the orientations of Turkish foreign policy under the new political regime, Al Jazeera Centre for Studies and the Foundation for Political, Economic and Social Research (SETA) are organising a panel discussion addressing the following:
Has Turkey's foreign policy undergone a fundamental change after the birth of the presidential regime and the formation of its institutions?
What will the future of Turkish-US relations be in light of the current crisis between the two countries?
How will Turkey's relations with Russia and Iran develop in light of the ongoing preparations to free Idlib?
Are there any changes in Turkey's foreign policy toward the Arab region, be it Syria, the GCC or the Palestinian cause?
How much will Turkish foreign policy affect the country's economic situation in the near future?
Panelists:
Dr. Talha Kousa, head of International relations department at Ibn Khaldoun University in Istanbul.
Kemal Inat, Professor of International Relations and Middle East Studies and Senior Researcher at SETA.
Dr. Said Al Hajj, Political Writer and Researcher and specialist in Turkish affairs.
Dr. Samir Salha, Professor of International Relations and political analyst.