Al Jazeera Centre for Studies and Brookings Doha Center are organizing a research seminar in collaboration with Al Jazeera Mubasher under the title, "Arab Spring 2.0? Shifting Sands Forecast a Reformation of the Balances in the Middle East and North Africa," in Doha on Tuesday, 18 June 2019.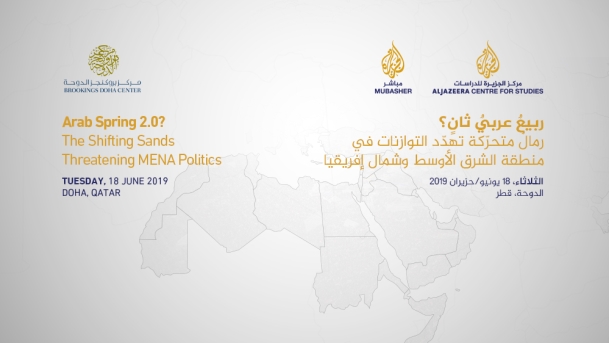 The seminar focuses on the open-ended popular movements in Algeria and Sudan, their dynamics and courses, and the prospects of change and the influence of regional and international actors.
With the input of a group of leading researchers and experts, the seminar seeks to deconstruct the similarities and differences between the protests in Algeria and Sudan on one hand and those of the Arab Spring countries in 2010 and 2011, and assess whether Algeria's and Sudan's development may escalate or indicate the reformation of the balance of power in the MENA region.
The seminar will address a number of questions : will protesters in Algeria and Sudan succeed in getting rid of their old regimes? Are the protest movements likely to expand and include other countries in the MENA region in a manner that evokes the revolutions of 2010 and 2011? What are the lessons learned – if there are any – from the protest movements that failed in Egypt, Syria, Libya and Yemen?
The invited speakers are:
Abdelwahab El-Affendi, Dean of the School of Social Sciences and Humanities at Doha Institute for Graduate Studies;
Shafeeq Ghabra, Professor of Political Science at Kuwait University;
Haoues Taguia, Researcher at Al Jazeera Centre for Studies;
Shibley Telhami, Nonresident Senior Fellow at the Center for Middle East Policy (via satellite)