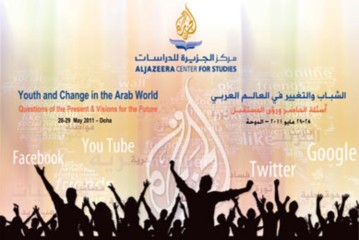 On 28th-29thMay 28-29, 2011 Al Jazeera Centre for Studies organized a forum entitled "Youth and Change in the Arab World: Questions of the Present and Visions for the Future" held at the Ritz Carlton in Doha, Qatar, and witnessed the participation of over eighty youth, both male and female, representing 18 Arab countries.
The forum discussed the issue of change in the Arab world in light of the current wave of revolutions and popular protests that has overrun the region since the end of last year. It also aimed to offer participants the opportunity to meet with each other and build means of cooperation, exchanging experiences and bolstering understanding and integration amongst themselves.
The two day forum was also an opportunity for participants to learn about the experiences of different countries that made great strides in change and democratic reform. These interactions were shared through five open sessions and three specialized workshops.
The Center invited to the forum young men and women that represent all types of political and intellectual affiliations in their respective countries, and that played key roles in recent efforts for change and reform that marked the Arab World, especially during the recent events of the Arab Spring.