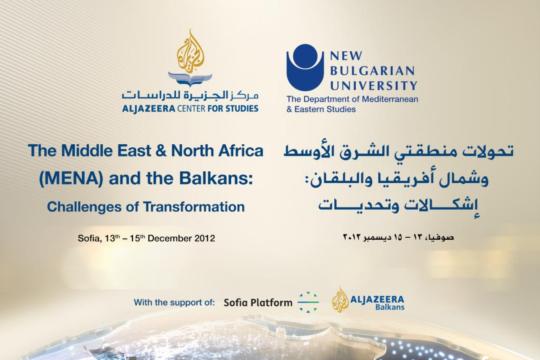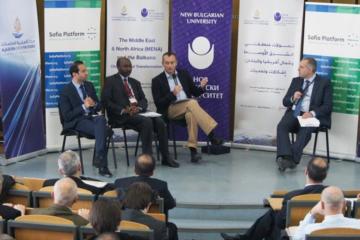 Al Jazeera Center for Studies hosts a conference in Sofia, Bulgaria, on 'Transformations in the MENA Region and the Balkans
Al Jazeera Center for Studies organised a conference in the Bulgarian capital of Sofia, in conjunction with the first anniversary of the launch of Al Jazeera Balkans, on "The Middle East & North Africa (MENA) and the Balkans: Challenges of Transformation", in collaboration with the New Bulgarian University. The conference took place on 13 -15 December 2012 and aimed to shed light on the process of democratisation in the Balkan countries as well as the on-going events of the Arab Spring. The conference also aimed to address various themes including the historical and cultural ties between the Balkans and MENA regions, transformation and developments in the two regions, past and future relations and the role and impact of religion.
The conference, which was held at the Aula Hall of the New Bulgarian University in Sofia, hosted a number of leading academics, politicians, diplomats, and experts from various Balkan countries of Europe and the Middle East and North Africa, including Mustafa Akyol, a Turkish political commentator and author, who gave a key note speech entitled 'A Muslim Case for Liberty', during the opening session of the conference. Akoyol addressed the role of the revolutions in Egypt, Tunisia, Libya, Yemen and Syria and contested the arguments by Western researchers who accuse Islam of generating dictators whilst encouraging subservience to them.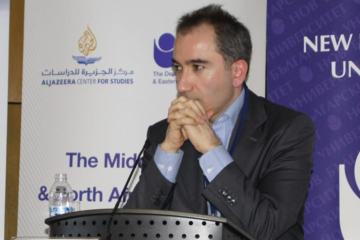 Mustafa Akyol giving a key note speech on 'A Muslim Case for Liberty'
Much of the discussions focused on Egypt, during day two of the conference, with a session on 'Transitional Justice in Bulgaria and Egypt', by Maria Petkova. This looked at the on-going conflict in Egypt over the draft constitution, comparing its system of transitional justice with its counterparts in the Balkans. There was also a session on 'The Role and Impact of Religion on Contemporary Societies in MENA and the Balkans' under the theme of religion and politics, by Hany Saleh.  Wadah Khanfar, co-founder of Al-Sharq Forum, also gave a second key note speech of the conference on, 'Challenges of Democratic Transition in the Post-Revolutions MENA Region', in which he stressed that what is happening in Egypt is "more of a political war than of a political process". On a recent visit to Cairo in an effort to understand the developments in previous months he detailed that a state of polarisation is currently dominating the country.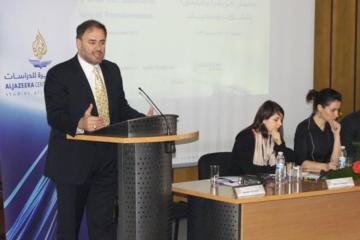 Wadah Khanfar giving a second key note speech on 'Challenges of Democratic Transition in the Post-Revolutions MENA Region
Finally, in day three, the Foreign Minister of Bulgaria, Nikolay Mladenov, predicted the imminent collapse of Bashar al-Assad regime during the closing session of the conference.
To introduce the reader to the work of this conference, Al Jazeera Center for Studies is pleased to publish the following materials: