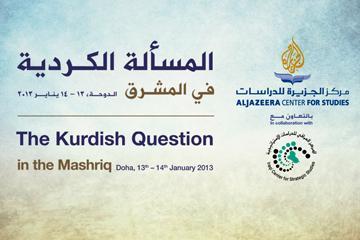 Al Jazeera Center for Studies organised a conference on 'The Kurdish Question in the Mashriq', in collaboration with the Iraqi Center for Strategic Studies early this year. The conference took place over a period of two days in the Qatari capital of Doha, on the 13-14 January 2013, at the Hilton Hotel.
The event brought together a group of academics, politicians and experts and specialists in Kurdish affairs to assess the current situation and ask what lies ahead. This has become a tool in the territorial disputes among the near Eastern states, as well as an area of external interventions, leaving in both cases a situation of civil conflicts, instability and human and social tragedies. Perhaps the widespread debate that the region is witnessing in the past few months is an indication of hard work in these countries to find a satisfactory and lasting solution to the Kurdish question. The conference explored themes relating to the Kurdish question in Turkey, Iraq, Iran and Syria.
For more details, please see the conference agenda.