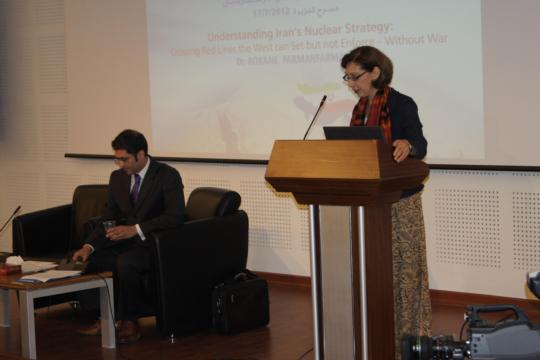 Al Jazeera Center for Studies organised a special lecture on 'Understanding Iran's nuclear strategy:  Crossing red lines the West can set, but not enforce – without war' by Dr. Roxane Farmanfarmaian, as a visiting fellow at the Center for Studies on the 18 July 2012.
Dr. Farmanfarmaian is an Affiliated Lecturer at the Political and International Relations Department at the University of Cambridge, and Wayne Owen Middle East Scholar at the Hinckley Institute of Politics at the University of Utah, where she is closely tied to the Middle East Center, one of the oldest in the US.  She is an expert on Iranian geo-strategic affairs, particularly its relations with regional neighbours and with the US and EU and Middle Eastern politics. She is the author of Blood and Oil: Inside the Shah's Iran and of numerous scholarly articles on Iran's Islamic revolution, its oil economy, its nuclear standoff with the West, and its security profile.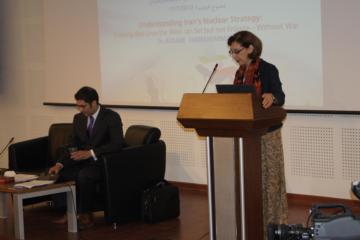 Special Lecture on 'Understanding Iran' by Dr. Farmanfarmaian
During the special lecture, Dr. Farmanfarmaian discussed the issue of Iran's nuclear strategy from an alternative point of view to that which is usually voiced in the media, in an attempt to offer another explanation as to why the negotiating process between Tehran and the West produces so little result, and so much frustration on each side.
According to Cambridge academic Dr. Roxane Farmanfarmaian, "…the United States government is more interested in engineering the downfall of Iran's Islamic government than in solving the situation in Syria".
Speaking at the Al Jazeera Media Centre, Dr. Farmanfarmaian said:
"If western states were genuinely committed to finding a solution to Syrian peace, as Kofi Annan is, they would welcome engagement by all significant players in the region. That Iran is condemned and shut out suggests that anti-Iranian policy [...] trumps any serious peace plan, no matter how much blood is spilt.
Dr. Farmanfarmaian said Washington's animosity towards Tehran is so great that even if it were conclusively proved that Iran has no nuclear weapons programme, America would find another reason to demonise and marginalise the country.
She said the US policy has its roots in the humiliation it felt during the hostage crisis of 1979/80.
That crisis publicly shamed the US in a way that it had never been shamed before, and stole the feeling that the US had about itself, that it was a country beloved for its democratic values. This was the first time the US was exposed to accusations of imperialism and support for dictatorships.