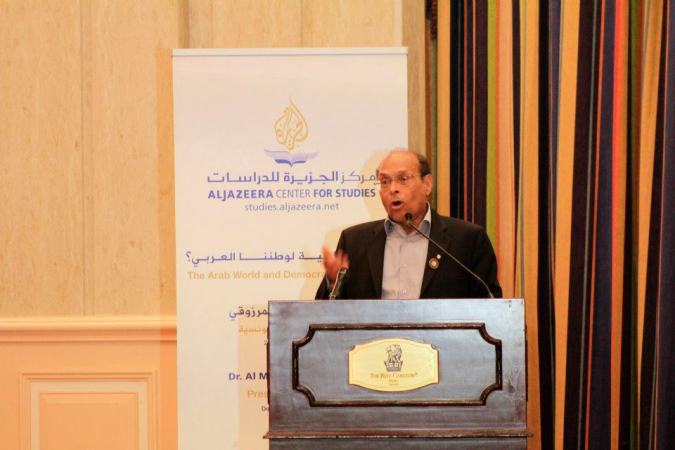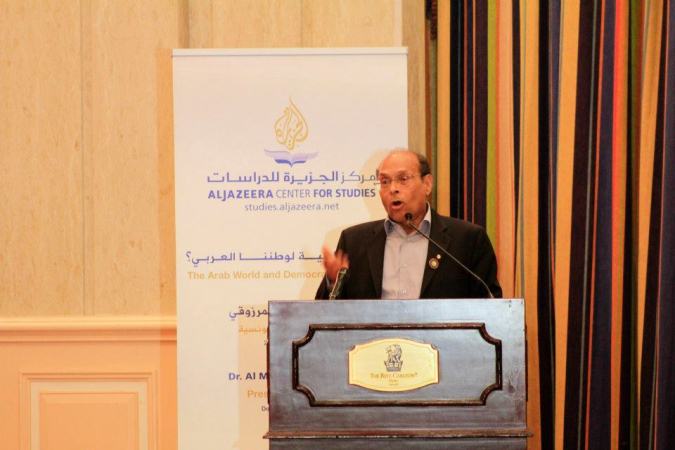 Dr. Moncef Marzouki during his lecture on 26 March 2013.
 
Al Jazeera Center for studies hosted a special lecture by the Tunisian president, Dr. Moncef Marzouki, entitled "The Arab World and Democratic Governance" on 26 March 2013 at the Ritz-Carlton Hotel in Doha.
Dr. Marzouki gave an analysis of the problematics of democracy in the Arab world and the obstacles to its application whether in terms of the foundations and rules of democracy as a system or the Arab environment itself, which perhaps is not yet ready to accommodate a system that had arisen and developed in a very different setting. He also portrayed the reasons behind the Arab environment's inability to grasp the democratic system, particularly the nature of the value system in Arab societies which, contrary to their Western counterparts, puts great emphasis on justice but overlooks freedom.
Dr. Marzouki concluded with the results of a process that is oriented toward consolidating democratic ideals in the Arab world and allows for a new value system that brings together justice and freedom, thus gradually creating a political class that believes in pluralism and steers away from the tyranny that had existed for long periods of time in Arab political exercise. He also pointed out that through its wrongs, dictatorship paves the way for democracy, and that with its failings, democracy paves the way for dictatorship.