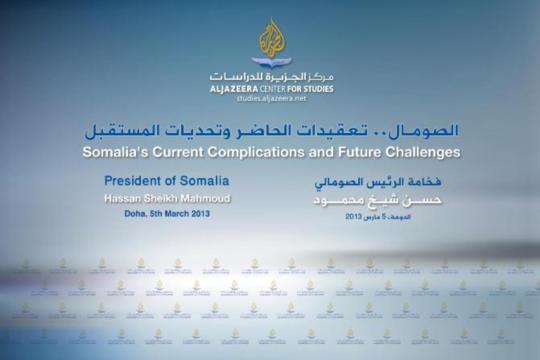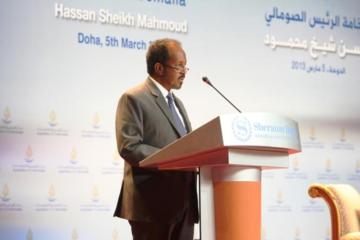 Somali President Hassan Sheikh Mahmoud during lecture on 5 March 2013.
Al Jazeera Center for Studies hosted a special lecture by the President of Somalia, Hassan Sheikh Mahmoud, on the Current Complexities and the Future Challenges, at the Sheraton Hotel in Doha, on Tuesday 5th March 2013. The event brought together a group of academics, politicians, diplomats, members of the Somali community, as well as experts and specialists in Somali affairs to assess the current situation and ask what lies ahead.
Since the fall of the Barre regime (1986-1991) and the collapse of the State, Somalia's problems have been longstanding and complicated. With an on-going civil war, the country is facing growing internal separatist tendencies and tribal conflicts that have resulted in mass displacement.
The spread of religious extremism manifested in the emergence of violent opposition groups have rendered the country insecure and unstable. Somalia has also had a long history of rushed reconciliation and power-sharing agreements with unsuccessful outcomes. The international community have furthermore squabbled over its best interests.
In keeping with the topic for discussion, the special lecture addressed the following questions: how will the new President, Hassan Sheikh Mahmoud, deal with this heavy legacy? How will he arrange his priorities? On what platform do his pillars rest? What are the main challenges? What are the regional and international challenges? How will future engagements with the international community help Somalia? To what extent is the fragmentary transitional system capable of achieving the people's will?
Special lectures as organised by Al Jazeera Center for Studies seek to highlight major political and strategic issues in the region.
For more information, see the lecture report by Dr. Sidi Ahmed Ould Ahmed Salem.