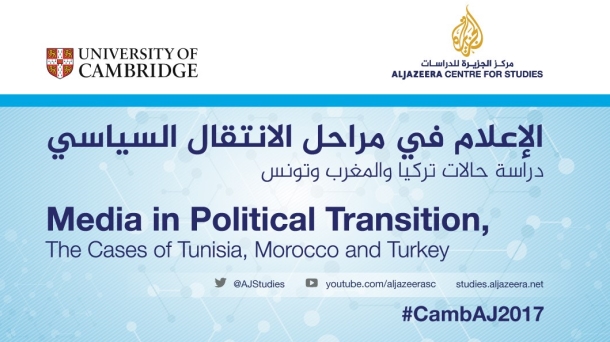 Conference Concept
This final conference brings together original research by two separate academic teams, one based in Morocco and the other in Turkey, who are engaged in the University of Cambridge-Al-Jazeera Media Project. Launched in 2013, the project's first research programme, entitled "Media in Political Transition in the Southern Mediterranean", focused its initial year of research on media in Tunisia after the Arab Uprisings. In 2014, the project was extended significantly as a result of the generosity of Al-Jazeera Media Corporation, enabling two teams of scholars to conduct similar research on media in political transition in Morocco and Turkey. The mid-study workshop brought their work together for the first time. The purpose of extending this research to Turkey and Morocco is to enable a comparative study of media systems along the breadth of the Mediterranean littoral, based on the same research definitions employed in Tunisia and following many of the same themes: internet freedom and surveillance, political narrative, social media use, gender issues on television and within the larger public sphere, the professionalism and partisanship of the sector, the rise of Islamic media, and the internal competition of political elites to utilise the media for particularist purposes. By looking at Turkey and Morocco, a more complete picture is emerging of how government-media relations in the region have responded to new political tensions and shifts in popular narrative in response to the events of 2011 and 2013. Indeed, the strength of this project lies in the ability it offers to investigate change in three very different forms of state organisation – Turkey's fast transitioning semi-democracy, Morocco's monarchy, and Tunisia's pluralistic post-revolutionary experiment after severe dictatorship as well as their interpretation of media as an instrument of state power and mechanism of social expression. This will provide original comparative analysis on the subject of the political-media nexus in these Mediterranean states, something that has not been conducted previously in any depth. Additionally, analysis of media as a reflection and tool of power (whether utilised by government, military, secret service, private sector or civic groups), sheds light on the structures and drivers of these states' politics and modernisation processes from an important new angle.
Having the conference in Doha will add a unique dynamic to the project's final period before realising the publication of a monograph in early 2017. The invitation of scholars, journalists and other relevant stakeholders based in the media/education hub of Doha, who will also give feedback on the respective papers, will contribute to building an outstanding network of media scholarship in the MENA region.
Program
 Day One | Saturday, 7 January 2017
Time
Description
9:30 - 9:45
Opening and Welcome: 

Dr. Salah Eddin Elzein and Dr. Roxane Farmanfarmaian

10:15 - 12:15

Panel I
How the Media Functions

Professor Asl? Tunç (Istanbul Bilgi University): All is Flux: A Macro Analysis of the Turkish Media Scene from a Hybrid Media System Perspective

Professor Driss Ksikes (Centre d'Etudes Sociales, Economiques et Managériales [CESEM], Rabat)/

Abdelfettah Benchenna (Université Paris XIII)/

Dominique Marchetti (Centre Européen de Sociologie et de Science Politique [CESSP], Paris): The Media and Power Landscape in Morocco

Dr. Ali Sonay (University of Cambridge): Local Media in Turkey: The Development of the Radio Landscape in Konya.

Respondents: Dr. Noureldine Miladi (Qatar University)

Moderator: Martine Dennis (Al Jazeera English)

12:15 - 12:30
 Coffee Break
12:30 - 14:00

Panel II
Surveillance      

Samia Errazzouki (Morocco Field Researcher for the University of Cambridge – Al Jazeera Media Project):  Under Watchful Eyes: Internet surveillance and citizen media in Morocco, , the Case of Mamfakinch

Assistant Professor Erkan Saka (Istanbul Bilgi University): Social Media in Turkey as a space for political battles: An introduction to AKTrolls and other politically motivated trolls in Turkey

Respondents: Dr. Illhem Allagui (Northwestern Univ. Doha)

Moderator: Dr. Suzi Mirgani (Georgetown University in Qatar)

14:00 - 15:00
Lunch
15:00 - 17:30

Session III
Agency and Representation

Dr. Ay?e Seda Yüksel (Kadir Has University): Representation of Terror and Ethnic Conflict in the Turkish Press:  An Analysis of the Peace Process in Turkey

Professor Michelangelo Guida (Istanbul 29 Mayis University): Corporatism and fears: Islamist press in Turkey after June 2013

Dr. Ali Sonay (University of Cambridge): Liberalizing Media in Authoritarian Contexts: Radio Listening in Contemporary Morocco

Dr. Roxane Farmanfarmaian (University Cambridge): Mediapreneurship in Morocco (Tunisia and Turkey): Web Resistance 2.0

Respondent: Galip Dalay

Moderator: Thembisa Fakude (Al Jazeera Centre for Studies) 

Day Two | Sunday, 8 January 2016
Time
Description
9:30  - 11:00

Panel IV
Structure and Governance

Professor Ay?e Öncü (Sabanci University): Government/Media Relations in Turkey: The Makings of an Authoritarian Order
Associate Professor Bouziane Zaid (Al Akhawayn University): Structure: Media in Political Transition, Morocco

Respondents: Dr. Mohamad Zayani (Georgetown University in Qatar)

Moderator: Dr Amy Kristen Sanders (Northwestern University)  

11:00 - 11:15
Coffee Break
11:15 - 13:00

Panel V
Women in Talk Shows

Ye?im Burul Seven (Istanbul Bilgi University) and Dr. Hande Eslen-Ziya (University of KwaZulu Natal):  Understanding "the New Turkey" through the Eyes of Women:  Gender Politics in Turkish daytime Talk-shows

 

Assistant Professor Kenza Oumlil (Al Akhawayn University):  The Representation of Women in Moroccan Television Talk Shows

Respondent: Dr. Birol Baskan (Georgetown University)

Moderator: Imad Musa (Al Jazeera English)

13:00 - 13:30

Concluding Remarks 
Dr. Salah Eddin Elzein and Dr. Roxane Farmanfarmaian

Speakers
Day One Speakers

Roxane Farmanfarmaian Is the Principal Investigator and Director of the University of Cambridge-Al-Jazeera Media Project, which is researching 'Media in Political Transition' in Tunisia, Turkey and Morocco, and published in 2014 the first tranche of the research as a special section on media in Tunisia in the Journal of North African Studies. Dr. Farmanfarmaian teaches in the POLIS Masters programmes, focusing on the international relations of the modern Middle East and North Africa, media and energy security.

Aslı Tunç

is a Professor at the Media and Communication Systems Department at Istanbul Bilgi University, Turkey. She received her PhD in Media and Communications at Temple University in Philadelphia in 2000. She has given lectures and seminars at universities in the United States, the United Kingdom and Greece on the freedom of expression and the media's changing role in Turkey and around the world.

Driss Ksikes

Is Professor of Media, Culture and Creative writing at the Institute of Management Studies (Institut des Hautes Etudes de Management, HEM) in Morocco. Previously chief-editor of TelQuel magazine, he has been the Managing Director of the Centre for Social Economic and Managerial Studies (CESEM), HEM's research centre and Editor of Economia, its main review journal, since 2007. He is also a literary critic, playwright, novelist, essay writer and co-author of Le métier d'intellectuel (Presses de l'Université Citoyenne, Ed. En toutes lettres, 2014), for which he has been awarded a Grand Atlas Prize in 2015.

Abdelfettah Benchenna

Is a Lecturer in Information Sciences and Communication at the University of Paris XIII, a Researcher at the Laboratory of Information Sciences and Communication (LabSic) at Maison des Sciences de l'Homme Paris-Nord. His work focuses on issues related to the integration of information technology and communication (ICT) in the sectors of education, culture, administration in African and Arab Countries.

Dominique Marchetti

is Senior Researcher at the National Centre for Scientific Research (CNRS) associated with the European Centre of Sociology and Political Science (Ecole des Hautes Etudes en Sciences Sociales and University of Paris 1-Sorbonne). His work deals with contemporary changes in the relationship between journalism and power, especially in France and Morocco. He is the author and editor of several books about French and pan-European media. 

Ali Sonay

Is the Al Jazeera postdoctoral research fellow with the University of Cambridge – Al Jazeera Center for Studies Media Project. After obtaining a Magister Artium in Political Science, Islamic Studies, and Economics from Friedrich-Alexander-University at Erlangen-Nuremberg, including a one-year stay in Damascus for Arabic studies, he submitted his PhD in June 2015 at the Centre for Near and Middle Eastern Studies at Marburg University in Middle Eastern Politics. It focuses on the Egyptian April 6th Youth Movement as an example of contemporary social movement dynamics

Noureddine Miladi

earned his MA and PhD in media and communication from the University of Westminster in London, UK. Before joining Qatar University in 2012, he taught journalism and mass communication in various UK universities such as University of Westminster, Middlesex University, London Metrbopolitan University and the University of Northampton. Dr. Miladi has published widely in international refereed journals and books and is a member of various international media and communication organisations such as IAMCR, MECCSA and AUSACE. He is editor of an English written international academic refereed journal in Arab media and communication research, the Journal of Arab and Muslim Media Research.

Samia Errazzouki 

Is a Morocco-based journalist and researcher. She has been involved with Jadaliyya since 2012 through her work in creating and managing Jadaliyya's Maghreb Page—the only online publication exclusively dedicated to publishing on the Maghreb region in English, French, and Arabic. Samia received her MA in Arab Studies from Georgetown University. Since graduating, Samia has been working in Rabat as a field research associate for the University of Cambridge.

 
Erkan Saka 

Is an Assistant Professor at the School of Communication at Istanbul's Bilgi University. He teaches Digital Journalism, New Media Cultures and Cyber Anthropology. He earned his BA and MA degrees at the Sociology Department of Bo?aziçi University, Istanbul. He received his PhD at the Anthropology Department of Rice University (Houston, USA). He has been a political blogger, Erkan's Field Diary, since June 2004. He is a co-coordinator of a Citizen Journalism Training Programs at Bilgi E?itim and he coordinated and presented the television show, SosyalKafa, on new media.

 
 

Ilhem Allagui

Is an Associate Professor at Northwestern University in Qatar. She holds a PhD in Communication Studies from the University of Montreal, Canada. Her research focuses on the social integration of new media in the Arab region as well as the evolution and development of the media and communications industry in the Middle East and North Africa region. In 2007, she launched the Emirates Internet Project (EIP).

 

Ayse Seda Yuksel

received her PhD from Central European University, Department of Sociology and Social Anthropology in 2014. Her PhD dissertation, "The Localization of Neoliberalism: State Rescaling, War and Culture in Southeast Turkey" focuses on the processes of neoliberal restructuring and the constitution of local markets in southeast Turkey since the early 2000s. 

Michelangelo Guida 

Is a Professor and Head of the Department of Political Science and International Relations at Istanbul 29 May?s University. He received his BA and PhD in Middle Eastern politics from Istituto Universitario Orientale, Naples and his MA in Turkish Studies from SOAS. His main fields of interest are Muslim intellectuals and electoral behaviours in Turkey and the Middle East.

Galip Dalay 

Works as a research director at Al Sharq Forum and a senior associate fellow on Turkey and Kurdish Affairs at Al Jazeera Centre for Studies. He previously served as a visiting fellow at the German Institute for International and Security Affairs (SWP) in Berlin, and as a political researcher at SETA Foundation in Ankara. He is  a regular writer for the German Marshall Fund of the United States' Turkey policy brief papers and book-review editor of the quarterly magazine Insight Turkey. In addition, he is a columnist for The Middle East Eye and a blogger for The Huffington Post. He also hosts a weekly foreign policy television show on the Turkish channel, TVNet.  
Day Two Speakers
Ayse Oncu

Is Emeritus Professor of Sociology at Sabanc? University in Istanbul and a member of the Academy of Sciences. Her career includes two decades at Bo?aziçi University as well as visiting professorships at the University of California (Los Angeles) and University of Ann Arbor (Michigan). Her research interests center on cultural politics, with special emphasis on city cultures and media and public spheres.

 

Bouziane Zaid

Is an Assistant Professor of Media and Communication at Al Akhawayn University in Ifrane, Morocco. He obtained his PhD in Communication from the University of South Florida. His research interests include media law and policy, digital rights, public service broadcasting, development communication, and critical media studies. He is the author of Public Service Television Policy and National Development in Morocco: Contents, Production, and Audiences and co-author of the online report "Mapping Digital Media: Morocco". He also has authored numerous journal articles, country reports and book chapters. Zaid serves as a consultant for Freedom House, the Open Society Foundation Media Program, UNESCO and other international organisations.

Mohamad Zayani 

Is a Professor of Critical Theory at the Georgetown University School of Foreign Service in Qatar where he directs the Media and Politics Program. He is also an Affiliate Faculty with the Georgetown Communication, Culture and Technology Graduate Program and Co-Director of the CCT Institute on Media, Technology & Digital Culture in the Middle East. His works include Bullets and Bulletins: Media and Politics in the Wake of the Arab Uprisings (Oxford University Press, 2016); Networked Publics and Digital Contention (Oxford University Press, 2015; winner of the ICA Global Communication and Social Change Best Book Award & the AGSS Toyin Falola Book Award); The Culture of Al Jazeera: Inside an Arab Media Giant (McFarland, 2007); and The Al Jazeera Phenomenon: Critical Perspectives on New Arab Media (Pluto Press, 2005).

Yesim Burul Seven 

Is an Adjunct Lecturer at Istanbul Bilgi University, teaching courses in Media and Film & TV studies. She received her MA in Media and Communication Studies at Goldsmiths College, University of London. She gained a BA in Psychology at Bogazici University, Istanbul. She is currently writing her PhD thesis at Amsterdam School for Cultural Analysis (ASCA).

Hande Eslen-Ziya 

Is a Postdoctoral Research Fellow at the University of KwaZulu-Natal, Durban. She holds a PhD in Sociology from the Polish Academy of Sciences in Warsaw, Poland. In 2015, she was awarded Associate Professorship by the Turkish Higher Education Council. Her research is theoretically informed by social psychology, feminist psychology and sociology as well as gender role strain, conceptions of femininity and masculinity and gendered migration.

Kenza Oumlil 

Is an Assistant Professor of Communication and Gender at Al Akhawayn University in Ifrane (AUI), Morocco. She presently acts as the Communication Studies Program Coordinator at AUI. She holds a PhD in Communication from Concordia University in Montréal, Canada. Her most recent scholarly articles include "Women in Contemporary Moroccan Cinema" (Journal of Middle East Media, 2016).

 

Birol Baskan

Is an Assistant Professor at the Georgetown University School of Foreign Service in Qatar. He received his PhD in Political Science from Northwestern University in 2006. Baskan taught at the State University of New York-Fredonia in 2006-2007 and at Qatar University in 2007-2010. His research looks at the roles religion, religious institutions, and grassroots religious groups that play a role in creating, maintaining, undermining, and destroying political order in the Middle East.