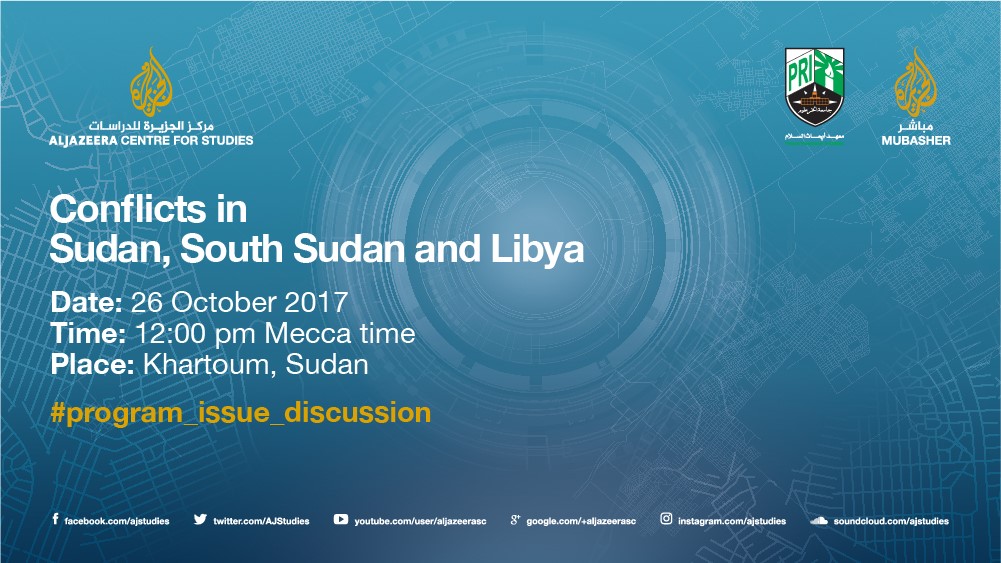 As part of their monthly seminars, Al Jazeera Centre for Studies (AJCS) and Al Jazeera Mubasher (AJM) are hosting a seminar in Khartoum in collaboration with the Peace Research Institute (PRI) at the University of Khartoum.
The seminar will be held on Thursday, 26 October 2017, at 12:00 pm.
Sudan's vicinity has always been a fertile land for deep-rooted domestic conflicts and long-lasting multilateral disputes. The Eritrean-Ethiopian conflict, which resulted in the current realities in both the countries; the domestic conflict within Uganda; and the conflicts in Congo, Central Africa and Chad are just a few examples.
All of the above conflicts started with a domestic dispute that developed into extreme regional high-priced conflicts engulfing more than one country in the region.
These conflicts were further fuelled by the onset of the Arab Spring and the revolutions that toppled dictatorial regimes that had an iron grip on power for decades, such as that of Libya.
Needless to say, the domestic conflicts within Sudan itself have had their regional ramifications.
In this context in the north and south of the African continent, it is mandatory to shed light on these disputes and their repercussions on their domestic and regional arenas as well as gauge the degree to which international players have influenced these disputes, whether towards resolution or further escalation.
Accordingly, the themes of the seminar are:
Conflicts within Sudan and its vicinity: current and future regional aspects & international dynamics
Conflicts in South Sudan: ramifications on its neighbours and the future of the newly created country
Conflict in Libya: crossroads and the future path
Conflict over water in theNileBasinand its implications on the region