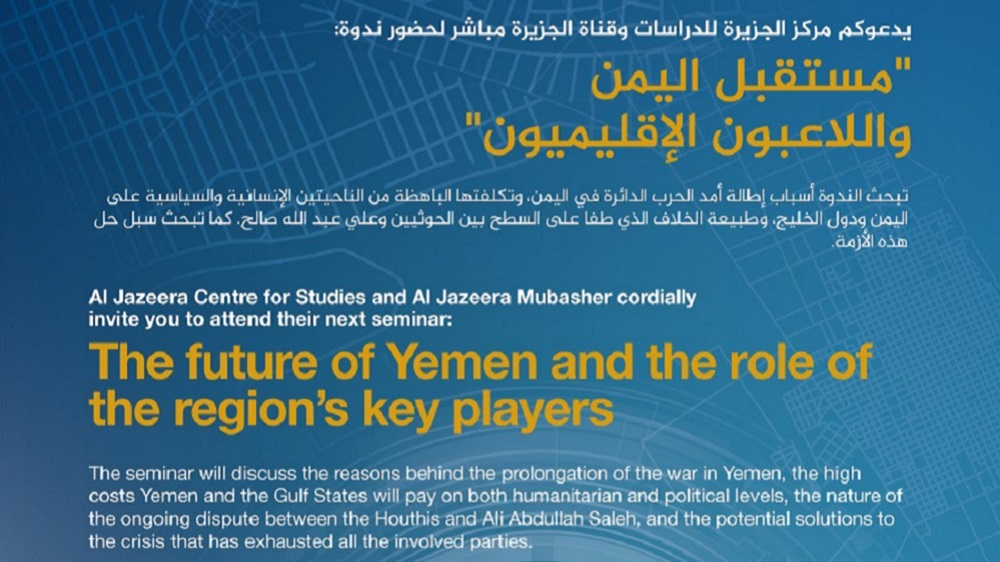 INVITATION
Al Jazeera Centre for Studies and Al Jazeera Mubasher cordially invite you to attend their next seminar:

The future of Yemen and the role of the region's key players

3 October 2017

Al Jazeera Media Institute Auditorium

7:00 PM
The seminar will discuss the reasons behind the prolongation of the war in Yemen, the high costs Yemen and the Gulf States will pay on both humanitarian and political levels, the nature of the ongoing dispute between the Houthis and Ali Abdullah Saleh, and the potential solutions to the crisis that has exhausted all the involved parties.
Speakers:
| | |
| --- | --- |
| | Dr. Bakeel al-Zandani, Professor at Qatar University |
| | Dr. Hassan Ahmadian, Professor of Middle East Studies at Tehran University |
| | Dr. Abdallah al-Ghailani, Researcher specialised in strategic studies |
| | Mr. Jaber Al Harmi, Journalist and former editor-in-chief- of Al-Sharq Newspaper |
Please arrive at least fifteen minutes before the start of the seminar.
Simultaneous translation between Arabic and English will be available.