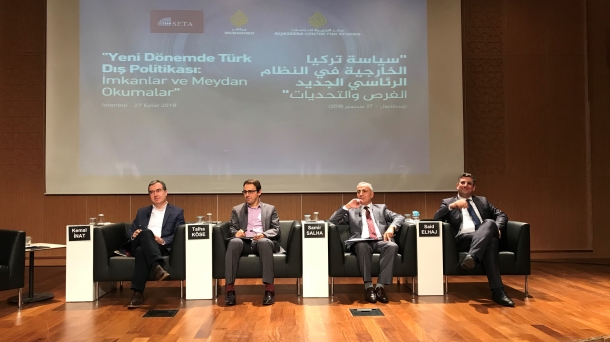 Al Jazeera Centre for Studies (AJCS) organised a seminar in collaboration with the Foundation for Political, Economic and Social Research (SETA) and Al Jazeera Mubasher entitled "Turkish Foreign Policy under the New Presidential System". Held in Istanbul on 27 September 2018, the seminar concluded that Turkish foreign policy will see an improvement in relations with Russia and China in the coming period. However, it predicted that tensions will continue to engulf Turkey's relations with the United States, the NATO and some Arab countries.
Panellists cited a number of reasons for the persistently tense relations between Turkey and the US. These included Washington's unfair attitude toward Ankara, and the US tendency to support Syrian organisations that Turkey labels as "terrorist". Another reason is Turkey's position on issues involving Israel; especially the stance on the Palestinian cause, Jerusalem and the siege on Gaza. Panellists added that Turkey's accusations that the US had backed the failed coup attempt and hosted Fethullah Gulen have brought the Turkish-US relations to the brink of strategic rupture.
In the same context, panellists referred to the pressure that the Trump administration put on Turkey to stop its economic cooperation with Iran, noting that this was met with categorical rejection by President Recep Tayyip Erdogan. They also shed light on the motives for Turkey's move to strengthen its relations with China and Russia, citing Ankara's desire to look for alternatives to its strained relations with the US. They stressed that Turkey has the right to diversify its sources of armament and improve its relations with any nation it chooses. This, however, will not necessarily happen at the expense of relations with other nations. Panellists cited Turkey's purchase of the Russian-made S-400 air-defence system and the NATO's stance toward the deal.
In a different context, the panellists touched on the challenges that Arab-Turkish relations face. According to them, the Arab states' conflicting policies and failure to develop a consolidated policy on several Middle East issues are to blame for uneasy relations with Turkey. They also mentioned the hostile positions of some Arab regimes against Turkey on account of the latter's support for the Arab Spring revolutions.
To conclude, Dr. Muhittin Ataman, the deputy director of SETA, stressed the importance of seminars and events that bring together Arab and Turkish researchers to exchange views and develop more in-depth understandings of various issues of mutual interest. The director of AJCS, Dr. Mohammed Mukhtar Al Khalil, spoke of the historical, geographic and cultural ties that link Turkey with the Arab world. He expressed hope that such events would serve as a bridge for communication and mutual understanding between the Arab and Turkish nations.