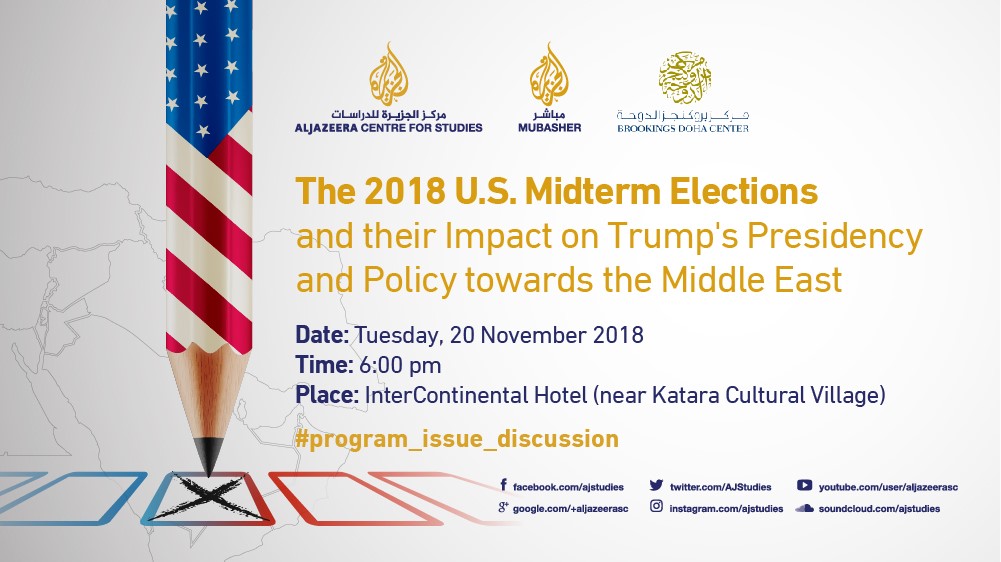 Al Jazeera Centre for Studies and the Brookings Doha Center are organising a research seminar in collaboration with Al Jazeera Mubasher entitled "The 2018 U.S. Midterm Elections and their Impact on Trump's Presidency and Policy towards the Middle East". The seminar will take place on Tuesday, 20 November 2018 in Doha, Qatar.
The seminar will explore the results of the midterm congressional elections and examine their ramifications, especially for the influence of the Democratic majority; Trump's domestic policy, and U.S. foreign relations particularly with the Middle East. In addition, the speakers will forecast the features of the upcoming U.S. presidential election in 2020 in light of the midterm election results.
The panelists will be Mohammed Cherkaoui, Senior Researcher at Al Jazeera Centre for Studies; Philip Grey, Assistant Professor of Political Science at Texas A&M University, Qatar; Clyde Wilcox, Professor of Government at Georgetown University (via video); and Adnan Hayajneh, Professor of International Relations at Qatar University.