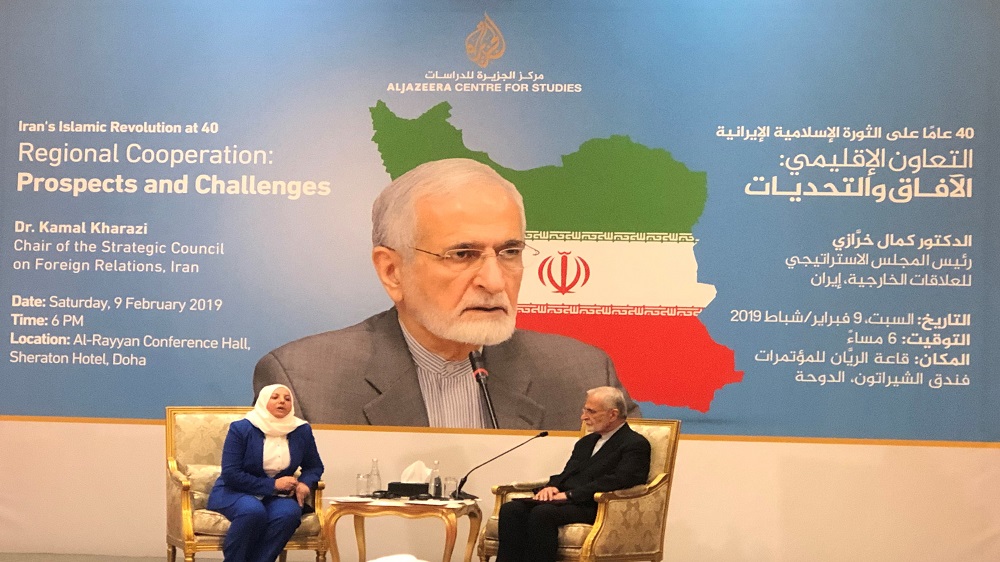 Dr. Kamal Kharazi, chairman of Iran's Strategic Council on Foreign Relations and former Foreign Affairs minister, called on Arab states to find ways of regional cooperation. "The region is rich in human and natural resources; but has not been capitalized on in the best manner due to the effect of Iranophobia that the United States and Israel have spread," he said. He also conveyed Iran's desire to bridge the gaps through dialogue and cooperation with its neighbors, particularly in education and technology, and benefit from the capabilities of the youth to restore the glory of Islamic civilization.
Kharazi spoke in a public lecture hosted by Al Jazeera Centre for Studies on Saturday, 9 February 2019, in Doha, entitled "The Iranian Islamic Revolution at 40: Prospects and Challenges of Regional Cooperation." He articulated Iran's position on key developments in the Middle East in recent years, including the Arab Spring, civil wars and crises in Yemen, Iraq and Syria. He also laid out the foundation of the Iranian foreign policy based on the spirit and trajectory of the constitution. "The eight-year Arab revolutions have reached a dead end due to foreign intervention, especially by the United States and Israel," explained Kharazi. He also cited the negative transformation of the Iranian-Saudi relations, and blamed Saudi Arabia and Israel of "planting the seeds of discord in the region." As for Iranophobia, or the anti-Iran sentiment, He asserted that Saudi Arabia has wasted billions of dollars to no avail. As a result, the Saudi foreign exchange reserve has declined from 700 billion dollars to 300 billion dollars, according to Dr. Kharazi.
Kharazi delivered his lecture less than a week from the upcoming conference in Warsaw, Poland, after US President Donald Trump mobilized a number of nations to take part of an anti-Iran international coalition. Kharazi considered the conference "to be directed not only against Iran but also Russia"; and cautioned these "dangerous policies" would come back to "haunt those who devised them."
On his vision of peace and co-existence between Iran and its neighbors, Kharazi declared, "Peace and security in the region cannot be achieved without respect and cooperation. This requires political insight, [independent decision-making] and faith in our strength as Muslim states." He affirmed "the 40-year Islamic revolution has succeeded in realizing its objectives thanks to faith in Allah, the principles of Islam and [its cause] despite the conspiracies against it." Kharazi recalled the highlights of the Islamic revolution, including the rise in literacy in Iran, which stands now at about 97%; growing number and diversity of universities (about 2500, both large and small); and infrastructure projects that provide drinking water, electricity, and the internet to most Iranian villages.
One question from the audience considered Iran's current Iranian foreign policy to be "based on hegemony, spread of influence and intervention in the affairs of others." Kharazi replied, "Iran does not antagonize anyone and has not waged war against anyone. It helps those who ask for help, and this is an Islamic principle stipulated by the constitution. Since it is an Islamic principle, it will never change." According to him, Iran was obliged to respond to the call of neighboring Iraq to provide assistance in its war against "terrorism". Kharazi pointed out Iran took a similar step when the Syrian government asked for support to maintain the integrity of its territories and protect its security from terrorist groups and foreign intervention – especially by Israel.
On Iran's support for the Houthi Ansar Allah movement in Yemen, Kharazi argued, "Iran is helping the Zaidis get fair representation in the government based on their percentage of population, which is 40%." He added, "This is their right, and Iran is committed to helping them achieve their rights and preventing oppression and aggression against them."
Responding to another question about Hezbollah, Kharazi explained his country has supported Hezbollah because it forced Israel out of Lebanon when the Arab states were unable to take any action. He also maintained that Hezbollah is stronger because they believe in Allah, Islam and the struggle for a better life, and that its strength serves everyone in Lebanon. He argued the Shiite movement defends all Lebanese regardless of their religion or sect. "We do not give Hezbollah orders; it is an established party that knows what it is doing," he said.
Kharazi discussed what he called "Iran's spiritually-inspiring model" as a source of soft power. "Iranian influence is natural because we are a state that has spiritual influence, that presents the peoples with an inspiring model," he said.
The Chairman of Iran's Strategic Council on Foreign Relations commented on the bilateral relations between Iran and Qatar. He explained "Iran's respect for Qatar is genuine and has grown because of Doha's resistance to the blockade and the Saudi-Emirati influence." He revealed that Iran offered Qatar assistance, because "we refuse to let it be dominated by other forces, which was the case for Syria and Iraq." However, this happened "based on the respective governments' requests for cooperation."
Kharazi concluded his lecture in Doha by calling for regional cooperation away from foreign intervention, particularly by the United States and Israel, and 'Iranophobia.' "What we need is political insight and self-sufficiency, which requires the region's states to meet and discuss means of cooperation without foreign intervention," he said. He affirmed that the states of the region are rich and have an ancient Islamic civilization and that "our duty today is to help revive the spirit of this civilization and benefit from the youths' dynamism in order to bolster advancement particularly in education and technology."