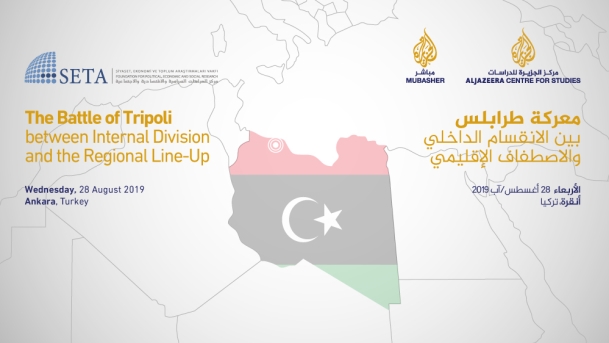 Al Jazeera Centre for Studies (AJCS) and the Foundation for Political, Economic and Social Research (SETA) are organizing a joint seminar in collaboration with Al Jazeera Mubasher on Wednesday, 28 August 2019, in Ankara under the title, "The Battle of Tripoli amidst Internal Division and Regional Politics," with the participation of several Arab and Turkish analysts.
The seminar will deconstruct the nuances of the Libyan crisis four months after the eruption of the battle of Tripoli, which retired General Khalifa Haftar has termed "the Liberation of Tripoli," and whose casualties amount to nearly 1,000 killed and 5,000 injured – in addition to 100,000 displaced.
Although the fierce fighting has lasted for several months now, Haftar's forces could not achieve any previously alluded 'decisive' or 'quick' victory. Killings losses among civilians in particular, are increasing while several non-governmental human rights organizations have accused Haftar's forces of launching attacks which may amount to escalate to war crimes.
The Ankara seminar aims at addressing a number of questions: what has Haftar's military campaign on Tripoli achieved so far? What were the reactions in Western Libya? How does the hesitant international community explain the characteristics of the new era of the intra-Libyan conflict? Is Haftar pushing the country towards division?
The invited speakers are Naeem Al Shaibi, Libyan Journalist; Nazar Kraikish, Director of Bayan Center for Studies; Khairi Omar, Professor of Political Science at the Institue of Middle East, Sakarya University; Emrullah ??ler, Turkey's Special Envoy to Libya; and Emrah Kekilli, SETA researcher specialized in Libyan affairs.