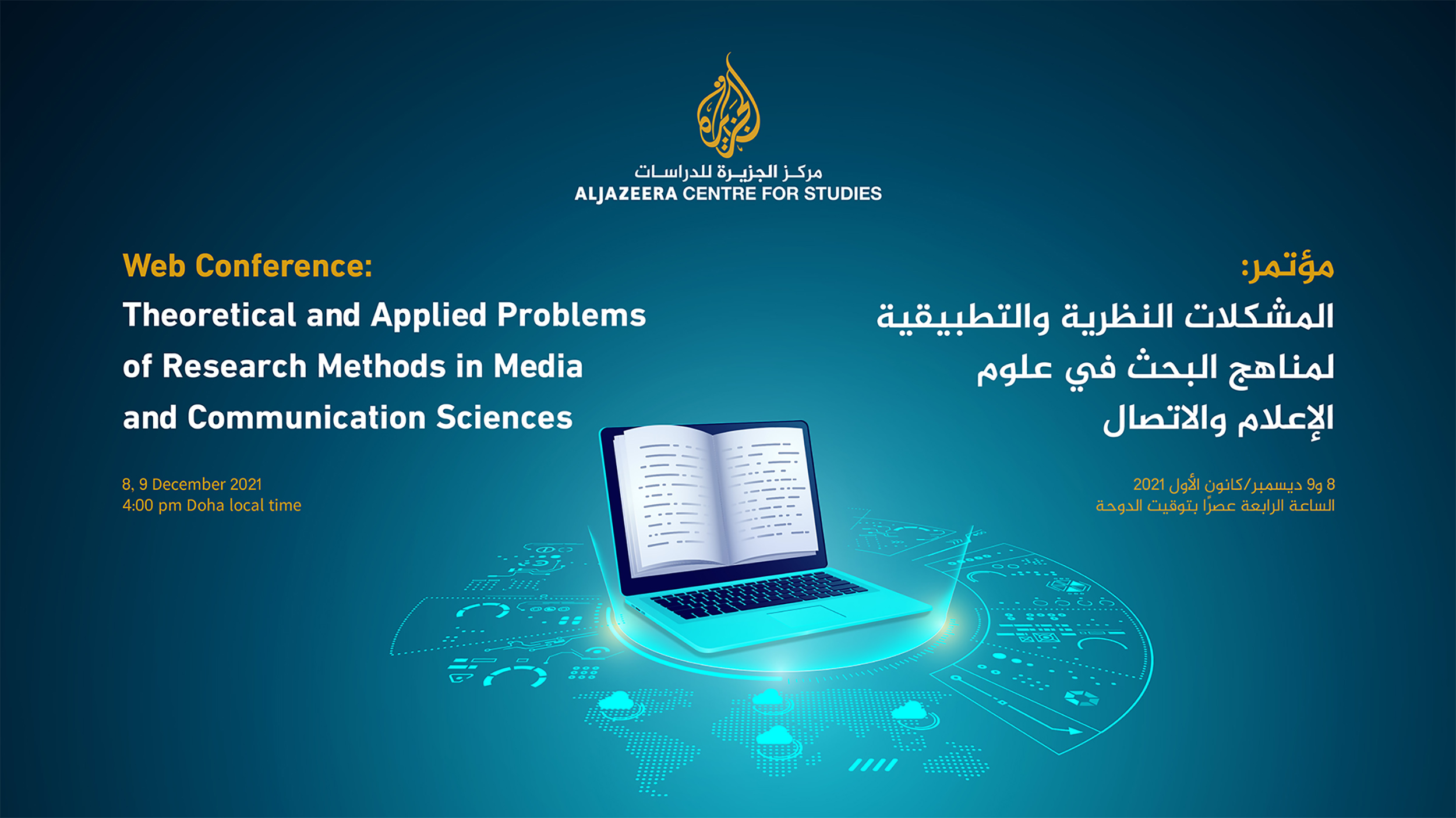 Al Jazeera Centre for Studies is organizing a web conference entitled, "Theoretical and Applied Problems of Research Methods in Media and Communication Sciences," set to take place on 8 and 9 December 2021 at 4:00 pm Mecca standard time. In it, a select group of academics and researchers will participate. It will be aired on Al Jazeera Mubasher and live-streamed on Al Jazeera Centre for Studies' social media platforms.
The conference will discuss the theoretical and applied problems of research methods in media and communications sciences given that they are one of the key issues facing the development of media knowledge within the research field and the Arab academic lesson. These issues represent a group of epistemological obstacles that create a state of stagnation in this cognitive field as well as in the content of media knowledge itself through the phenomenon of chaotic "systemic mending and fabrication" and the superficiality of the process of media research or the "research ease," which reveals methodological and theoretical ironies in the foundations and requirements of the research process. This type of research practice, regardless of its different descriptions, is devoted to fabricated methodological approaches and reductive theoretical approaches to the study of media phenomena and issues by rotating and restoring inherited intellectual perceptions, and traditional theoretical frameworks that deepen the gap between research results and the scientific conditions that establish the understanding and interpretation of the media phenomenon and its study in its social, cultural, political and economic contexts.
Many critical studies show defects in the output of Arab media or academic research, which are related first to the process and methodological and theoretical premises of media and communication research, and second to outputs that rarely provide an added value with scientific and authentic feasibility in media and communications research. Furthermore, this research product does not present theses or pioneering scientific knowledge models that are transcultural and contribute to the understanding of different media and platforms and the privacy of the media and digital environment that has renewed the topics of study and research, or enabled the follow-up of the activities of individuals and digital societies as well as groups and countries across the web.
The themes of the conference are allocated to four sessions dealing with a range of problems and issues.