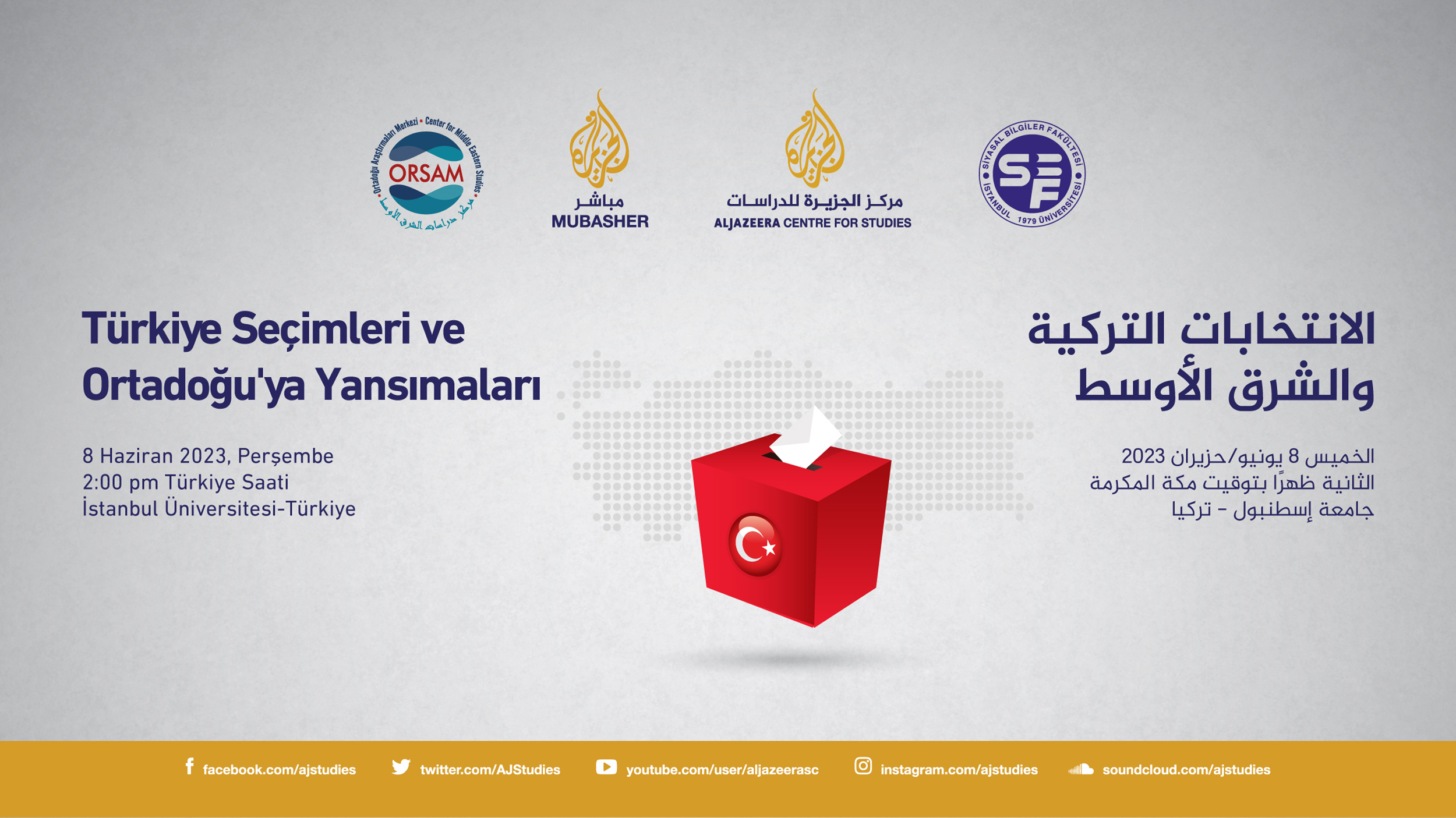 Al Jazeera Centre for Studies and the Ankara-based Center for Middle Eastern Studies (ORSAM) are organising a seminar under the title, "The Turkish Elections: Results and Challenges", set to take place on Thursday, 8 June 2023.
The seminar will take place at Istanbul University with the participation of: Ahmet Uysal, Professor of Political Sociology at Istanbul University and Director of Middle Eastern Studies Center (ORSAM); Özden Zeynep Oktav, Professor of Political Science at Istanbul Medeniyet University; Taha Eğri, Professor of Economics at Kırklareli University; and Nezar Krikish, researcher specialising in Arab and Turkish affairs.
Seminar participants will present their analyses of the results of the recent Turkish presidential and parliamentary elections, and discuss the factors behind the victory of the ruling People's Alliance and the failure of the opposing Nation Alliance. They will shed light on the reasons for the high turnout of Turkish voters at the polling stations and the significance of these high voter turnout rates. They will also discuss global interest in the elections and the keenness of major capitals to monitor their results closely.
Moreover, the seminar will dedicate a space for the discussion of the impact of the victory of the Justice and Development Party (AK Party) and President Recep Tayyip Erdogan on various domestic and foreign issues. It will examine their approaches to the challenges facing Turkey in the next five years, particularly those related to the aftermath of the earthquake and the reconstruction of devastated areas, the issue of Syrian refugees, and demands from a sector of the opposition to repatriate them. Additionally, it will address the issue of inflation and the depreciation of the Turkish lira.
External issues will also receive their share of discussions among the speakers, particularly the future of relations with Russia in light of the difficulty to maintain a balance between Turkish interests and the tense relations between Russia and the West, and Turkish policy towards certain Middle Eastern countries such as the Gulf states, Egypt and Libya.
The speakers will conclude the seminar by delving into their vision for the post-Erdogan era and the potential alternatives, whether from the AK Party or the opposition, to lead that phase.
The conference is will be broadcasted on Al Jazeera Mubasher and live-streamed on AJCS's social media platforms.