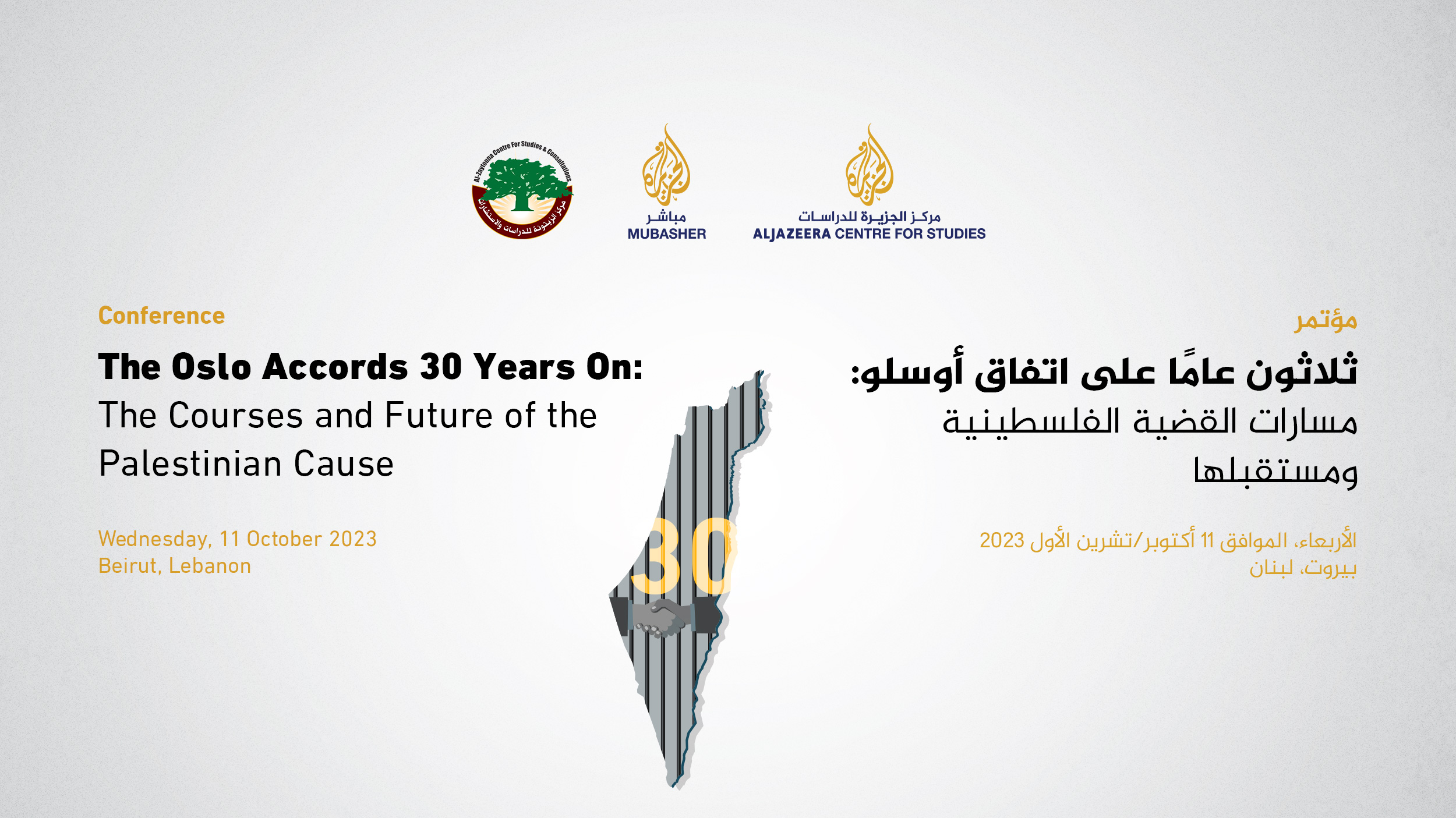 Al Jazeera Centre for Studies is organising a research conference in partnership with Al-Zaytouna Centre for Studies and Consultations titled, "The Oslo Accords 30 Years On: The Courses and Future of the Palestinian Cause". The conference is set to take place on 11 October 2023 in Beirut, Lebanon, featuring a distinguished group of researchers, experts and academics.
The conference will discuss Palestinian achievements and failures under the Oslo Accords, reviewing the circumstances in which the accords transpired and the outcomes they produced, especially those that continue to impact the Palestinian cause whether negatively or positively. This is because the current Palestinian reality, in various aspects, is a direct result of the accords. Oslo was not only a Palestinian decision but also a product of international conditions and Arab policies that are worth scrutinising, as they may recur even if in different forms.
The conference will also examine the dangers of putting an end to the Palestinian cause, as its pillars face intense pressure, particularly with regards to the final solution, with issues such as refugees, Jerusalem and land. In addition, the conference will explore the reality created by the Oslo Accords, what remains effective, and what has ended, and assess the positions of the parties involved and affected by its results, as well as the Arab and international stance. In order to forecast the future of the Palestinian cause, the conference will present possible solutions and the prospects of imposing a new agreement or new developments on the Palestinians. Despite the Biden administration's commitment to the two-state solution in its rhetoric, it is not significantly detached from the disposition that led to the Deal of the Century, and it has not worked to revive the Oslo process. Palestinians have been unable to make significant progress internally, whether in terms of reconciliation or a consensus on a comprehensive national programme. Meanwhile, the Israeli occupation is becoming increasingly right-wing both politically and socially, and the Palestinian people are becoming more resolute in their resistance.
The conference will be broadcast on Al Jazeera Mubasher and live-streamed on AJCS's social media platforms.
Twitter - Facebook - Instagram - Soundcloud - YouTube - Telegram - Al Jazeera Mubasher