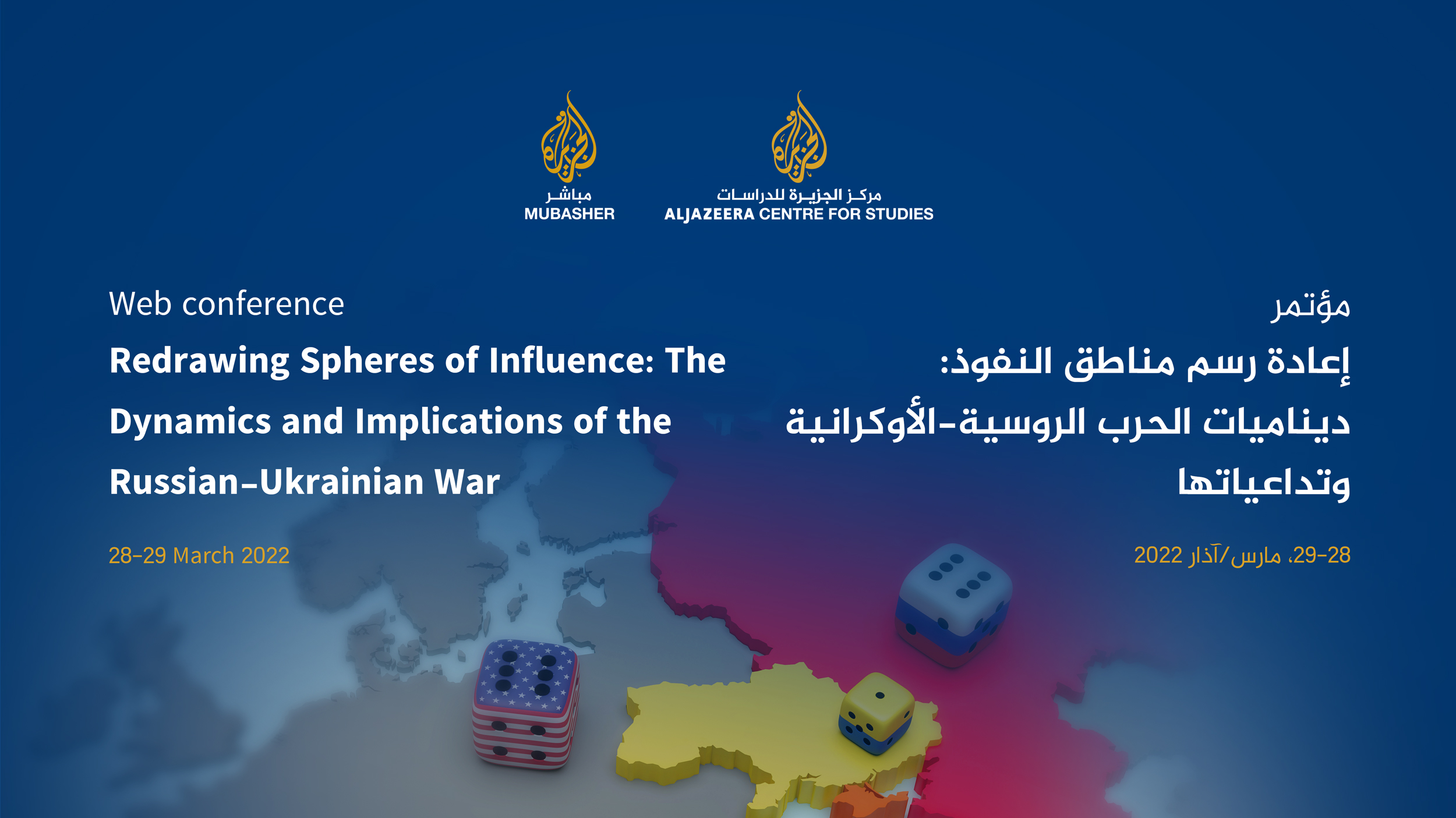 Al Jazeera Centre for Studies is hosting a web conference to discuss the Russian war on Ukraine and its implications on Monday and Tuesday, 28-29 March 2022, under the title, "Redrawing Spheres of Influence: The Dynamics and Implications of the Russian-Ukrainian War," with the participation of a select group of academics, researchers and experts from Russia, Ukraine and Western and Arab countries.
The participants will explore the Russian motives behind the war on Ukraine and discuss the narrative of each party to the conflict regarding the matter. In this context, they will present historical backgrounds, the nature of social relations and the ethnic and religious ties between the two countries. They will also address the development of the political relations between them since the disintegration of the Soviet Union and the recognition of its republics' independence in 1991; Ukraine's ensuing inclination towards joining the Western order intellectually, politically and defensively; and Russia's reaction and fears as a result of this inclination, especially with the expansion of the NATO east to include a number of countries that were once part of the Soviet Union.
Moreover, the conference will shed light on the nature of the current military operations in Ukraine and the reasons and factors behind Ukrainian resistance in the face of the Russian war machine as well as the role of Western aid for Ukraine in this context and the extent of Ukraine's resistance and confrontation.
It will also delve into international reactions to the Russian invasion of Ukraine, the economic sanctions imposed by Western countries and their allies against Russia and the effect of that on the Russian, Western and global economy as well as the alternatives available to various countries in dealing with the implications of the sanctions, especially with the rising prices of energy, wheat and strategic commodities in the short-, medium- and long-term.
Finally, the conference speakers will predict the impact of the war – whether it remains within Ukrainian territories or extends to neighbouring countries – on the balance of power between Russia and the West and the changes it could lead to if Russia or the West are weakened by it, thus leaving behind a vacuum that encourages aspiring powers to expand.
The first day of the conference will start at 3:30 pm and the second at 1:30 pm Mecca standard time. The sessions will be broadcast in both Arabic and English on Al Jazeera Mubasher and live-streamed on the following social media platforms:
Twitter - Facebook - Instagram - Soundcloud - YouTube - Telegram - Al Jazeera Mubasher