The newly-established magazine Lubab has devoted its fifth number to two set of strategic and media related themes: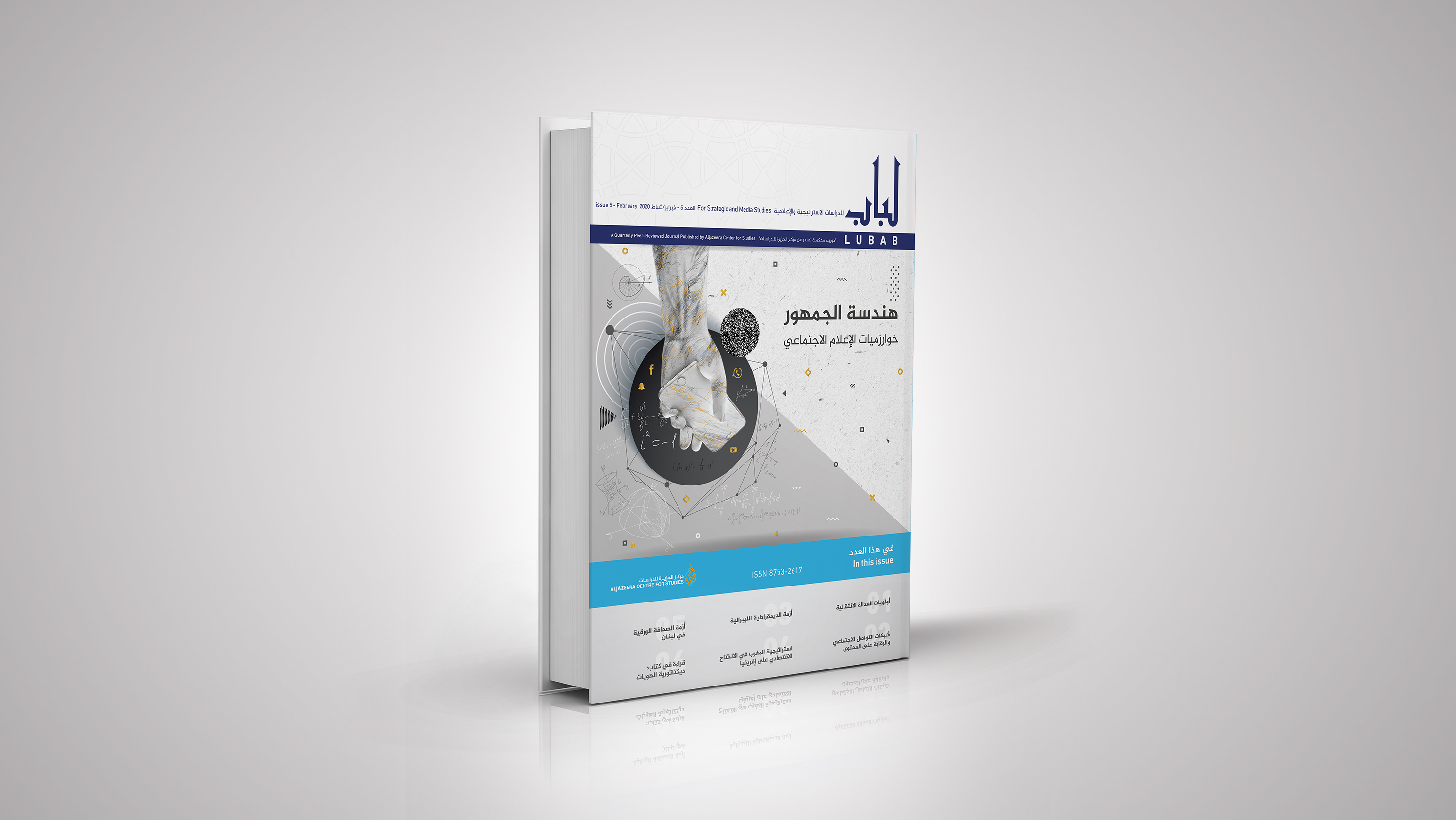 The newly-established magazine Lubab has devoted its fifth number to two set of strategic and media related themes:
The first study entitled "Algorithms and the Engineering of Social Media Users' Preferences" combines communication technology and the study of social media users, which is key in communication research especially with the vast spread of technology and new patterns of communication values, forms and habits. The study also deals with the "engineering" of social media users by exploring their preferences while "algorithms" undertake the transformation of their usage habits to behaviour patterns. The data provided by technical mechanisms reveal the tendencies of individuals alongside the general public; and this information gives unique opportunities to creators of communication messages to influence public opinion, broaden exposure to media platforms, and ensure the greatest success for political or commercial advertising campaigns.
The new edition also includes "Social Media Networks and Content Surveillance" as à point of entry into the dialectic of the relationship between the freedom of expression provided by the new media environment and all of the opportunities this environment provides for the absence of professional tradition in the production of knowledge as well as the desire of states to impose regulatory control and criminal penalties for publishing on the internet through different means and platforms including social media. 
The third study deals with the crisis of printed press resulting from gradual yet swift changes in reading habits towards the world of digitalization and the adoption of many press outlets of digital publishing as a logical alternative that alleviates the decrease in demands and advertisement and newspapers' economic crises. The researcher studies Lebanon as an Arab case of this phenomenon particularly because it is among the leading Arab countries in the emergence of journalism, it was for many years the central hub for the practice of journalism in the Arab world and the most liberal and proficient in the traditions of the profession, and it currently witnesses the end of printed press for many established and reputable newspapers.
The fifth issue edition focused on "The Priorities of Transitional Justice: The Power of the Law or Communal Security?" which is an in-depth study of the notion of transitional justice and a discussion regarding the question of the priority of justice and the application of punishment for war criminals and other perpetrators during times of conflict versus the priority of dealing with the psychological impact of violence, calls for revenge, the nature of victims' collective memory, and restoring social cohesion and building peace. The researcher studied three countries, namely Chile, South Africa and Morocco.
The final study discusses, "The Crisis of Liberal Democracy," from the perspective of the angle of its deficiency in its main headquarters in the West. Populist ideas started to emerge and gained power in important countries entrenched in this socio-political methodology such as the United States and Britain. The researcher built his hypothesis on the consideration that the deep crisis from which democratic experiences suffers in different ways in and outside of the West is in fact a crisis of value not of representation and institutions