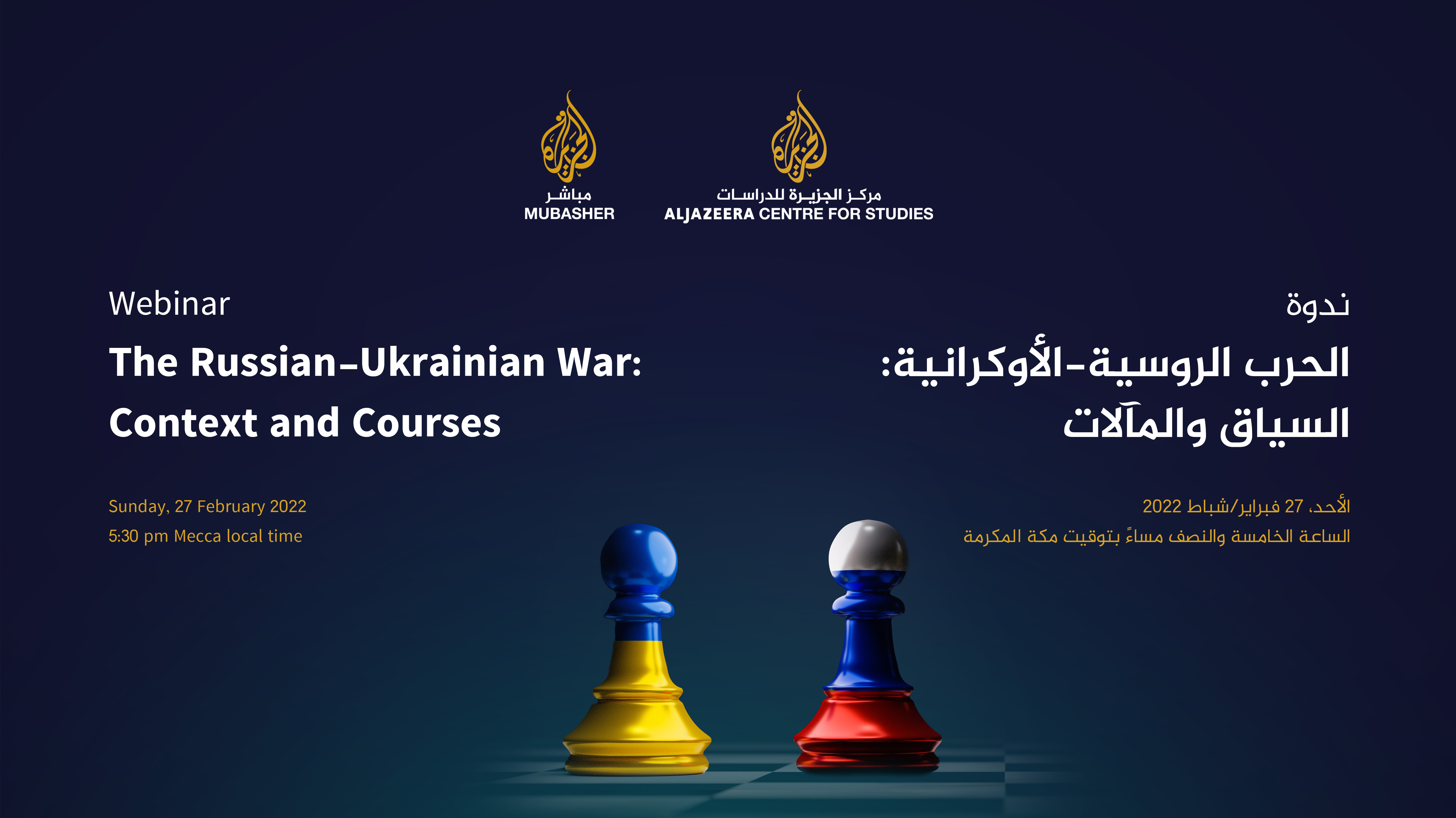 Al Jazeera Centre for Studies and Al Jazeera Mubasher are hosting a webinar entitled, "The Russian-Ukrainian War: Context and Courses," on Sunday, 27 February 2022, at 5:30 pm Mecca standard time. Participating in the webinar are: Safwan Julaq, editor-in-chief of UKR Press; Nikolay Kozhanov, Research Associate Professor at the Gulf Studies Center of Qatar University; Matt Dimmick, Former Director for Russia and Eastern Europe on the National Security Council Staff; and Justin Dargin, Senior Geopolitics and Middle East Energy Scholar at the University of Oxford.
The webinar comes in the context of the Russian-Ukrainian crisis that has escalated recently to the point that Russia announced its recognition of Luhansk and Donetsk in the Ukrainian region of Donbas as independent republics, prompting Western political, security and economic responses.
The webinar will discuss the motives behind Russia's recent moves and look into whether Russia truly is concerned about a potential NATO expansion into Central and Eastern Europe and the threats to its vital space. It will also examine the NATO's strategy towards Russia and the efficiency of this strategy in achieving European peace and security.
In addition, the webinar will present a number of issues related to this crisis such as the timing of its eruption and its implications, the options available to Ukraine and the West, the tools they possess to curb Russia and alternatives to Russian energy. Furthermore, it will address the first bundle of Western sanctions against Moscow and Moscow's ability to withstand them and proceed with its intention to deal with what it considers a threat to its national security.
Finally, the webinar will predict the developments of the crisis, which has been described as the most dangerous one to international peace and security since the dissolution of the Soviet Union (1988-1991) and the end of the Cold War.
It will be broadcast on Al Jazeera Mubasher and live-streamed on AJCS's social media platforms here:
Twitter - Facebook - Instagram - Soundcloud - YouTube - Telegram - Al Jazeera Mubasher