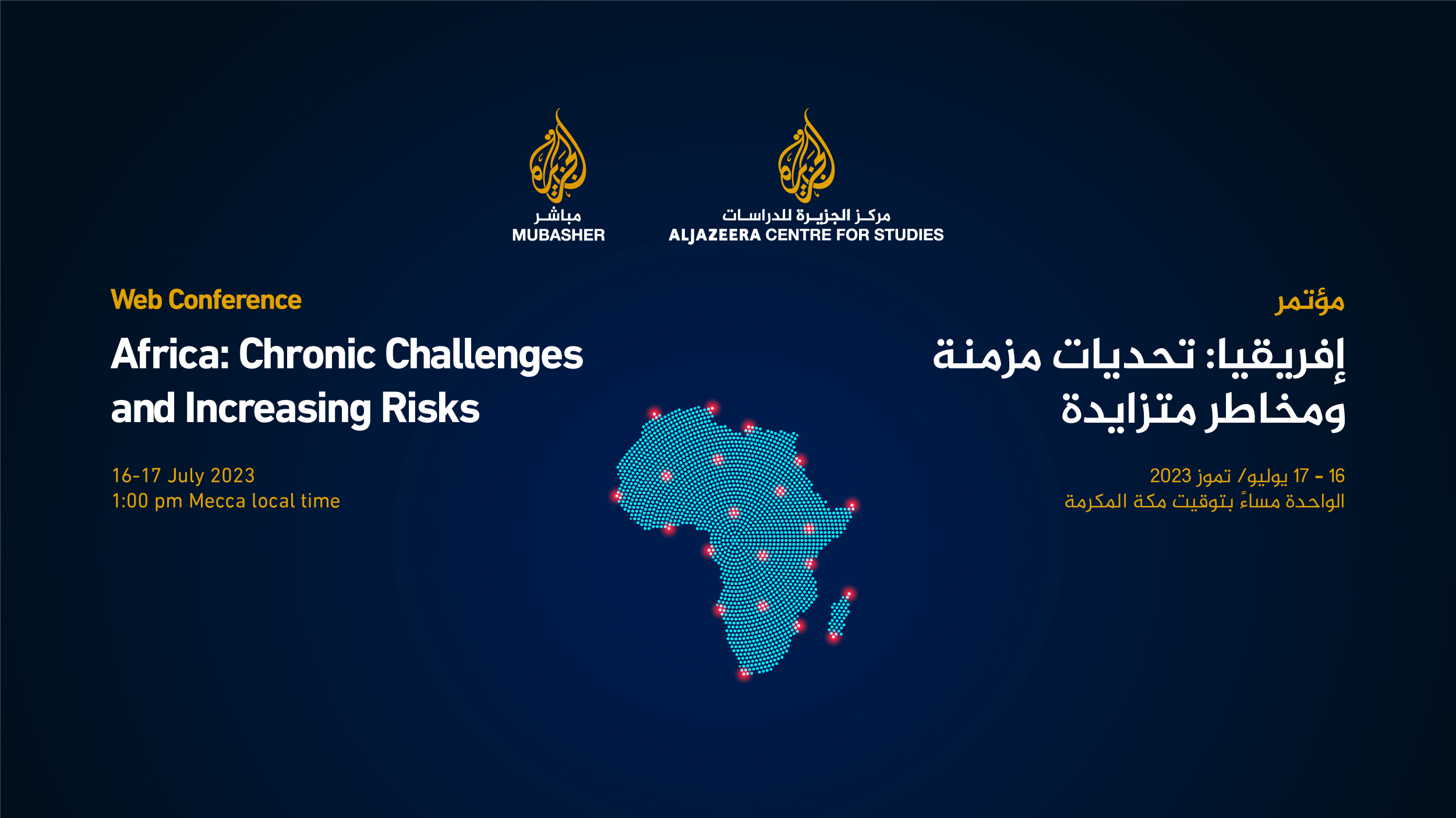 Al Jazeera Centre for Studies is organising a web conference conference titled, "Africa: Chronic Challenges and Increasing Risks", set to take place on Sunday and Monday, 16 and 17 July 2023. The conference will feature a distinguished line-up of researchers and experts specialised in African affairs.
Over six sessions, the conference will discuss the current and future challenges of the African continent and shed light on the phenomenon of clandestine migration to Europe and the resulting risks. It will also examine the implications of climate change on food security in Africa countries. Furthermore, it will explore the policies of major powers towards the continent, especially France, China and Russia, and the ongoing conflict between these powers to establish their presence and influence, and the impact of that on the independence of African countries and the proper utilisation of their resources.
The speakers will dedicate a space in their discussions to the exploration of internal and interstate conflicts prevalent in many African countries. They will delve into the backgrounds, seek a deeper understanding of the causes, and analyse the reasons for the challenges encountered in finding solutions to these conflicts.
They will also address the increasing frequency of military coups in the continent in recent years, and the repercussions of these coups on the security and stability of the countries in which they take place, as well as on the level of public freedoms of the continent's peoples.
The conference will conclude with a discussion on the future of the African continent in light of the ongoing changes in the traditional map of global power dynamics, particularly following the state of polarisation witnessed in the world since the outbreak of the Russian war on Ukraine approximately a year and a half ago.
 "Africa: Chronic Challenges and Increasing Risks" comes in the context of the serious challenges Africa is facing, which may potentially lead to an escalation of fragility in states, populations and communities in the foreseeable future and threaten food security and survival.
The conference will be live-streamed on AJCS's social media platforms here: