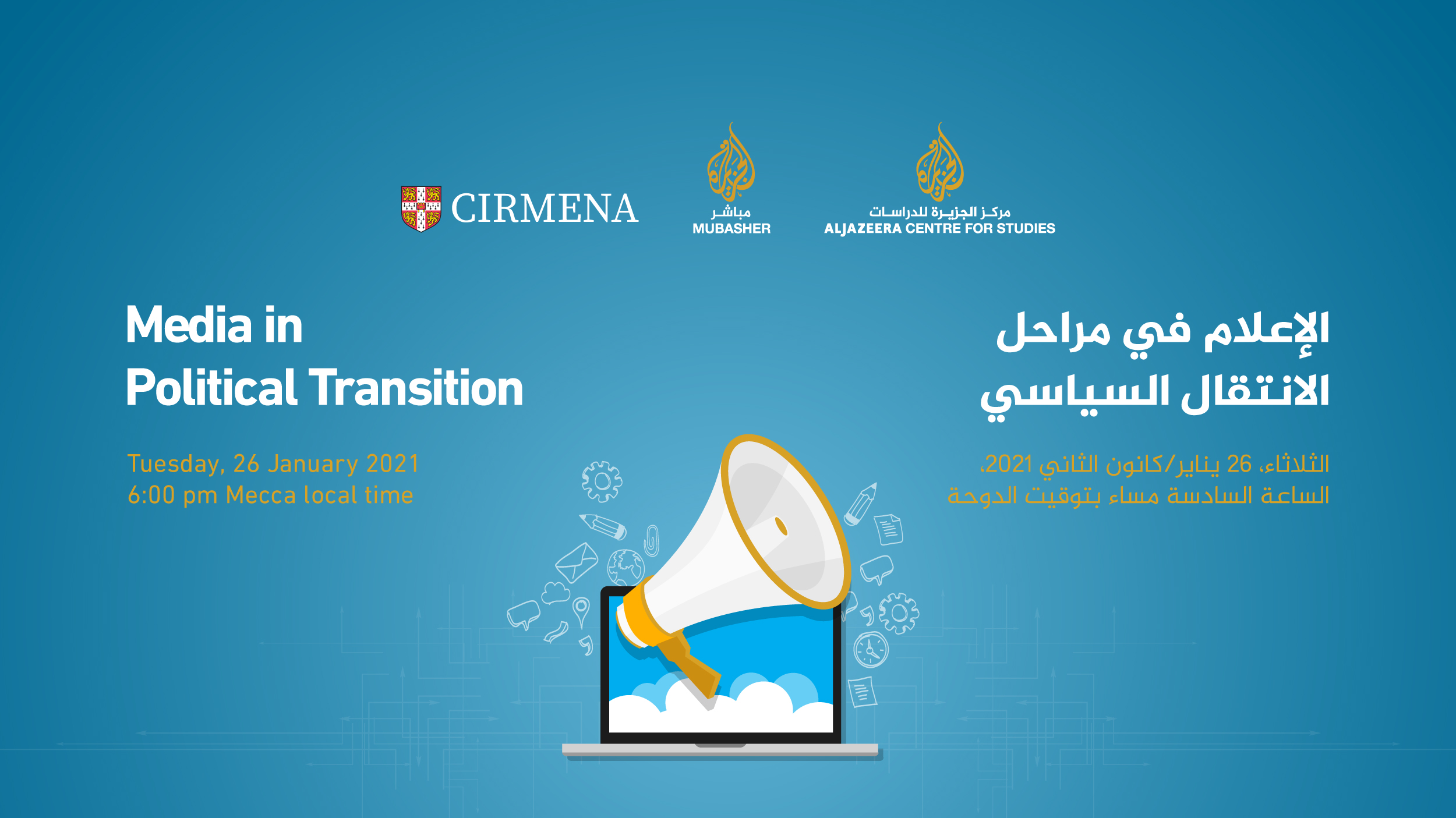 Al Jazeera Centre for Studies, the Centre for the Study of the International Relations of the Middle East and North Africa (CIRMENA) at the University of Cambridge and Al Jazeera Mubasher are organising a webinar under the title, "Media in Political Transition in the Southern Mediterranean after 2011," on Tuesday, 26 January 2021, at 6:00 pm Mecca standard time.
The webinar is set to discuss the findings of a joint research project between AJCS and CIRMENA after the completion of its three stages in which it examines Tunisia, Morocco and Turkey through a comparative study of their respective media systems. Launched in August 2013, the project was culminated with the release of a book entitled, Media and Politics in the Southern Mediterranean: Communicating Power in Transition after 2011, in October 2020 that is a product of the research conducted by a team of researchers and academics in the three aforementioned countries alongside a group of researchers and academics from the University of Cambridge supervised by Roxane Farmanfarmaian, Professor of Political and International Studies at the University of Cambridge.
The webinar also looks into key shifts in the media system in the abovementioned case studies through three research themes: structure, function and agency. In the framework of structure, the project focuses on regulations and the regulatory and legal environment that shapes the relationship between the government and the media. Meanwhile, function pertains to the nature of the media sector itself in terms of its public and private institutions, the properties of the market, sources of funding, political agendas, its elite networks and professionalism. Agency, however, looks into the role and behaviour of media as a narrator of political culture and a tool for public discourse and identity-building.
Moreover, the webinar will shed light on common topics covered by the project through original research in the context of the three cases, such as internet freedom and surveillance, political discourse, the use of social media, gender issues on television and in public life, the sector's professional and partisan competence, the emergence of Islamist media outlets and internal competition between political elites using media outlets to serve their agendas.
Participating in the webinar are Roxane Farmanfarmaian, Lecturer at the Politics Department of the University of Cambridge, Senior Associate Fellow at the European Leadership Network and Senior Visiting Research Fellow at Kings College London; Zoe Petkanas, international development consultant and gender analyst; Driss Ksikes, Moroccan fiction and non-fiction writer, playwright, scholar on media and culture and the Director of Economia, a researcher centre at Insitut des Hautes Etudes Management (HEM) in Rabat; and Ali Sonay, Research Associate at the University of Basel's
Click here for the concept note.
The webinar will be broadcast on Al Jazeera Mubasher and live-streamed on AJCS's digital media platforms:
Facbook -Twitter - Soundcloud - Youtube -Instagram