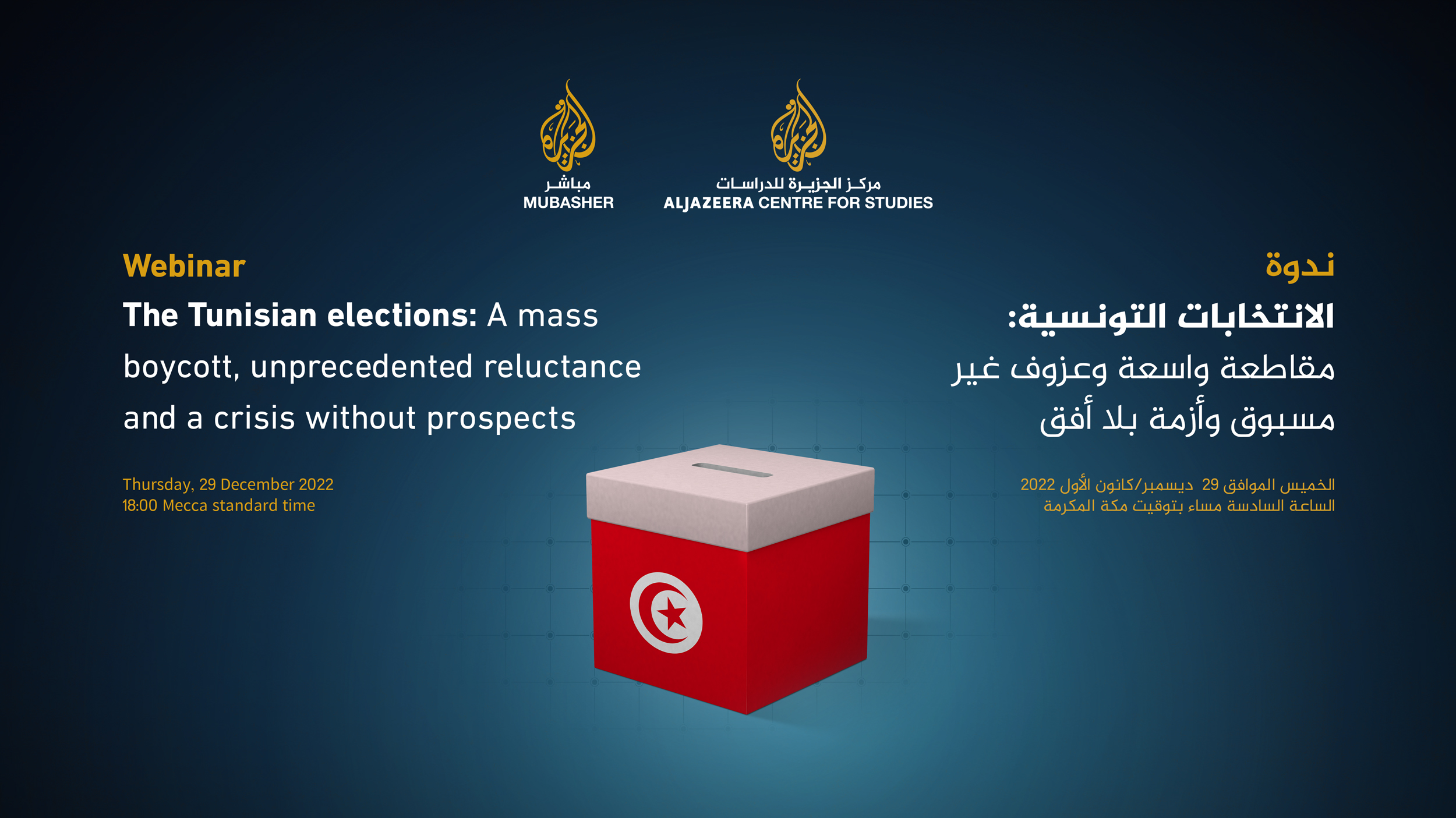 Al Jazeera Centre for Studies and Al Jazeera Mubasher are organising a seminar entitled, "The Tunisian elections: A mass boycott, unprecedented reluctance and a crisis without prospects," set to take place on 29 December 2022 at 6:00 pm Mecca standard time.
The webinar will look into the results of the Tunisian legislative elections that took place on 17 December 2022 as the last stop in the roadmap announced by President Kais Saied after the country undertook exceptional measures on 25 July 2021. These measures followed the organisation of a referendum on a new constitution the cancellation of the 2014 constitution and the dissolution of the parliament, the Supreme Judicial Council, and several constitutional bodies that emerged in the context of the democratic transition since the revolution.
Moreover, the webinar is being organised in the context of a politically and economically crisis-stricken Tunisia as opposition to Saied's choices and project grows continuously and in light of his and his government's internal and external quasi-isolation.
The webinar will analyse the indicators of the decline of participation in the elections, which has reached 11.2% - making it the lowest rate of participation in the history of Tunisian elections. It will also explore whether this rate could undermine the legitimacy of the president and the parliament that will be formed based on his legitimacy as well as the legal and legislative system that he will establish.
In addition, the webinar will read the movement of the Tunisian public and attempt to predict reactions towards suffocating economic, social and political crises afflicting it with the closure of outlets of dialogue between the de facto authority and the political and social opposition.
It will also explore the way in which the president will face the challenges of the upcoming phase given the popular and political isolation mentioned above as well as whether the political opposition has the ability to be a convincing alternative for the Tunisian public. Accordingly, the webinar will look into the opposition's points of strength and weakness and whether the economic and social crisis in Tunisia can be resolved without dialogue, national consensus or political settlement.
Participants in the webinar will include Tunisian researchers, media personalities, academics and politicians from different intellectual and political backgrounds. The webinar will be broadcast on Al Jazeera Mubasher and live-streamed on AJCS's digital platforms:
Twitter - Facebook - Instagram - Soundcloud - YouTube - Telegram - Al Jazeera Mubasher