Israeli Apartheid Week (IAW) was hosted in cities and university campuses around the world. In South Africa the campaign was taken from university lecture rooms to communities during the country's Human Rights month of March.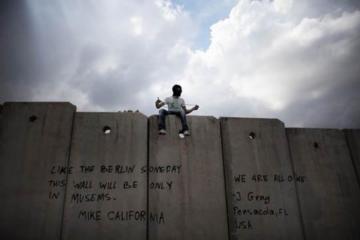 "But we know too well that our freedom is incomplete without the freedom of the Palestinians"
-President Nelson Mandela
Israeli Apartheid Week (IAW) was hosted in cities and university campuses around the world.  In South Africa the campaign was taken from university lecture rooms to communities during the country's Human Rights month of March[2].The aim of IAW is to contribute to the chorus of international opposition to Israeli apartheid and to bolster support for the BDS campaign in accordance with the demands outlined in the July 2005 Statement: full equality for Arab-Palestinian citizens of Israel, an end to the occupation and colonisation of all Arab lands – including the Golan Heights, the Occupied West Bank with East Jerusalem and the Gaza Strip – and dismantling the Wall, and the protection of Palestinian refugees' right to return to their homes and properties as stipulated in U.N. resolution 194[3].
IAW continues to gain momentum alongside the Boycott, Divestment and Sanction (BDS) campaign against Israel, and also finds its voice even more amplified in the season of the Arab Spring.To underestimate the IAW movement as a mere arts festival where students picket about matters beyond their comprehension would be a serious error in judgement by politicians, media and political scientists. Tel Aviv has shown its anxiety concerning what the IAW has already achieved and could achieve as IAW continues to advocate for the self-determination and statehood of Palestine. 
The Israeli Ministry of Public Diplomacy exported a "Faces of Israel" delegation to South Africa as a way of controlling the damage caused by IAW to Israel's image. South Africa's 25-strong IAW Team, however, remained relentless in its effort to produce more tangible results for the Palestinian Struggle. The ultimate victory for the IAW and BDS Israel campaigns in South Africa would find expression in Tshwane[4] completely aborting all diplomatic and economic ties with Tel Aviv, just as other states did to the apartheid National Party (NP)government. Democratic South Africa is not in a position to be complaisant in Israeli apartheid or yield to its propaganda purely because of the humiliation South Africans endured at the hands of the White settler minority.
Transforming words into action
Movements like IAW and BDS are crucial in struggles against colonial regimes as they help in guiding governments' moral compass when these governments lose the nerve to stand up to the bully-tactics of developed states; which have the power to veto developing countries into redundancy. Post-apartheid South Africa is one of those developing states which have unapologetically supported its Middle Eastern allies; with the full knowledge of the discomfort this has caused Washington. This alignment with Palestine does place South Africa at risk of being exposed to the strong-arm tactics of the U.S. within the UNSC. South Africa's most recent show of solidarity with Palestine was expressed through President Zuma's pronouncement at the United Nations General Assembly (UNGA) that Palestinian membership "would be a decisive step towards achieving lasting peace"[5]. 
As reassuring as Zuma's words may sound,Tshwane's actions do not echo the sentiment conveyed at the UNGA. South Africa's pledges of solidarity need to translate into actions which speak much louder than words: an unadulterated boycott of Israel's business and "favours".Governments, however, are not known for their strong, unrelenting political will as much as they are infamous for their malleable backbones and even spinelessness. Unfortunately, South Africa's recent behaviour at the UNSC concerning Middle Eastern politics and the changes brought about by the Arab Revolution have proven that South Africa's backbone is susceptible to bend with the winds blowing from the Western direction.
This is what necessitates movements like the IAW. The IAW's focus on achieving a just solution for Palestine is required to help prevent Tshwane from just wanting a solution so "we can all move on". IAW has the potential to act as a mentor who will assist the ANC-led government to "re-ignite its long-standing relationship with all components of the PLO, and help make that organisation - which is currently a shadow of its former self - a truly representative organ of the Palestinian people"[6]. IAW's growth is imperative but faces three notable challenges to its popularity among South Africans: immobilised masses that are largely uneducated about the Palestinian struggle, a national media blackout as well as a fiercely defensive Zionist constituency which has deeply and securely entrenched its roots in South African business and politics.
Mass Mobilisation: Strength in Numbers
Mobilised masses hold the power to effect change in political systems, as has been recently proven by the forceful removal of leaders in Tunisia, Egypt, Libya and Yemen. South Africa is a beneficiary of domestic and international mass mobilisation through the BDS campaign. Even to this day, South African trade unions and civil society groups still use mass mobilisation to remind and persuade government to carry out its primary mandate- which is to serve and listen to the citizens[7]. The same vigour with which South African masses and their counterparts in the Arab world have reclaimed their power from the oppressive establishments is required of IAW and BDS if apartheid is to be abolished.
There is no doubt that BDS Israel has produced tangible outcomes in as far as raising awareness about the Zionist state's policies in the Occupied Palestinian Territories (OPTs). At the same time, there is also concern about the influence BDS has over the all parties involved in fighting for and against the Palestinian anti-apartheid struggle. Prof. Norman Finkelstein has questioned the legitimacy of BDS' claims of its achievements in advancing the Palestinian cause for sovereignty[8]. Questioning the effectiveness of the BDS Israel campaign also means exposing IAW South Africa to the same interrogation. If the strength of these movements lies in numbers, as it did for BDS when it waged economic and diplomatic warfare against the NP government, then surely IAW should have that same strength if it is to achieve its aims.
So, how much political muscle does IAW have in South Africa? According to an assessment by Benjamin Pogrund and Bassem Eid, IAW together with the Palestinian Solidarity Campaign, the Muslim Judicial Council, Russell Tribunal, Black trade unions and South African Council of Churches have no political clout in mass public opinion about the Israeli- Palestinian Conflict and the few South Africans who are aware of the conflict are victims of these organisations' propaganda[9].  Pogrund and Eid may not be completely inaccurate in their finding that the majority of ordinary South Africans "generally have limited knowledge about the Israeli-Palestinian conflict"[10]. The Israeli-Palestinian conflict may be the most studied conflict in contemporary global politics but it does not feature prominently in the South African post-apartheid narrative.
IAW has in the past been confined to tertiary institution walls in the cosmopolitan areas of South Africa. Indeed, universities have youth who are always the best part of a population to spearhead revolutions that the older generations may be reluctant to undertake. However, universities are not where South African masses will be found, and certainly not the Black youth which have inherited the unfortunate legacy of apartheid: a lack of access to education and subsequently employment opportunities. Those are the youth who fill the streets along with the Black Working Class and bring government and its corporate masters to a point where they have no choice but to make tangible adjustments to their policies and practices.
Educating Black youth about the challenges faced by their Palestinian counterparts could bolster IAW's support base at the grassroots level where, in South Africa, power established and toppled. Another strategic partner needed by IAW is media.  IAW has relied heavily on the internet to advertise itself. The internet in South Africa is not as effective a tool for mobilisation as it has been in the Arab world. Print and broadcast media are still the preferred sources of information but remain exclusive to those who have buying power. With the exception of radio stations such as SAFM, it is safe to say that IAW experienced a media blackout in South Africa. IAW is a necessary and relevant initiative but it has to find strength in numbers. IAW South Africa must continue expanding its network to Black urban youth. Mobilising the masses and local media could make IAW a presence which can't be ignored at the roundtables of diplomatic negotiations.
Overcoming the Zionist constituency in South Africa
Apartheid South Africa was born at the same time as the Zionist state. The 1948 institutionalisation of neo-Nazi inspired ideology was the basis of the strong bond between the two settler states. The same reasons for the elimination of the former apartheid South African state apply to Israel today; therefore Israel simply cannot exist under the same conditions as it currently does. Moreover, for democratic South Africa to endorse or support Israel's right to exist is not just unethical, but it is also highly inappropriate. South Africa has said all the right things in as far as rallying behind Palestine's determination for liberation is concerned. But where this kind of solidarity matters-as has been proven by the BDS movement- is in the boardrooms of corporates who drive economies.
Democratic South Africa maintains strong bilateral trade ties with Israel in various sectors. Israel continues to seek ways to strengthen these relations by taking full advantage of South Africa's immediate needs in sectors such as renewable energy and agricultural technologies. The relationship between the two states did not seize to exist with the fall of apartheid and in fact trade has continued successfully between these states despite efforts by the BDS movement. The Jewish and Zionist communities in South Africa have long-term and lucrative investments which they are committed to protecting at all costs.
South Africa is in a situation where it has to balance its domestic and foreign policy interests with its support for a sovereign Palestine. The 27th of April marked democratic South Africa's entry into adulthood, which carries certain responsibilities. South Africa is in its 18th year of its post-apartheid statehood and must be assertive and decisive in its foreign policies towards Palestine and Israel. How South Africa behaves itself in Middle Eastern politics will determine its character. So far Tshwane has been harshly criticised for its role in perpetuating Israel's aggressive expansionist goals and actions.
In 2009, a BDS National Committee-endorsed report compiled by the Palestinian Grassroots Anti-Apartheid Wall Campaign exposed (what the research was entitled) "Democratic South Africa's Complicity in Israel's Occupation, Colonialism and Apartheid"[11]. The 58-page document trailed the tragic socio-economic consequences suffered in the OPTs due to South African corporate and government parastatals' protracted relationship with Israel.
IAW: The Stone in the Sling
As mentioned earlier, South Africa's character will either be built or broken by how it responds to Middle Eastern affairs, especially those of its almost-identical twin sister, Palestine. While Tshwane decides on a coherent and bold foreign policy framework for both Palestine and Israel, it should not hesitate to rely on the IAW Team to facilitate South Africa's reconnection to the Palestinian Anti-Apartheid Struggle. To date, there has been no better reason for re-igniting South Africa's solidarity with Palestine than simply that "our freedom is incomplete without the freedom of the Palestinians"[12].
IAW may be facing seemingly insurmountable challenges but it has survived for 8 years and has grown since its birth.  Educating and mobilising the masses requires patience. Shedding light on media blackouts demands perseverance. And shifting the distorted paradigms of corporates and governments mainly preoccupied with the bottom line commands a tenacity inspired by true conviction. IAW and the broader BDS movements possess all those qualities; which makes underestimating their potential to contribute significantly to the freedom of Palestine a mistake. The campaigns dedicated to Palestine's triumph are pebbles compared to the boulders of Western, Israeli and South African governments, but even pebbles cause ripples. And if that analogy isn't clear enough: Goliath was defeated not by a greater giant but by a small boy with a sling and a small stone.
---