Kenya has been facing sustained terrorist attacks from the Somali organisation al-Shabab. This report questions Kenya's reaction to terrorism and discusses how the government is tackling that challenge.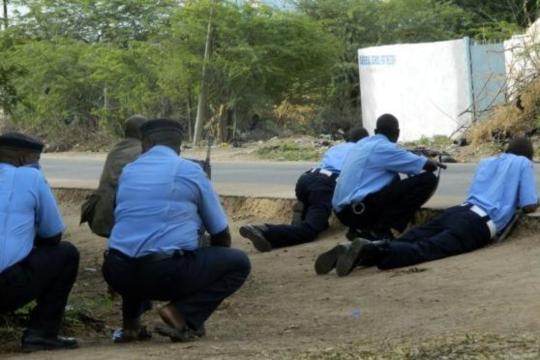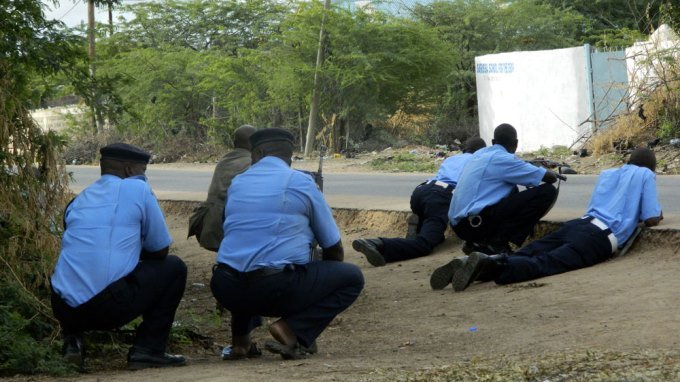 Security forces surrounded the campus after gunmen opened fire indiscriminately in campus hostels [Associated Press]
Abstract
Kenya has been facing sustained terrorist attacks from the Somali organisation al-Shabab. The last attack was at the University of Garissa, northern Kenya, when 150 students were killed and seventy-nine were wounded. The Kenyan government responded by targeting certain Muslims leaders, including businesspeople, particularly those of Somali descent. Kenyan authorities accuse these leaders of sheltering and facilitating the work of al-Shabab. Furthermore, Kenya has asked the United Nations High Commission for Refugees (UNHCR) to close down the Dadaab refugee camp. The Dadaab refugee camp is the largest in Africa, and it accommodates mainly Somali refugees.
This report questions Kenya's reaction to terrorism and discusses how the government is tackling that challenge. It details the timeline of events which led to the current Kenyan military operations against al-Shabab. This report analyses the factors that gave rise to terrorism, and recommends how Kenya can avoid a sectarian conflict.
Introduction

Kenya shares a 682-kilometre border with Somalia. The political instability in Somalia, triggered by the collapse of the government in 1991, had a great impact on the political and economic situation in Kenya. As a result of political instability in Somalia, Kenya's economic and political recovery after years of colonisation continues to suffer setbacks. Notwithstanding its tight political grip, the government of President of Daniel Arap Moi, the second president of postcolonial Kenya who led the country from 1978 to 2002, enabled a relatively stable economic and political environment. His supporters call him 'giraffe' – referring to what they call his far-sightedness – and 'professor of politics'. They point out that he had kept the country united, ended the powerful Kikuyu domination of Kenya's politics and business, and put in place a multi-party system.(1) Moi's retirement brought new dynamism into Kenyan politics.
Kenya has a complicated demographic composition, with several ethnic groups. Somali Kenyans have historically inhabited the northern frontier district in North Eastern Province, which was carved out of the Jubaland region of present-day southern Somalia during the colonial period. Somalia still regards Kenya's North Eastern Province as its own, reflecting this belief in Somalia's ethnic flag where the five-pointed white Star of Unity in the centre represents the five locations of the Somali ethnic group: Djibouti, Ethiopia's Ogaden region, Kenya's North Eastern Province , and the former British Somaliland and Italian Somaliland territories in present-day Somalia.(2) The recent wave of al-Shabab terrorist attacks in Kenya has created political and social havoc in the country, and resulted in heightened investment in security by various countries that have interests in Kenya – particularly the United States and Israel. The Kenyan government believes that the increased uncontrolled business along the Kenya-Somali border facilitates Shabab activities, and has therefore increased security along the border. Lack of resources and corruption continue, however, to hinder progress. Kenya's police force, customs and immigration services, border patrol and coastal protection units are weak, poorly managed and underfunded. As a result of poor salaries and low professional standards, many police and immigration officials remain susceptible to corruption by criminals and terrorists elements.(3)
Factors that gave rise to terrorism in Kenya

Kenya did not initially form part of the United Operations in Somalia (UNISOM) for various obvious reasons. The geographical proximity, fear of the conflict spilling over to Kenya, and the fact that Kenya had a large population of Somalis in its territory discouraged Kenya from joining the operations. UNISOM II ended in failure in 1993 after US soldiers were humiliated on Mogadishu's streets in October. In August 1998, the US embassy in Nairobi was bombed; al-Qa'ida affiliated terrorists Fazul Abdullah Mohammed and Abdullah Ahmed Abdullah masterminded the attacks. This was a defining moment for Kenya; the government embraced the US war against terror, and the US expanded its programme and operations in East Africa. US Special Forces had already been operating from Camp Simba, a Kenyan naval base, a few years before 2007. On 20 March 2012, the US Naval Facilities Engineering Command Europe Africa Southwest Asia (NAVFAC EURAFSWA) issued a pre-solicitation notice indicating that it planned to issue a Best Value Request for Proposal for up to five Indefinite Delivery/Indefinite Quantity (IDIQ) Multiple Award Construction Contracts (MACC), both at Camp Lemonier, Djibouti, as well as at other Africa locations within NAVFAC's area of responsibility (notably Camp Simba, Kenya).(4)

There were three main factors that gave rise to terrorism in Kenya. Firstly, terrorism was heightened by the establishment of Operation Linda Nchi, a joint military operation launched in October 2011 by the militaries of Kenya, Somalia and Ethiopia. Kenyan troops crossed the border into Somalia for the first time in pursuit of the Shabab militants who had allegedly kidnapped several tourists and aid workers inside Kenya. When the decision was made many Kenyans criticised it as careless and irresponsible given what was seen as Shabab's callous nature. Many Kenyans felt that Kenya's over-zealousness to pursue the group in Somalia was unreasonable; the country had serious human resource challenges, and could not deal with a Shabab response to attacks on its bases. Operation Linda Nchi was doomed to failure from the beginning, especially given poor border controls between Kenya and Somalia. Furthermore, the low morale within the military forces from all the countries involved in the operation made them susceptible to corruption.
Secondly, the dual character and allegiance within most diaspora communities is a subject of great intrigue, and the preference for and allegiance to Somalia by many Somali diaspora continues to create societal challenges, including among Kenyan Somalis. In Kenya, this duality has led many Kenyans to question the Somalis' commitment and allegiance to the Kenyan nation. Consequently, Kenyan security authorities feel they have the right to constantly mistreat the Somali community. Kenyan security forces, including the Administration Police and General Service Unit (GSU) have a record of serious human rights violations during security operations against ethnic Somalis.(5) There is indiscriminate mistreatment of ethnic Somalis, including some that are Kenyan citizens. This situation has, unfortunately, created enmity between Kenyan Somali communities and Muslims on the one hand, and other Kenyans on the other. Kenyan Somali areas are also discriminated against with regard to the delivery of basic government services, a neglect which has resulted in illegal activities in those areas. The situation is worsened by Kenya being a very tribal society where voting is along tribal lines, and where the tribe of the president is prioritised in terms of socioeconomic delivery.
Lastly, Kenya's close relationship with Israel has added to hostility against Kenya from particularly Muslims. The affiliation of al-Shabab into the global jihadist movement al-Qa'ida meant that the fight against Israel entered Shabab's agenda. These realities entrenched Kenya not only as the enemy of Shabab but also as the enemy of some Kenyan Muslims. Kenya is now considering constructing a 700-kilometre barrier similar to Israel's to prevent cross border illegal activities, including terrorism. Israel and Kenya maintain a cordial relationship and Israeli intelligence is said to be dictating security policies in Kenya. Therefore, the form of defence that Kenya is considering against Shabab is not coincidental. Israeli presence is very evident in Kenya; Israelis provide security and there are several businesses owned by the Israelis. This relationship further complicates Kenya's security from within and in relation to al-Shabab. Israeli businesses have been prominent in Kenya and in many other African countries in weapon sales and training of security forces. In Kenya they are also involved in everything from construction and high-tech agriculture to mobile phone infrastructure and shopping centres such as the Westgate mall – where a Shabab attack took place – in which Israelis share ownership.(6)
Going after al-Shabab

Uhuru Kenyatta showed a different enthusiasm in dealing with al-Shabab after his election in 2013. He entered the presidential office burdened with negative political baggage after having been indicted by the International Criminal Court (ICC) for crimes against humanity. He immediately embraced a tough stance against al-Shabab to help legitimise his presidency, particularly to the USA. The ICC finally withdrew charges against Kenyatta on 5 December 2014. Notwithstanding his enthusiasm, al-Shabab continued to cause havoc in Kenya, and tested the government's capability to stop its terror campaign. On 21 September 2013, a group of men stormed the Westgate Shopping Mall in Nairobi, shot and killed sixty-seven people and wounded scores of others. Shabab claimed responsibility for the attack. It was one of the most daring attacks in Nairobi, and the worst after the 2006 US embassy bombings. The government declared an all-out war against al-Shabab and those accused of supporting the organisation. Mosques and various Muslim institutions were raided, and Muslim community leaders were targeted and some even assassinated. Al Jazeera's exposé on Kenyan death squads shows security officers confessing to executing terror suspects. The officers, whose identities were protected, said they had been trained by foreign security agencies, among them the British MI5 and Israeli Mossad.(7) Those who attacked the Westgate Mall were never captured, and events leading to the end of the siege raised serious questions about the preparedness of Kenyan security forces in dealing with terrorism. Stories of incompetence emerged, with accusations that security forces botched the coordination attempts which could have led to the capture of the attackers. Kenyan media reported that soldiers began looting almost as soon as they arrived on the scene shortly after the attack began, with assailants and some victims still inside.(8) The manner in which security agencies reacted after the attacks was indicative of failure in the counter-terrorism leadership, and troubling allegations of extrajudicial government responses are surfacing. Last August, for example, the roadside killing of alleged Shabab representative Aboud Rogo Mohammed sparked riots in Mombasa.(9) The reaction created a gap between Muslim communities and the majority Christians in Kenya. Such government actions, many argue, continue to encourage young Muslims in Kenya to join Shabab. The government military strategy coordinating the counter-terrorism fight is seen as divisive and planting the seeds of a possible sectarian war.
The recent terrorist attack at the Garissa University proved just how determined and brutal Shabab has become. Kenyatta promised an all-out war against al-Shabab and those supporting the organisation. In the aftermath, Kenyan Somalis were again targeted, their businesses closed and bank accounts frozen. The government unleashed collective punishment against Muslims, particularly those of Somali descent. The government also instructed the United Nations High Commission for Refugees (UNHCR) to close the Dadaab refugee camp located 100 kilometres from the Kenya-Somalia border. The nearest town to Dadaab is Garissa. The camp was created in 2013 after Kenya signed a tripartite expatriation treaty with Somalia and the UNHCR. The Kenyan government claims Shabab uses Dadaab camp to recruit and plan its terrorist activities in Kenya.
Conclusion

The Kenyan government should adopt an inclusive approach in dealing with al-Shabab, and should also partner with all communities in Kenya. The government must capitalise on such sentiment. Its kneejerk responses are likely to have negative effects, including possibly sparking sectarian conflict. There is no doubt that al Shabab's intention is simply to terrorise Kenyans until they withdraw their troops from Somalia. Perhaps the government should consider withdrawing its troops and redeploying them elsewhere in Kenya. Additional military human resources could reduce the strain on the forces currently battling terrorism inside Kenya.
____________________________________
Copyright © 2015 Al Jazeera Centre for Studies, All rights reserved.
*Thembisa Fakude is a researcher at Al Jazeera Centre for Studies.
Endnotes
1. Gray Phombeah (2002). BBC News World Edition, 5 August, http://news.bbc.co.uk/2/hi/africa/2161868.stm , accessed 25 April 2015.
2. Wikipedia (2015). 'Flag of Somalia', 24 April. http://en.wikipedia.org/wiki/Flag_of_Somalia, accessed on 25 April 2015.
3. Robert I Rotberg (2005). Battling Terrorism in the Horn of Africa, Brookings institution Press. https://books.google.com.qa/books?id=ek-eA4mPofQC&pg=PA190&lpg=PA190&dq=corruption+in+border+patrol+in+Kenya&source=bl&ots=n4KEPf9H-c&sig=gMPuMSFPRJGicalSiNcqGFYtUUM&hl=en&sa=X&ei=xio2VYv2BcebsgH2pIH4BA&redir_esc=y#v=onepage&q=corruption%20in%20border%20patrol%20in%20Kenya&f=false , accessed 24 April 2015.
4. GlobalSecurity (2012). 'Military, Kenya Facilities', 26 October. www.globalsecurity.org. http://www.globalsecurity.org/military/facility/kenya.htm , accessed 25 April 2015.
5. Human Rights Watch (2014). 'Kenya: Halt crackdown on Somalis', 11 April, Human Rights Watch. http://www.hrw.org/news/2014/04/11/kenya-halt-crackdown-somalis , accessed 25 April 2015.
6. Patrick Martin (2013). 'Israel's ties with Kenya go back a long way', The Globe and Mail, 23 September. http://www.theglobeandmail.com/news/world/israels-ties-with-kenya-go-back-a-long-way/article14490379/ , accessed 25 April 2015.
7. Daily Nation (2014). 'Al Jazeera "exposes" Kenya's police death squads', 9 December. http://mobile.nation.co.ke/news/Al-Jazeera-exposes-police-death-squads/-/1950946/2549412/-/format/xhtml/-/126265oz/-/index.html , accessed 25 April 2015.
8. James Norton (2014). 'Kenyan police actions since Westgate attacks raise red flags', The Christian Monitor, 4 October. http://www.csmonitor.com/World/Security-Watch/terrorism security/2013/1004/Kenyan-police-actions-since-Westgate-attack-raise-red-flags , accessed 25 April 2015.
9. Norton (2014).