Whatever the prospects of the Arab-African relationship may be, Gaddafi's death has undoubtedly turned an interesting page in the history of Arab-African relations, a page with an unstable course featuring the aspirations of a revolutionary leader with unlimited ambitions.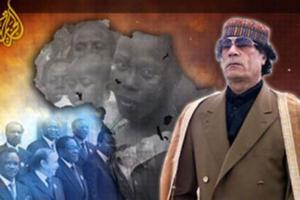 The assumption that very few would mourn the death of Libya's Gaddafi at least strengthens the leaders of the revolution while burying the "King of Kings" of Africa in the desert in an unmarked grave. However, the picture is not completely as such for in Africa there are thousands of elite, politicians and even ordinary citizens who look to Gaddafi with admiration and reverence, and even consider his killing as an inhumane act against a leader who was able, thanks to the power of money and extensive relationships, to enter into the heart of Africa.
Nevertheless, it is worth wondering why Africans mourned the death of Gaddafi in particular and not other leaders of the Arab and Islamic worlds, and what the prospects are for relations between Gaddafi's Africa and the revolution regime in Tripoli, as well as whether there is a possibility of new Arab-African relations?