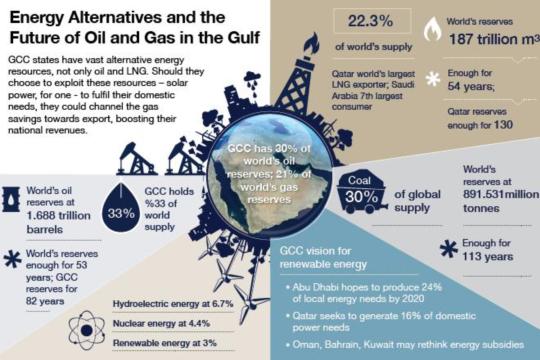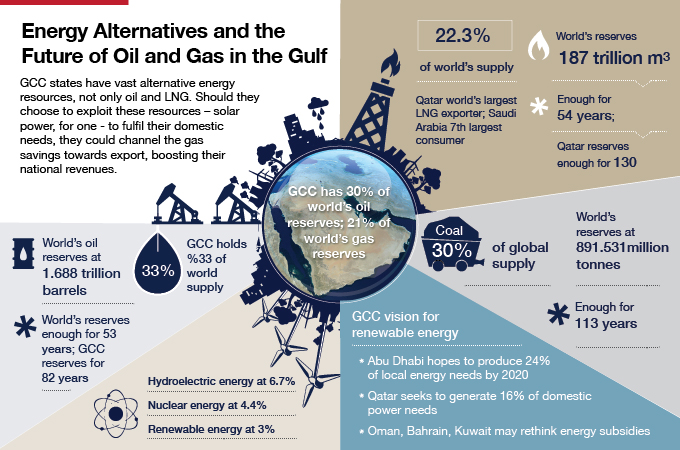 [AlJazeera]
Abstract
Contemporary regional and global energy developments, especially regarding oil and natural gas, make it imperative for the countries of the Gulf Cooperation Council (GCC) to consider developing alternative energy sources, such as nuclear, solar and wind power, for their own electricity consumption. This would allow them to export more of their oil and gas resources, thus boosting state revenues.
This chapter focuses on the importance of evaluating different energy sources in relation to optimising their usage. This is particularly relevant given increasing demands for electricity from local domestic and industrial users in the GCC countries. The GCC states have large reserves not only of crude oil and liquefied natural gas (LNG), but could also harness nuclear energy, as well as solar and wind  power. The chapter concludes that the most important alternative power source for the GCC countries will be nuclear power. To this end, the building of nuclear power plants will be as essential as emphasising the peaceful use of this vital resource. The building of new plants will need to be achieved through contracting specialist companies and involving the relevant international bodies to ensure the safety of installations.
Introduction
The GCC states' need to harness alternative energy sources is not caused by a shortage of oil or gas. However, excessive reliance on these traditional but finite fossil fuels is seen as unwise, especially since alternative energy sources are within reach. In addition to hydroelectricity and nuclear power, renewable energy sources such as solar and wind power are beginning to seem increasingly feasible. While reservations about nuclear energy are common, given the sensitivities around the toxicity of nuclear waste and the manufacture of nuclear weapons, renewable energy sources such as solar and wind are freely available; and, unlike fossil fuels, the sun and wind are not facing imminent depletion.
If the GCC countries were to use alternative energies to meet their own electricity generation requirements, they would be able to export more of their gas and oil reserves, thus increasing state revenues. Using alternative energy sources to meet the increasing demand for electricity from domestic and industrial users also makes sense in terms of optimising energy usage.
Of course, the relative costs of oil and gas versus solar, wind and other technologies must be assessed. Historically, finding alternatives to oil seems to become a global priority whenever the price of black gold rises and remains high for significant periods of time. This chapter was written in the last quarter of 2014 when oil prices suddenly declined dramatically. Notwithstanding the massive drop in oil prices, the average price of oil remained above US$100 a barrel from 2011 to mid-2014, and may well rise to these levels again in the not too distant future.
The relative importance of different energy sources
The energy mix worldwide, and the relative importance of different energy resources, can be classified as follows: oil, coal, gas, hydropower, nuclear power, and renewable energy (see Table 1). The oil sector is undoubtedly essential, but this does not detract from the relative importance of coal or the potential growth of renewable energy sources. In addition to oil and gas, the GCC countries enjoy environmentally friendly energy resources, and have the potential to remain leaders in the provision of energy from various sources.
Table  1: Worldwide energy consumption in terms of energy sources in 2013
| | |
| --- | --- |
| Energy source | Percentage of total consumption |
| Oil | 32.9 |
| Coal | 30.0 |
| Natural gas | 23.3 |
| Hydroelectric power | 6.7 |
| Nuclear power | 4.4 |
| Renewable energy | 2.7 |
| Total | 100.0 |
Source: BP (2014) 
Oil
The oil sector, which includes both oil and gas, is the world's primary energy resource source, providing about 56 per cent of the world's energy at the beginning of 2014. More specifically, oil alone supplies about a third of the world's energy needs, reflecting its great importance. The high demand for oil is primarily the result of our dependence on fuel-driven transportation and electricity in every area of our lives. In addition, oil and gas are essential raw materials used in the production of a vast range of commodities, from fertilisers to beauty products and building materials.
Oil reserves are still being discovered in different parts of the world. According to the Energy Report prepared by British Petroleum (BP), the available discovered global oil reserves are sufficient to last for around another fifty years. This estimate is based on current production and consumption levels (88 million barrels per day, or 31 billion barrels a year, compared with 1, 688 billion barrels of oil reserve volumes). At current production and consumption levels, oil reserves in the Middle East – including the GCC countries – are sufficient to last for about 82 years, which is far higher than the average, although the average rises to nearly 120 years in other regions, such as South America, particularly Venezuela.
New oil discoveries, particularly in South America, have increased the size of the world's reserves from 1,041 billion barrels in 1993 to 1,334 billion barrels in 2003, and to 1,688 billion barrels in 2013. In fact, around 17.7 per cent and 15.8 per cent of global oil reserves are in Venezuela and Saudi Arabia respectively. However, due to different production capacities, the amount of oil produced by these two countries differs significantly. In 2013, for example, Saudi Arabia contributed about 13 per cent to global oil production while Venezuela contributed 3.3 per cent (see Table 2).
Table 2: Global reserves of oil and gas in 2013
 
Oil and gas-producing
countries and regions

Percentage of discovered crude oil

Percentage of world oil production

Percentage of discovered natural gas

Percentage of world gas production

Venezuela

17.7

3.3

3.0

1.0

Saudi Arabia

15.8

13.1

4.4

3.0

Canada

10.3

4.7

1.1

4.6

Iran

9.3

4.0

18.2

4.9

Iraq

8.9

3.7

1.9

–

Kuwait

6.0

3.7

1.0

–

UAE

5.8

4.0

3.3

1.6

Russia

5.5

12.9

16.8

17.8

Libya

2.9

2.7

–

-

USA

2.2

10.8

5.0

20.5

Nigeria

2.2

2.7

2.7

–

Kazakhstan

1.8

2.0

–

–

Qatar

1.5

2.0

13.3

4.7

China

1.1

5.0

1.8

3.4

Brazil

0.9

2.7

–

–

Angola

0.8

2.1

–

–

Algeria

0.7

1.7

2.4

2.3

Mexico

0.7

3.4

–

1.7

Norway

0.5

2.0

1.1

3.2

Oman

0.3

1.1

–

–

Turkmenistan

–

–

9.4

1.8

Australia

–

–

2.0

–

Indonesia

–

–

1.6

2.1

Malaysia

–

–

–

2.0

Netherlands

–

–

–

2.0

United Kingdom

–

–

–

1.6

Others

5.1

12.4

11.0

21.8

Total

100

100

100

100

OPEC countries

71.9

42.1

 

 

Former Soviet Union

7.8

16.5

28.5

22.8

European Union

0.4

1.7

0.8

4.9
Source: BP (2014).
Note: The only GCC country not listed here is Bahrain, which has no crude oil reserves and 0.1 per cent of global gas reserves.
Coal
Coal is currently the world's second largest resource used for power generation. Evidence is that coal produced nearly 30 per cent of total global energy consumed in 2013. This proportion may increase in the future in light of the adoption of so-called 'clean coal' technologies. Of course, the cost advantages of the coal acquisition factor compared to some other sources cannot be denied, with this factor partly explains the continuing prevalence of coal use despite its inability to surpass oil consumption. It is true that coal reserves declined from 1,039,181 million tons in 1993 to 984,453 million tons in 2003, falling again to 891,531 million tons in 2013. However, the quantity of discovered coal is sufficient to ensure that, based on current production and consumption levels, there is enough to last for another 113 years.
Not surprisingly, China has the lion's share of the world's coal at 47 per cent. China's reserves and production capacity are high, but so is the environmental impact of its coal production. Visitors to Beijing invariably notice high levels of smog, reflecting China's relatively lax environmental policies. This situation is unlikely to last, and the Chinese authorities are already starting to introduce stricter controls. This might have implications for the future use of coal as an energy source in China.
By contrast, Germany has about 4.5 per cent of the world's coal reserves, but its share of global coal production is about 1 per cent. This reflects Germany's decision to cut back on the use of coal in line with environmental legislation introduced in the European Union. None of the GCC countries have significant coal reserves or production (see Table 3).
Table 3: Coal reserves and coal production in 2013 
 
| | | |
| --- | --- | --- |
|   | Percentage of discovered coal | Percentage  of coal production |
| USA | 26.6 | 12.9 |
| Russia | 17.6 | 4.3 |
| China | 12.8 | 47.4 |
| Australia | 8.6 | 6.9 |