The Islamic State (IS or Daesh) group's quick expansion and brutal tactics in the MENA region prompted many questions regarding its origins, impact and future. This dossier brings together the work of top scholars and journalists to enhance understanding and provide credible information on Daesh.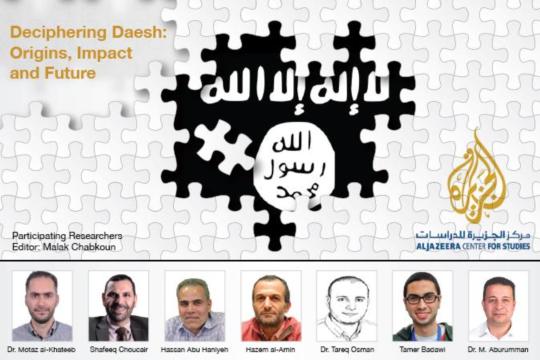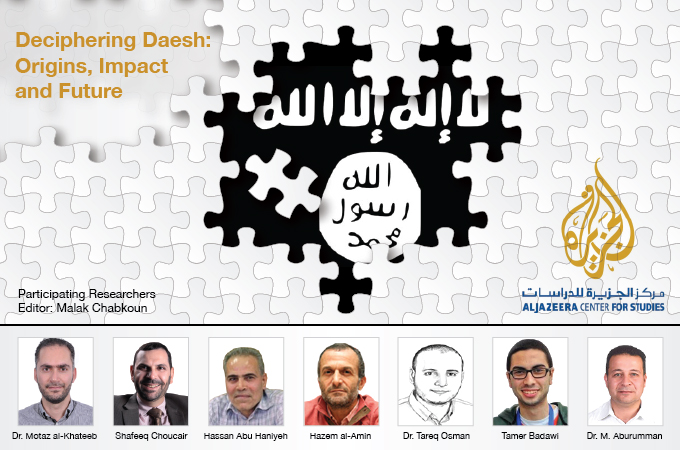 [AL JAZEERA]
Editor: Malak Chabkoun (*)
Given increasing media and policymaker attention to the group that has come to call themselves the "Islamic State" (IS) or Daesh,(**) AlJazeera Centre for Studies found it prudent to compile a thorough, in-depth and accurate research dossier on the origins, impact and future of the group. There are four key academic goals that the dossier is meant to meet:
Identify the group's origins and reasons for its emergence, particularly in light of the deliberate sabotage of democratic transitions in the Arab world by regional and international actors.

Differentiate between fact and fiction about the Islamic State and its support networks.

Present an analysis of future scenarios for the group in light of the international coalition's strikes on Daesh.
The researchers who participated in writing the dossier are experts in this field. The chapters of the dossier are as follow:
Despite a constantly changing regional context and increasingly dynamic political relationships in the Arab world, this dossier has gathered the work of top scholars in order to present credible information on Daesh and move away from speculation towards understanding.  The Islamic State (IS), or Daesh, has shocked the international community with its violent propaganda and its seemingly quick expansion. To conclude this foreword, it is worth noting that the group's actions have often been to the advantage of despotic regimes, particularly in Syria, and that the international coalition's decision to strike the group in Iraq and Syria without addressing larger problems in the area will likely have long-term implications not only on the group's strongholds, but also the level of its societal acceptance.
____________________________________
(*)Malak Chabkoun is a researcher at AlJazeera Centre for Studies.
(**)The terms Islamic State, IS and Daesh have all become common terms to refer to the group and will be used interchangeably throughout the dossier.